By Jennifer Yousfi
And William Patalon III
Money Morning Editors
U.S. stocks soared yesterday (Tuesday) - with the Dow Jones Industrial Average gaining 485 points in posting its third-biggest point gain ever - as investors stormed back into the stock market just one day after the surprise rejection of a $700 billion bailout plan ignited a record sell-off.
On Monday, after the House of Representatives refused to approve the compromise bailout accord, the Dow Jones plunged nearly 778 points - for its biggest point drop ever - as $1.2 trillion in shareholder wealth was eradicated from U.S. shares. The Standard & Poor's 500 Index dove 8.79%, incurring its biggest loss since the 1987 stock market crash, while the tech-laden Nasdaq Composite Index plummeted 9.14%. Overseas markets had been pounded earlier in the day. All told, The MSCI World Index of 23 developed markets skidded 6.9%, its worst showing in 21 years.
But U.S. shares came screaming back yesterday, with all three major indices posting huge gains early that continued throughout the day, despite eroding credit conditions - as central banks and governments around the world stepped in to prop up flagging credit markets.
The Dow gained back more than half its record Monday loss, climbing 485.21 points, or 4.68%, to close at 10,850.66. The broad Standard & Poor's 500 Index gained 58.35 points (5.27%), to hit 1,164.74. And the tech-heavy Nasdaq Composite Index zoomed 98.60 points (4.97%), to close at 2,082.33.
"There are at least some hints of optimism that something will still happen soon with regards to the [bailout] bill," Jim Dunigan, managing executive of investments at PNC Wealth Management (PNC) in Philadelphia, told Reuters. "It's not surprising with the washout [Monday] that you'd get some bounce-back [yesterday], both due to bargain hunters and some prospects of a resolution. All eyes are still on Washington."
In related developments yesterday:
Foreign Market Reaction
Although the House rejection of the bailout legislation led to the crash-like 777-point drop in the blue-chip Dow index on Monday, reactions in the global markets were mixed yesterday.
In Asia, Japan's Nikkei 225 Index plunged more than 4% to a new three-year closing low after shedding 483.75 points to close at 11,259.90. But Hong Kong's blue-chip Hang Seng Index inched up 0.8% as it gained 135.53 points, to close at 18,016.20. Even with the slight gain, yesterday marked the end of the worst quarter for Hong Kong shares since 2001.
"It looks like Congress is going to be up in arms about this for a while but there are hopes that there may be other moves from authorities such as a rate cut from the Fed," Yutaka Miura, deputy manager at Shinko Securities, told Reuters.
In Europe, bourses gained on the revived U.S. markets and government interventions into failing banks. The FTSEurofirst 300 index gained 1.6%, fueled by the strong early-morning gains in the United States. The Paris-based CAC40, London's FTSE 100, Madrid's IBEX 35 and the Frankfurt-based DAX all posted gains on hopes of a new bailout plan.
The London Interbank Offered Rate, or LIBOR, surged to a record high of 6.88% yesterday, the British Bankers' Association said. LIBOR is the rate banks charge each other for overnight lending. Such a high rate - well above the Federal Funds rate of 2.0% - demonstrates the high level of risk-aversion currently in the market.
Central banks flooded the markets with short-term liquidity yesterday, but could do little to restore financial firms' faith in lending.
"Come Thursday, when the package is presented again to the U.S. House, many of the same people who voted against it earlier today will change their minds because of the pressure coming from the markets," Stephen Roach, chairman of Morgan Stanley Asia Ltd. (MS) said at a seminar in Hong Kong Monday, Bloomberg News reported.
Continued Bailout Hopes
Both the U.S. House and Senate were adjourned yesterday for the Jewish New Year holiday. The Senate will reconvene today - with members intending to actually vote on a new package tonight - while the House will gather again tomorrow (Thursday).
Despite the legislative holiday break, the executive branch continued its full-court press to get the bailout legislation passed.
"I realize this is a difficult vote for members of Congress," President Bush said the White House address yesterday. "But the reality is that we're in an urgent situation and the consequences will grow worse each day if we do not act."
U.S. Treasury Secretary Henry M. "Hank" Paulson Jr. also tried to underscore the benefit to the average American, and not just Wall Street bankers, as he lobbied politicians to move forward with the proposed bailout, Bloomberg reported.
"Markets around the world are under stress, and that reduces the availability of credit that businesses across America use to meet payroll and to purchase inventories," Paulson said to reporters gathered outside the White House. "Families, too, feel the credit crunch as it becomes more difficult to get car loans or student loans."
More Bank Bailouts
European governments stepped in again to aid more ailing financial institutions yesterday. In a united effort, Belgium, France and Luxemburg earmarked $9.2 billion (6.4 billion euros) in emergency cash for Dexia SA (PINK: DXBGF). 
"Due to the significant deterioration in the business and market environment and the financial distress of a number of financial services companies, Dexia made a careful assessment of its situation and decided to take decisive action," the bank said in a statement, MarketWatch reported.
In Ireland yesterday, in a bid to stabilize sinking bank shares, the Irish Finance Ministry pledged to back deposits for two years with taxpayer funds if necessary. The move pushed Irish financial stocks higher.
Iceland nationalized its third-largest bank, Glitnir, on Monday, which sent the Icelandic crown diving to a new low against the euro. Also on Monday, banks in Belgium, Germany and Britain received government aid.
In the United States, Citigroup Inc. (C) purchased the retail banking assets of Wachovia Corp. (WB). The shares of both domestic banks enjoyed major gains yesterday, with Citi's stock climbing 15.6% to close at $20.51, and Wachovia's shares advancing 90.22% to close at $3.50.
[Editor's Note: Money Morning Contributing Editor and credit expert R. Shah Gilani has outlined an alternative bailout plan that is designed to ease the banking crisis at a minimum cost for U.S. taxpayers. It's a complicated issue, no doubt. But we urge you to take a look at "The Money Morning Plan." If you believe that some (or all) of these points make sense, we urge you to make it your plan: To make that happen, pass "The Money Morning Plan" along to the congressional representatives and governors of your respective states - especially now that the debate has taken on an emergency status and that time is of the essence. We've even provided a listing of each state's representatives to help you pass this plan along. In the meantime, Money Morning is looking for profit opportunities beyond U.S. borders: For instance, check out this new report on a Wisconsin-based company we've discovered that's posting quarter after quarter of earnings surprises - while the rest of Wall Street tanks. Not only does this company have a lock on China - the fastest-growing market on the planet - this corporate gem is also riding the profit wave of the most-powerful global trend that we're following right now. If you act on this opportunity now - as an added bonus - you'll also receive a free copy of CNBC analyst Peter D. Schiff's New York Times best seller, " Crash Proof: How to Profit from the Coming Economic Collapse."]
News and Related Story Links:
Here Are 10 "One-Click" Ways to Earn 10% or Better on Your Money Every Quarter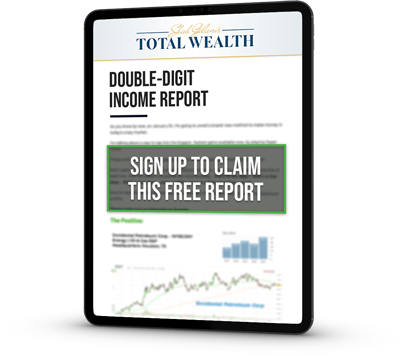 Appreciation is great, but it's possible to get even more out of the shares you own. A lot more: you can easily beat inflation and collect regular income to spare. There are no complicated trades to put on, no high-level options clearances necessary. In fact, you can do this with a couple of mouse clicks – passive income redefined. Click here for the report…