Apple Inc. (Nasdaq: AAPL) used to rule its niche world and will continue to do so, with lots of room to grow.
As Coldplay's "I used to rule the world…" played softly on the outside stereo speakers of my sailboat "Southern Cross" as my family and I pleasantly glided by Execution Rock on a gorgeous Sunday afternoon in the Long Island Sound, I could not stop myself from thinking how the song got there.  It was coming out of my daughters' Apple iPod, interfacing with the boat's new iPod-ready stereo system.  And I was wondering whether it was time to get into Apple's stock.  Yes … even on a weekend sail.
Apple in My Home
I have been patiently waiting to get into Apple for a long time. And now the market was tanking, sending good companies' stock prices down with bad ones to ridiculously low levels, this could be the opportunity I'd been waiting for.
How things have changed. For starters, my three Generation "Y" daughters live connected to the Internet. On the way up to the club, we were listening to a mutually-agreed-to selection of their weeks of music stored in their iPods, which they downloaded from the Apple iTunes store onto their Apple laptop computers, before syncing them into their iPods.
And at home, I can't move around the house without coming across an Apple laptop left hibernating in the kitchen or living room. They never turn them off and their battery life seems infinite! And they come to life so quickly from hibernation, that whenever I need to consult movie times, I inevitably search them in one of their machines rather than in my top-of-the-line gaming Windows-based one, which I bought precisely to put a premium on speed.
My daughters do their homework on them, consult their school e-mail, download music from iTunes, chat with their friends online and even engage in hour-long free videoconferences on iChat with friends both here and abroad.  And when they are not in their Apple computers or doing homework, they listen to music on their iPods while they clean up their rooms. 
They even burn CDs with their favorite songs for friends.  I thought that this might be a localized phenomenon, restricted to kids in affluent zip codes in the U.S. market. But I found out that my nieces in three other countries are in the Apple loop as well, and when we had my nephew from Germany spending a few weeks with us, he was keeping in touch with his friends in Frankfurt and Italy through the Macs as well.
Talk about a globalized world and a connected generation!
One night, while I diligently worked to keep my personal Windows-based laptop up to speed and secures with the latest anti-virus and software patches to plug the latest virus or exploit, my eldest daughter walked by and vehemently proclaimed, with an air of superiority: "Macs don't get viruses!  I don't even need an anti-virus program."
With my daughter's verbal gauntlet still hurting, I set to prove her wrong.  Human nature is such that I cannot believe that hackers would somehow not step up to the challenge of hacking into the Mac's operating system – even just to get bragging rights under their screen name.
Precisely as I am researching this, my antivirus program in my PC is mysteriously disabled.  I would not dare to be connected to the 'Net for a second without an anti-virus program.  I am really tired of seeing serious hack attempts being flagged by my firewall, coming from all regions of China, South Korea, Japan, Russia and other exotic countries and even from reserved Internet addresses.  I try to enable the program, but it requires a re-boot.  When I re-boot, I update my anti-virus on the background, while working on this article and my AV program tells me I need to re-boot once more. I save my work and re-boot right away. When I re-boot the second time, the anti-virus program launches a full scan and somehow my access to the Internet is slowed to nearly nothing.  I am forced to rest my modem.  It's taken me a big chunk of time and much aggravation.
Back on the 'Net, while I find few articles about Mac viruses, I also discover an article about an executive at one of the huge Windows-based anti-virus software leaders that runs his own computing on his Mac – without anti-virus software!  And I also find articles showing how few Macs have ever been compromised.  Apparently, hacking into Macs is high cost and the benefit of doing this is low, because of the low market share they have (around 9%), since most users tend to be individuals, with a preponderance of students and teachers.
That brings me back to my "Buy, Sell or Hold" investigation into Apple Inc.'s shares.
Strong Results
A few days after my family's sailboat outing, I saw that Apple had posted its strongest results ever. The Cupertino, Calif.-based company said that it's launching its next generation of Apple computers at higher prices – justified, as usual, by the uniqueness and hard-earned "coolness" factor that's inherent in Apple machines.
Additionally, Apple just got Best Buy Co. Inc. (NYSE: BBY) to start selling its popular Apple iPhone in its chain of Best Buy electronics stores. And with Apple currently sitting on a $25 billion cash hoard, and having no debt, the speculation now is that Apple will launch a huge stock buyback.  After all, given Apple's uniqueness and innovation excellence, there is little out there that could complement the company and it has a history of eschewing acquisitions.
At Friday's closing price of $98.24, Apple shares are down about 52% from their 12-month high of $202.96. The stock is trading at 20 times earnings, but with its consistent high earnings growth, the company's Price/Earnings/Growth Rate (PEG) ratio is less than 1.0, meaning the shares are right now priced at bargain levels.
If those consistent, predictable earnings continue, this stock is an absolute steal. But that raises the question: Will those predictable earnings continue?
For now, at least, the company seems to have all its "ducks in a row."
While Dell Inc. (Nasdaq: DELL) and other PC makers are suffering, Apple is on a roll.  The iPod continues to rule the MP3 player market and has given birth to an entirely new, higher-end, higher-margin product, the iPhone.  The iPhone – and to a lesser, but still-important extent, Apple computers – have each been a tremendous success.
In the last quarter, Apple sold nearly 7 million units, more than five times the number of phones than in the same quarter last year.  This points to major market share gains from the estimates as recent as May. For a look at these market-share estimates, let's take a look at Chart I:
Chart I: Wireless Phone Market Shares (By Brand)
56% Symbian (primarily Nokia)
13% Windows Mobile
12% RIMM Blackberry
9% LINUX
7% MAC (iPhone)
2% Palm
1% other
Source: Industry statistics, Money Morning Staff Research.
More importantly, Apple has recently been selling more units than the king of the enterprise-mobile phone segment, Research in Motion Ltd. (Nasdaq: RIMM) lately.  The mobile phone market is huge and has been almost doubling in size year after year.  And although growth is expected to slow a bit in the future, the profit possibilities remain huge.  Could these market growth numbers and Apple's share gains be maintained?
To get a better idea, I started by studying the worldwide market-share sales projections for the "smartphone" market. Admittedly, these statistics harken back from before the current financial crisis really took hold in the past month or so. Still, it's a good starting point. Let's take a look at Chart II:
Chart II: Projected Global "Smartphone" Sales
The year-by-year and projected annual breakdown of global smartphone sales between both the high-end consumer and conventional corporate users (in millions of units).
Year          Corporate          High End Consumer         
2006 :                     12            +              39
2007                       21            +              77
2008                       40            +            134
2009                       74            +            219
2010                     111            +            300
Sources: Industry Statistics, Money Morning staff research.
The Competitive Landscape
To make some sense of the competitive landscape the Apple iPhone is facing, I called my friend Brenda Lewis, principal in Transactions Marketing, Inc., and a venture manager who has launched many mission-critical wireless businesses and who lives and breathes mobile phones.  I wanted to validate the industry forecasts for growth in "smartphones" – both for high-end consumers and for enterprise users.  I shared my forecasts and what I heard from Brenda was eye opening.
 "These forecasts for the high-end consumer are far too high now, especially given the lack of personal discretionary income in most markets," she told me.
Of course, she is right.  Personal discretionary income has likely gone negative in the U.S. market because of high household debt and the need to replace lost retirement savings. But it's also severely reduced in Europe and Japan, because of lower trade flows and job losses due to the global downturn.
Even so, there are roughly $5 trillion worth of stimulus packages that have been committed to the overall global economy by various governments around the world.  And we can expect to start seeing the benefits of those liquidity infusions very soon.
So the picture and slowdown we are feeling right now will "surprisingly" improve in about six months. In the meantime, economic numbers will be very tough, since the financial freeze brought the economy to an abrupt stop and unemployment is likely to spike – even from the already-increased levels we're seeing right now.
Economic inertia is hard to shift quickly.
So until the economy turns around, it's wise to consider other possible catalysts. For instance, what about the possibility that corporate users could adopt the Apple iPhone?  My hopes for being the discoverer of that as-yet-unknown-by-Wall Street catalyst were likely dimmed by Brenda, who said that corporate chief information officers (CIOs) "will likely use the downturn as a reason to reduce the number of devices permitted for enterprise use and to consolidate central CIO control of current business unit devices, a continuation of a trend of the past five years."
Again, the enterprise-market segment, which she knows intimately, has two main concerns:
Total cost of ownership, which includes the initial price for the phone, as well as the service and, very importantly the maintenance.
The latter one is a killer for the iPhone in the enterprise market, since corporate IT departments cannot remotely shut down iPhones that are lost or are stolen as they are able to do with Research in Motion-made Blackberries. In addition, the locked nature of the iPhone makes it very difficult for IT departments to customize solutions for company use.
So, while the iPhone is superb from the consumer standpoint for its "coolness" factor and functionality, and for the fashion statement they make for those who wear them in visible locations, Blackberries actually accomplishes many more business-critical functions for corporations, and at a lower cost. This means that Apple's traditional consumer focus – a niche that it dominates – is shrewdly placed.
Competitive Threats for the iPhone
What about risks to the Apple iPhone's success in its own turf – the high-end consumer?
Well, for starters, Apple faces many brewing challenges: For instance, Wal-Mart Stores Inc. (NYSE: WMT) is starting its own online music-download service, and will undercut the Apple iTunes prices by about 25%.
Wireless phone heavyweight Nokia Corp. (ADR: NOK) is operating a similar story overseas, and it is unclear how long it will take them to come to the U.S. market. More ominous is the ultra-secret plans of Internet-search behemoth Google Inc. (Nasdaq: GOOG), which has launched its own branded Google Phone, which will be sold by Walmart at a discounted price of  $148 (compared with a price of $199.99 for the Apple iPhone at Best Buy, for example).
The Google Phone is revolutionary and appeals to the spirit of the U.S. "techie" crowd: freedom.  It is designed with an operating system, called Android, that's been tagged with the marketing slogan – "apps (applications) without walls." The whole goal of the device is to speed up users' ability to access and surf the Web via a mobile phone – all too often a very slow process, right now.
The Google phone also emphasizes the hottest trend in phones today, with the ability to provide "location services," such as customized weather forecasts, directions and listings of nearby businesses and attractions.  Finally, the operating system is, unlike Apple's, is "open source." This means that it will be extremely easy for anyone to develop new applications for the phone and for corporate IT departments to create customized applications for their employees to use on the phones. There's even an alliance of software developers – called the "Open Handset Alliance" – whose chief goal is to encourage such custom developments.
As if this new threat were not enough, Nokia, the king of the mobile consumer market, announced its Nokia Tube (5800). Research in Motion is adding to its Blackberry lineup with a newly launched iPhone competitor called Bold. And Samsung Electronics Ltd. is coming out with its entrant, Instinct, a touch-screen phone with some features that are not available in the iPhone, like streaming TV.
And even Garmin Ltd. (Nasdaq: GRMN), the ruler of the GPS device world – and the topic of a recent, well-read "Buy, Sell or Hold" feature here in Money Morning, has launched its nüvifone, that, unlike the iPhone, it gives you turn-by-turn directions.
My conclusion is that Apple's iPhone business will continue its strong growth, but that the growth won't be as strong as Wall Street recently projected. There will be market growth concerns in the near future, and with rivals ganging up on the successful iPhone, some of the market-share-gain momentum that we've recently seen will be blunted a bit in the future, although Apple will keep gaining absolute market share.
What about their computers?  Enjoying the synergistic "halo effect" from its iPod, iPhone and iTunes strategy, Apple keeps gaining market share in the computer market. Another Apple hit was its adoption of Intel chips that can run the Mac OS X, Leopard, and Windows Vista operating systems in the same machine, even simultaneously, with virtualization software.
I am encouraged by these machines, but not exuberantly so. Apple now faces very serious price competition from Windows-only systems.  But on the other hand, the segmentation of the market is critical and the ease of use, maintenance, fast recovery from hibernation, advantage in graphic-intensive tasks, intuitive use and virus-free environment make a Mac irresistible for its traditional constituents, provided they will keep paying the very steep Mac premium pricing.
The conclusion is that, moving forward, with 41% of sales coming from abroad and very small absolute market shares in its key iPhone and Mac businesses, Apple is very likely to be able to continue to gain market share, albeit at lesser pace. Also, given its consumer-centric focus, as the consumer gets hit in developed countries, sales growth will wither, while growth in emerging markets actually can accelerate.
Apple is not a pure computer company any longer, but is instead a consumer products company – and one that possesses a very cohesive strategy. That's what will allow it to continue to survive and thrive.
The stock – with a PEG ratio of less than 1.0, is a bargain right here. But in the highly volatile environment, wait for weakness to start accumulating it, and take your time.  Apple's results are much less dependent on the iPod today, and thus the soon-to-be revealed disappointing Christmas season is nowhere as important as it used to be.  So I would buy two-thirds of my position prior to year-end and the remaining third over the subsequent three months in the first quarter, as the bad news over the economy keep trickling in.
ACTION TO TAKE: BUY Apple Inc. (Nasdaq: AAPL), but do so with some care. Purchase two-thirds of your position between now and year-end, and the final third during the first quarter of the New Year.
News and Related Story Links:
Here Are 10 "One-Click" Ways to Earn 10% or Better on Your Money Every Quarter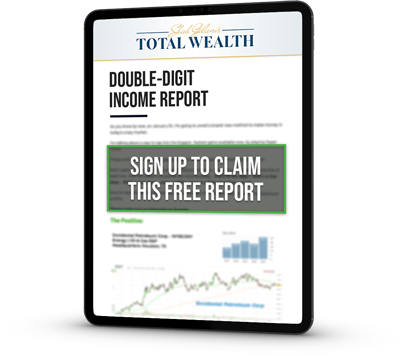 Appreciation is great, but it's possible to get even more out of the shares you own. A lot more: you can easily beat inflation and collect regular income to spare. There are no complicated trades to put on, no high-level options clearances necessary. In fact, you can do this with a couple of mouse clicks – passive income redefined. Click here for the report…