When Google Inc. (Nasdaq: GOOG) reports its fourth-quarter and full-year earnings on Jan. 21, the Internet search giant is poised to once again surprise Wall Street by beating expectations and reporting an increase in market share.
It is awe-inspiring to think about what Google is and what it has accomplished in such a short period of time. Just this week, German Justice Minister Sabine Leutheusser-Schnarrenberger told the weekly magazine Der Spiegel that Google has already become a "giant monopoly" like Microsoft Corp. (Nasdaq: MSFT).
Google invented the very best search engine and now it is reaping the benefits.
Yet even though the company's strategy has attracted more visitors than any other Web site, Google - as Chairman and Chief Executive Officer Eric E. Schmidt rightly pointed out in a recent interview - is just one click away from being dropped by its customers.
Google understands this and has proven time and time again that it has not grown complacent with success. But where will future growth going to come from?
After all, 90% of Google's $22 billion in annual revenue comes from paid search.
With about two thirds of the global search market, is it even possible for Google to increase its market share?
Yes, it can. And I'll tell you why.
U.S. consumers have become much more price-sensitive since the financial crisis ripped through the economy. As a result they've migrated to the ultimate venue for bargain hunting: The Internet. We have seen Amazon.com Inc. (Nasdaq: AMZN), for instance, continue to outperform, as I predicted it would early last year.
At the same time, the Internet has become much faster, and even more accessible, than it's ever been.
Fiber optic cables are bringing lightning speed and scores of data to homes across America. The process of broadband penetration through fiber optic cable deployment is well underway. In fact, it's accelerating as telecommunications companies and cable TV carriers race to sell the so-called "triple-play" - offering telephone, cable TV service and Internet access in one package to each home.
In addition to the natural market forces pushing this technological progress, the Obama stimulus in part was designed to bring broadband access to rural communities. These more remote communities soon will be able to search and shop much more efficiently than they do today.
This process of Internet penetration is occurring not just in the United States, but also around the world. In China, for example, the process of urbanization is moving millions of people from the countryside to cities, and connecting them to the Internet. Rising incomes in emerging economies are leading more and more people online as well.
With newfound accessibility and speed, there has been a profound transformation in the composition of the Internet traffic.In addition to transmitting information through their home and office computers, people are searching, shopping, blogging, texting, video chatting and interacting with their smartphones, iPods, and notebook computers.
The mobile phone revolution started with texting and then moved to email and finally to full internet browsing, including delivery of live and stored video content to smartphones. And the paramount explosion in traffic occurred with the iPhone. AT"T Inc.'s (NYSE: T) broadband wireless data traffic grew 50 fold in the last three years.
Because the iPhone is locked, which means that it can only be used on AT"T's network. AT"T has seen most of the growth. And it operates on the GSM networking technology, which is used by AT"T and T-Mobile USA Inc., while the other carriers offer CDMA. But now there is a plethora of new phones that offer Internet browsing coming to market on other network carriers.
This is where the prized extraordinary growth in search is. It's people sitting on a train, airport or at the doctor's waiting room. And Google has moved aggressively to capture the search market in mobile devices with a range of strategies.
Still, there is one more crucial technological trend: so-called "cloud computing."
Personal computing systems have grown extremely complex and powerful. But that makes the maintenance of these systems all the more challenging. I just spent countless hours myself reinstalling an entire laptop after a nasty virus breached my firewall and anti-virus program and rendered it useless. It was very painful.
Cloud computing minimizes these risks by professionally storing, maintaining, and securing applications and data in remote servers that can be accessed through the Internet. A very cheap and simple mobile device to connect to the web, which would be much easier to secure and manage, is all that would be needed to access these remote programs and files. In effect, you already are using the cloud when you use Gmail, Hotmail or Yahoo.com Inc. (Nasdaq: YHOO) mail.
Google's strategies to increase its market penetration in search and capture and monetize more of a user's computing activity are already paying off. Some key examples are:
The Android operating system: An operating system for smartphones that is open source, which means that its code is available for developers to engineer applications around it.
The GSM Nexus One "superphone": Although Google will not make much money on these unlocked phones, it will sell them directly, thus increasing market share for its Android operating system, as well as its share of paid search and other paid services.
Google Chrome: A free, robust, quick and secure web browser that also acts as the operating system in notebooks, encouraging more web use and search. It only runs web applications, steering people to the cloud and Google's services, for future monetization strategies.
Google Apps: The cloud competition to Microsoft Corp.'s (Nasdaq: MSFT) Office and Outlook. It needs more work, but it's a start.
Google App Engine: Google's cloud computing platform allows programmers to develop and host Web applications. This strategy adds value to the cloud, brining the consumer to it, for monetization.
Partnering with Twitter, Facebook, and MySpace to provide real time search and information as pages change their content.
All of this mobile and cloud computing opens the door for a whole new range of convenient applications, many of which take advantage of geolocation, that is, the ability of a smartphone that is connected to the internet to provide and track the location of its user. Now, the search functions in mobile phones can provide users with more relevant data and advertisements.
The bottom line is that we have a search market that will be exploding, on the back of not only secular growth in land-based broadband, but also through the explosion of mobile broadband. And Google is taking advantage of these trends in an integral way.
Wall Street has failed to see through the comprehensive approach that Google has taken, preferring instead to analyze each strategy as independent parts that do not immediately provide much monetization value.
Don't make the same mistake. You will see it immediately as mobile broadband browsing explodes in Google's search market share.
Some analysts already are pointing to the acceleration of paid advertising, and not focusing on its true origins, which goes well beyond the mere pick-up in economic growth.
In a tough economy, the added value of Google's relevance in searches leads to more efficiency for advertisers who are trying to stretch their budgets. Similarly, consumers trying to stretch their dollars are flocking to the Web in droves. Hence, Google is likely to surprise in the months and years to come as it consolidates and runs away with search and accessory monetization strategies in the cloud.
Google Inc. rose $7.96, or 1.34%, in trading Friday to close at $602.06 a share. That's well off its 52-week low of $282.75 and closing in on its 52-week high of $629.51.
Recommendation: Buy Google Inc. (Nasdaq: GOOG) at market (**).
(**) - Special Note of Disclosure: Horacio Marquez holds no interest in Google Inc.
[Editor's Note: Success as an investor isn't based on what's hot today.
It's really based on the anticipation of what will be hot tomorrow.
Gold is one of the hot commodities of today. But the shrewdest investors will look toward the horizon, and try to project just what the commodity profit plays of the future will be.
If you need help, just ask Money Morning's Horacio Marquez.
As worries about oil escalate - whether those worries are about future supplies, future prices or global-warming - more and more muscle is being placed behind alternative power technologies. That's especially true in the hybrid vehicle market, where a specific technology has emerged as the clear leader.
The technology is lithium-based rechargeable batteries, and its emergence is sending lithium demand skyrocketing.
The profit potential of this market is stunning - but only for investors who can figure out the right way to play it.
Here's the thing: Marquez - a Money Morning contributing editor who also edits the Money Map VIP Trader - has uncovered the lithium-tech leader. This company is a global player with a solid market cap and is well known within the hybrid industry. But surprisingly few investors know about the company, or have ever even heard its name.
To learn more about this company - to get in ahead of the masses - and to find out more about Marquez's Money Map VIP Trader, please click here.]
News and Related Story Links:
Here Are 10 "One-Click" Ways to Earn 10% or Better on Your Money Every Quarter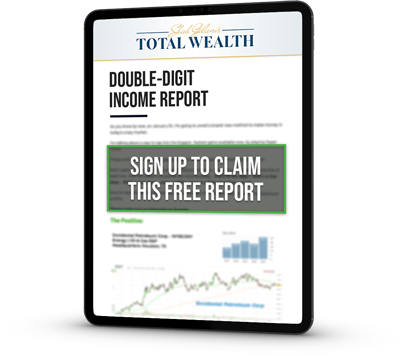 Appreciation is great, but it's possible to get even more out of the shares you own. A lot more: you can easily beat inflation and collect regular income to spare. There are no complicated trades to put on, no high-level options clearances necessary. In fact, you can do this with a couple of mouse clicks – passive income redefined. Click here for the report…