If the rich truly have gotten richer during the current financial unpleasantness - as some pundits allege - members of the moneyed set have been smart enough to avoid flaunting their new wealth with a rash of high-end purchases.
Lately, however, this seems to be changing: The luxury markets led a January surge in the retail sector - a surge that could mean new opportunities for investors astute enough to grab for the golden ring.
When the economic downturn approached full speed in the fall of 2008, consumers responded by snapping their pocketbooks shut. The entire retail sector quickly went in the tank, and luxury-goods sales dropped in line with those of everyday wares. Holiday receipts fell sharply, dragging retail-sales totals for all of 2008 down by 0.5% - the first annual decline since the U.S. Department of Commerce began tracking retail numbers.
Luxury purchases dropped even harder, prompting ABC World News to headline a February 2009 story, "Luxury Sales Dive as Rich Feel Pinch - Conspicuous Consumption Drops..." In that article, Bain & Company, a top business consulting firm, predicted that luxury sales would fall as much as 7.0% in 2009.
That prediction appeared justified in the ensuing months as such luxury-sector lynchpins as fine watchmaker Movado Group Inc. (NYSE: MOV) and Harry Winston Diamond Corp. (NYSE: HWD) reported sharply lower results. Movado's revenue for the quarter ended April 30, 2009 plummeted 28.0% from the prior period. Harry Winston recorded three straight quarters of declining sales, with its third-quarter 2009 results for its retail segment falling 7.0% year over year. Other high-end retailers - from specialty fashion boutiques like Christian Dior SA to high-end department stores like Nordstrom Inc. (NYSE: JWN) - experienced similar weakness.
The slide might have continued, but for one thing - after bottoming out in early March 2009, the stock market turned higher and rallied through most of the rest of the year. While that didn't help the folks on Main Street all that much, leaving overall retails sales in a sizeable slump, it did pump up the value of Wall Street portfolios, prompting higher-end consumers to begin loosening their purse strings. Sales of luxury items - from fashions and perfumes to jewelry and autos - picked up, as did both revenue and profits for many of the favored luxury merchants (although most still continue to lag their performance in the boom years of 2003 to 2007).
Creative and out-of-character marketing efforts also helped turn the tide for some top-end retailers. The New York Times reported in August that Bloomingdale's in Manhattan was holding "private sales," with individual shoppers being discreetly offered special, unpublicized discounts on items salespeople saw them considering.
A similar strategy was undertaken by Neiman Marcus Inc., which sent out e-mail alerts to select clients just hours before what they called "Midday Dash" sales, which offered discounts up to 50% on luxury items. One week's sale featured a $1,395 Burberry handbag marked down to $697 and a Carmen Marc Valvo chiffon gown reduced from $1,150 to just $575.
Like Neiman, many other high-end brands and stores also began utilizing Internet promotions targeting select customers.
"Not so long ago, many of the luxury brands saw [the Internet] as a vehicle for the masses," said Gregory Furman, founder and chairman of the Luxury Marketing Council, a high-end industry group.
That viewpoint has changed, Furman said. More and more of today's upper-end retailers now see the Internet as a valuable marketing tool.
"The key is to design the message so it feels like personalized, one-to-one, customized marketing that demonstrates understanding of their needs, wants and values," Furman says.
The second-half upturn in luxury sales was sufficient to trim the sector's decline for 2009 to just 0.2% compared to 2008 - admittedly, also a bad year - but it couldn't save the retail sector as a whole. The Department of Commerce reported Jan. 14 that U.S. retail sales fell a seasonally adjusted 0.3% in December alone, led by an 0.8% decline in auto sales (in dollar terms, not units sold). That capped off a dismal year, as total 2009 sales tumbled to $4.14 trillion, down 6.2% from 2008 and the largest decline on record. (Prior to 2008's 0.5% dip, sales had risen every year since 1992).
The only good thing about the 2009 numbers is that they set the stage for considerable improvement in January of this year - in both the luxury markets and the overall retail sector. Although the official government figures won't be out until mid-month, USA Today reported Thursday (Feb. 4) that numbers compiled by the International Council of Shopping Centers (ICSC) showed sales were up 3.0% in January, well above the organization's forecast of a 1.0% increase. That compared to a drop of 4.6% in January 2009, the ICSC said.
The USA Today story attributed the gains - based on sales at stores open at least a year - to two kinds of consumers: "Ordinary folks, who are buying a little more but still focused on bargains, and the affluent, who are spending more freely on Gucci and other luxury brands as they feel encouraged by their rebounding stock portfolios."
Many of the stores surveyed - including Macy's Inc. (NYSE: M); The Bon-Ton Stores Inc. (Nasdaq: BONT); Nordstrom Inc.; Saks Inc. (NYSE: SKS); Limited Brands Inc. (NYSE: LTD), and Gap Inc. (NYSE: GPS) - reported strong sales gains and predicted that quarterly profits would likely exceed analysts' expectations. Macy's, Bon-Ton, Ann Taylor Stores Corp. (NYSE: ANN), Abercrombie & Fitch Co. (NYSE: ANF), and Tiffany and Co. (NYSE: TIF) all raised their quarterly outlooks based on the new sales numbers.
Tiffany also boosted its quarterly dividend to 20 cents per share and said it would reinstate the $402 million share-buyback program it authorized - but then suspended - back in 2008.
Separately, the privately held Neiman Marcus chain reported that luxury shoppers in New York (where it owns Bergdorf Goodman Inc.) and Florida helped increase its same-store sales by 6.8% in January. Bergdorf reportedly accounts for about 12% of Neiman's total sales.
The Dallas-based Neiman Marcus said precious jewelry, women's couture apparel, and dresses were the top sellers.
Three other pieces of news also bolstered the general retail outlook. The Thomson Reuters/University of Michigan survey of Consumer Sentiment for January rose to 74.4, up 2.6% from December's 72.5 reading and 21.6% from the 61.2 mark in January 2009. A rise in confidence typically means consumers will be more willing to spend in the months ahead.
In addition, Visa Inc. (NYSE: V) reported on Wednesday (Feb. 3) that its fiscal first-quarter net income jumped 75% to $763 million, or $1.02 per share, on revenue of $2 billion. That topped the 91-cent consensus estimate of analysts polled by Thomson Reuters Inc. (NYSE: TRI) by 12.0%. Visa, which doesn't actually lend consumers money but collects a fee for each transaction, credited the increased revenue and profit to a jump in total sales "incidents" - from 10.5 billion in the prior quarter to 10.9 billion in the first quarter. The conclusion: Consumers are beginning to use plastic more frequently (although total credit-card debt continued to decline in January).
MasterCard Inc. (NYSE: MA) last Thursday reported that its fourth-quarter revenue rose 6.0% to $1.3 billion. Net income was $2.24 per share, but that was below analysts' per-share estimates of $2.46. MasterCard didn't report the total number of transactions it handled.
While the credit-card numbers speak more to the activities of non-luxury consumers, one news item last week indicated that the rich really are beginning to flex their well-moneyed muscles once again. The Sotheby's (NYSE: BID) auction house of London reported last Wednesday that it took just eight minutes of action by 10 bidders to sell Alberto Giacometti's life-size bronze sculpture "L'Homme Qui Marche I" (Walking Man I).
The winning bid was $104.3 million - the highest price ever paid at auction for a work of art, topping the $104.17 million paid at a 2004 New York auction for Pablo Picasso's "Boy With a Pipe."
The opening bid was $19.25 million - which all 10 bidders topped at least once. Obviously, some people aren't being hurt by the recession.
In fact, Furman, the Luxury Marketing Council chairman, says there are still lots of people out there with plenty of money - they're just maintaining a lower profile than they have in the past. He quantified that in a recent interview, saying, "There are 1.2 million households (in the United States) with a net worth of over $5 million, up from 300,000 in 1983. Real household income for the top 20% of households is up 70% in the last 20 years - and the top 5% are richer. In the early 1980s, they accounted for 16% of the income earned. Today they account for 27%. The rich are definitely getting richer."
The potential for continued growth in the luxury sector is supported by Research & Markets, the world's largest market data provider, which says the high-end segment has been the strongest performer of any business sector. R&M notes that the luxury market in the United States topped $1 trillion in 2005, having enjoyed average annual growth in excess of 20% over the prior decade.
Sales continue to hold above that level in spite of the economic reversals of the past two years. That compares to an average annual growth rate of roughly 4.5% for the overall retail sector in the 10 years from 1998 through 2007.
Luxury-sector growth is also expected to get an added boost from emerging markets, particularly the Asia-Pacific region, where the number of wealthy individuals is projected to increase by 12.8% annually over the next five years.
So, assuming the luxury sector continues to lead a retail recovery, how do you play it as an investor?
First, you want to diversify among the principle types of luxury investments. Research & Markets lists these four commonly recognized categories:
Home Luxuries: Furnishings, art works, antiques, etc.
Personal Luxuries: Fashions, jewelry, wine, spirits and even purebred pets.
Automobiles: Ferarri, Bentley, Rolls Royce and Porsche, to name a few.
Luxury Experiences: Travel, fine dining, entertainment and the arts.
With respect to individual investment choices, the market has already recognized the potential of this sector and factored some of it into recent prices. However, here are five stocks and one exchange-traded fund (ETF) that have either lagged the group or that should still have ample room to run:
Tiffany & Co.: Tiffany has resisted the trend toward discounting and maintained the exclusive image of its jewelry - and last week's earnings announcement indicates this strategy has paid off. Though the stock has climbed from a March low of $16.70 to a recent price of $39.70, the dividend increase and reinstatement of its share-buyback program should give it a further boost.
Coach Inc. (NYSE: COH): This maker of high-end fashion accessories - purses, wallets and other items - and luxury luggage has a solid niche in U.S. markets. Its stock has also had a healthy run from $11.40 to $34.30, but it recently reported solid sales and improved earnings, netting it an upgrade from "Hold" to "Buy" from Bank of America-Merrill Lynch (NYSE: BAC).
LVMH Moet Hennessy Louis Vuitton SA (OTC ADR: LVMUY): This French company, which recently began trading in the United States as an over-the-counter American Depositary Receipt (ADR), has a roster of brands dear to the heart of any socialite. The LV stands for Louis Vuitton, and it also has Givenchy, Donna Karan fashions, Dior perfume, De Beers jewelry (in partnership with the diamond giant), Hennessy brandies and Moet and Dom Perignon champagne. What more could you want for a recent stock price of just $20.60?
Sotheby's: With more rich folks again looking to buy high-priced items, the luxury auction market should gather heat, returning Sotheby's earnings to the black and further bidding up the share price from the recent $21.85.
Wynn Resorts Ltd. (Nasdaq: WYNN): Unlike past recessions, when gaming proved resistant, Las Vegas has taken a major hit this time around, and Wynn is no exception. It's still showing negative earnings, dampened by expenses related to expansion into the Asian gambling capital of Macau. However, Wynn's resorts are top of the line, with all the amenities high rollers and resort travelers could desire, so the company should be among the leaders as both gaming and tourism rebound here and in the Far East. Recent price: $61.35.
Claymore/Robb Report Global Luxury Index Fund (NYSE: ROB): If picking individual stocks isn't your thing, this ETF recently held shares in all of the above, plus many others - upper-crust favorites as identified by the luxury magazine Robb Report. Recent price: $16.00.
News and Related Story Links:
Here Are 10 "One-Click" Ways to Earn 10% or Better on Your Money Every Quarter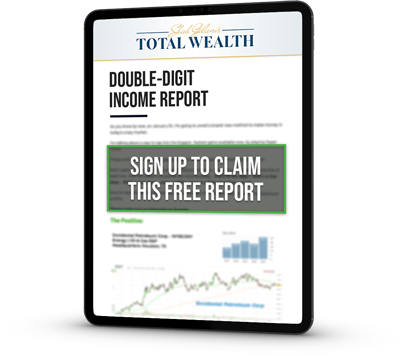 Appreciation is great, but it's possible to get even more out of the shares you own. A lot more: you can easily beat inflation and collect regular income to spare. There are no complicated trades to put on, no high-level options clearances necessary. In fact, you can do this with a couple of mouse clicks – passive income redefined. Click here for the report…