When the government recently revised 2009 fourth quarter gross domestic product (GDP) upwards to a robust 5.9%, some analysts called the year end growth spurt a "one-hit wonder."
Don't you believe it.
Much of the fourth quarter growth was chalked up to the replenishing of inventories and government stimulus. But there are real signs that businesses are thriving, and will soon resume hiring. And the main engine of the economy - the American consumer - is getting up off the mat and spending again.
So while it's unlikely GDP will grow at a blistering pace in 2010, the U.S. economy will deliver steady growth.
Estimates of economists surveyed by Bloomberg last month showed the world's largest
economy will grow upwards of 3% this year. And economists at ISI Group Inc. in New
York, say the economy will clock in with solid growth of 4.5% this year.
This report unveils three factors that will sustain the economy in 2010, nixing any hint of a double-dip recession. And, we'll recommend a company that will skyrocket as the economic rebound takes hold...
Business Investment Leads the Way
Economic recoveries are usually marked by several consistent factors - corporate earnings increase, capital investment for equipment grows, employment surges, and finally, consumer spending ignites an economic rebound.
And right now, there is abundant evidence that a robust, business-led recovery is underway.
Industrial production increased at a 9.7% annual rate over the past seven months, according to ISI Group. That's the fastest ever for the initial seven months of a recovery.
But there's more -- digging deeper into the numbers reveals the real magnitude of the comeback that is underway. The annualized growth rates are truly eye popping:
Semiconductor equipment orders are up 646%.
Raw steel production is up 89%.
Machine tool orders are up 113%.
Heavy truck sales are up 75%.
Railcar loadings are up 22%.
On top of that, the government's "handouts and bailouts" policy continues to seep into the U.S. economic system. Figures show that only about one-third of Obama's $787 billion stimulus package has been spent. And with Democrats nervously eyeing November's elections, you can bet the money spigot will flow wide open until then.
In its latest beige book report the Fed reported improvement in nine out of its 12 regional districts. "Manufacturing activity strengthened in most regions, particularly in the high-tech equipment, automobile, and metal industries," the report said.
But the best indication that businesses are ready to lead the recovery is the resurgence in corporate earnings.
Corporate earnings increased a whopping 181% in the fourth quarter of 2009, ending a record nine-quarter profit slump for Standard & Poor's 500 Index companies. And 73% of S&P 500 companies topped analyst estimates, the second-highest number since 1993, according to Bloomberg.
Many more companies are reporting solid earnings growth comparisons, and forward estimates are steadily being revised higher. It all adds up to improving economic fundamentals - the foundation of any recovery. (For more information on how to profit as the economy recovers - and expose some of Wall Street's biggest lies - check out this report )
Businesses are Starting to Hire
You can't have an economic recovery until unemployment eases and job creation puts greenbacks in consumer pocketbooks.
But history shows that when corporate profits jump, hiring follows right behind. And right now, employers are sending up smoke signals that they're about to fire up their hiring machines.
Companies cut 20,000 workers in February, the fewest in two years, indicating the labor market is strengthening. What's more, the economy actually would have added jobs were it not for a couple of freak snowstorms that forced businesses to close up shop.
Manufacturers hired more workers for a second straight month, the first back-to-back gains since 2006. And the number of temporary workers increased by 48,000 in February, the fifth straight monthly gain.
But most importantly, the professional and business service sectors -- which account for almost 90% of jobs in the U.S. -- added more than 51,000 jobs. That's the fastest pace since October 2007, and a sure sign the recovery is broadening.
"With services activity picking up and manufacturing continuing to show strong gains, the economic outlook looks to be self-sustaining. We are probably just months away from seeing broad-based increases in hiring," says Chris Rupkey, chief financial economist at Bank of Tokyo-Mitsubishi UFJ Ltd. in New York.
Some companies aren't waiting. Caterpillar Inc., the world's largest maker of bulldozers and excavators, forecasts sales will increase as much as 25% this year and last month announced that it recalled more than 500 workers.
General Motors Co. says it will call back 5,500 laid-off workers to fill jobs created by its $1.4 billion retooling of 18 U.S. factories.
Deutsche Bank's Chief economist Joseph LaVorgna looks for the U.S. to add 200,000 jobs a month for the rest of this year, excluding the 8,000,000 temporary workers hired to conduct the 2010 census.
Wealth Effect Spurs Consumer Spending
U.S. household wealth fell by $14 trillion during the recession, sapping confidence and holding back consumer spending, which accounts for fully 70% of all economic activity.
But now the wealth effect - the boost in confidence that comes from people's assets rising in value -- is making a comeback.

Household net worth rose by about $5 trillion last year, fueled by a 73% rocket ride on the S&P 500 and a 62% rise in the Dow Jones Industrials. While that's still below the boom time peak, economists agree that each dollar increase in net worth typically results in 4 cents of personal spending.
That leaves room for consumer spending to grow nearly 3% this year, according JP Morgan economists.
People can tell surveyors whatever they want - but the real test is whether they are spending. And according to retailers like Home Depot Inc., Lowe's Co., and Macy's, consumers are finally opening their wallets.
Home Depot swung to a profit in the fourth quarter on renewed interest in home improvement projects and Lowe's posted its first year-over-year quarterly earnings increase in seven quarters.
And there are other signs consumers are coming out of hibernation. Hard-hit teen retailer American Eagle Outfitters and high-priced chain Nordstrom reported sharp improvements in February from a year ago - a sign shoppers are paying top dollar, buying summer fashions in spring instead of waiting for items to go on sale.
Overall, sales at stores open at least a year rose 4.1% from last February
"Business feels better, there is no question about it," Macy's Chairman and Chief Executive Officer Terry J. Lundgren said on a Feb. 23 conference call.
And you can expect the trend to continue.
The savings rate dropped back to 3.3% in January after the doomsayers were predicting double digits. Even Uncle Sam is supporting the spending -- tax refunds have surpassed $105 billion so far this year, up 9.9% over last year.
Ride the Recovery in Style
Since the market has already experienced a significant upswing, it's unlikely we'll see another market-wide surge that raises all boats. Clear and simple -- that makes it a stock pickers market.
And with the recovery still in its early stages conditions favor cyclical industries -- often the first to notch big gains when the economy turns.
Now there's an opportunity to not only buy a business trading at cyclical lows, but one that has very attractive pricing dynamics.
We're talking about Ford Motor Co. (NYSE: F).
The stock is up slightly more than 11% since Horacio Marquez, Contributing Editor to the Money Map Report, recommended it early in 2009. But it's about to take off.
Let me tell you why...
The U.S. car industry is now capable of not only matching the quality of foreign carmakers, but beating them. Restructured and rejuvenated Ford has a superior line-up, with superior quality and it's gaining market share. That's key in an industry based on economies of scale.
"Ford Fusion and Mercury Milan already beat the Toyota's Camry and Honda's Accord in reliability ratings, and consumers are starting to notice. Once these trends start, they become enduring," Marquez wrote recently.
And Ford is implementing Ford One, an initiative to reduce platforms and increase efficiency that will contribute $2.7 billion a year in savings to the bottom line. Ford already turned profitable in the last quarter.
In fact, if you take a quick look at the company's balance sheet, you'll see it had a $10 billion positive swing in net tangible assets in the last fiscal year.
February sales featured another positive surprise - Ford beat GM in sales for the first time since 1989. And the company is launching a slew of impressive new products - the Fiesta, Focus, Explorer and Super Duty - to keep that momentum going.
With a healthy pile of cash, another $2 billion from the sale of Volvo, and no meaningful debt maturities for a couple of years, you can expect Ford to continue gaining market share and sales beat analysts' expectations. That spells exploding profits.
What's more, turnaround investing is one of the easiest ways to make huge returns. As profits accelerate, the stock races ahead to maintain the P/E multiple. It's the sweet spot of investing. And the turnaround is happening right before our eyes.
Editor's Note: The clock is ticking... But there's still a few minutes left for you to potentially double your money... while helping to expose the biggest lie in American history. This lie could affect up to $14.2 trillion in financial transactions this year alone. And our investigation has traced the source to two of the Washington's highest offices. (We have "smoking gun" evidence that Fed Chairman Ben Bernanke is personally involved!)
Market watchdog Peter Schiff is blowing the whistle on this lie - for free. Plus he's showing investors how to turn this situation into huge gains. For the full report, please go here now.
Here Are 10 "One-Click" Ways to Earn 10% or Better on Your Money Every Quarter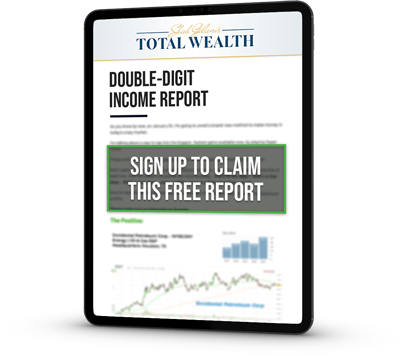 Appreciation is great, but it's possible to get even more out of the shares you own. A lot more: you can easily beat inflation and collect regular income to spare. There are no complicated trades to put on, no high-level options clearances necessary. In fact, you can do this with a couple of mouse clicks – passive income redefined. Click here for the report…