Deere & Co. (NYSE: DE) beat earnings estimates by a mile last week. It reported $1.58 earnings per share, beating most analysts' estimates by 50 cents! In addition, the company raised its earnings outlook.
In typical fashion, Deere continues to be conservative in guidance. And as I will explain below, the agricultural cycle this year is poised for a large upside surprise, as it is at the very beginning of a prolonged secular pickup.
The bottom line of Deere's performance last quarter is a prelude of things to come. Agriculture is zooming, and thus machinery in that sector is - and will continue - to command premium pricing. At the same time, global inflation is picking up slightly, but is still very subdued, which will help margins some more.
Margins in Deere's Agricultural and Turf segment blew through market estimates, as did its Construction and Forestry segment.
But Deere's success is not just the result of favorable macroeconomic developments in its core markets. The firm's longstanding leadership in North America, where Deere has about 50% of the market, is at the root of these hugely positive developments. This leadership is based on a tradition of high quality products that is well recognized and valued by customers. And this quality is not restricted to its products. It's also evident in Deere's superior approach to customer service throughout its worldwide network of dealers and its disciplined and well-run equipment financing division.
In sum, Deere's superior execution starts with production, and then extends to financing sales and servicing its customers.
Of course, Deere's dominance is well evident in North America. But elsewhere, including Latin America and other emerging markets, the competition with its lesser rivals is much stiffer. Still, Deere's superior quality, financing, and dealership network give the company an advantage, especially during downturns in economic activity. In these periods, Deere's disciplined financing arm experiences a low level of charge-offs due to its conservative financing standards and funding practices. And its superior network of dealers and higher-quality products are able to enhance customer retention.
We currently are seeing the pay-off of this strategy as the cycle picks up.
A global recovery, led by emerging economies and loose monetary policy, are boosting agriculture and construction.
After the 2008 financial crises the Group of 20 nations (G20) got together and ironed out an agreement to skirt a possible depression: Every country committed to expansionary monetary and fiscal policies. So both the advanced economies and the leading emerging economies lowered interest rates and expanded fiscal spending to get the global economy rolling.
At that time, recognizing that Brazilian valuations had been unjustly punished in the crisis, and knowing that Brazil, China, Russia and India would be coming very strong out of the gates, we jumped into the best macroeconomic risk-reward play in the market: On October 27 of 2008, I recommended buying the iShares MSCI Brazil Index (NYSE: EWZ) in order to front-run this trend. Given Brazil's commodity-driven economy and strong industrial base, that exchange-traded fund (ETF) was up 31% in a week and 110% a year later. I continue to hold a very positive view on Brazil, emerging markets, and on the agricultural and construction sectors.
Let me tell you why.
Emerging markets have been responsible for about two-thirds of all global growth coming out of the recession. The reason for this is simple: When crises hit, the entities that are in stronger financial positions are damaged the least and are able to come out of the crises faster than those in more precarious situations.
In fact, entities and countries in precarious situations are badly affected by crises and either enter into a downward spiral or require a huge amount of assistance to overcome one. Greece is an extreme case that illustrates this principle.
These days, while the advanced world is trying to get out of recession and employ its people, China is actually imposing measures to keep growth from going over 12% a year. Similarly, Brazil just cut its fiscal spending a bit and other commodity-heavy economies like Australia and Canada have tightened monetary policies. The Asian Development Bank recently suggested implementing capital controls in that part of the world in order to avoid overheating. While such policy would be ill advised, it illustrates the growth dilemma being experienced in the emerging world.
Brazil's economy likely will grow at a rate of 7.5% this year, before moderating to around 5% in 2011. India is growing at a rate of 5.8% and credit expansion and other measures are being implemented in order to accelerate that economy as we speak. India needs some 7%-8% growth to stabilize employment.
China needs to deal with its undervalued currency sooner, rather than later. I will not analyze this in detail, but an under-valued currency, if not allowed to float to its market equilibrium level, will greatly contribute to economic overheating and ultimately inflation. So I would not be surprised if Beijing resorts to some sort of orderly appreciation in its currency in the near term.
Regardless of whether or not the central government allows the yuan to appreciate, the purchasing power of the 1.5 billion Chinese citizens is growing very quickly. And I have seen similar phenomena in other emerging economies in the last 25 years. When this happens, the poor enter the middle class and alter their eating habits. This massive change in eating habits greatly benefits the consumption of sugar, meat, vegetable oils and grains.
And if you couple the much higher birth rates in emerging economies with the rising incomes that are resulting from high rates of economic growth and job creation you can see why there is a huge acceleration in food consumption. In China alone, 18 million people enter the workforce every year.
High rates of economic growth and higher income per capita in emerging markets are trends that will remain in place for many years. Furthermore, advanced economies' need to keep growing out of their debt problems will require that they remain committed to expansionary monetary policies. And these expansionary policies in turn will remain supportive of commodity prices.
Additionally, recent ecological events have had a negative effect on food supplies. The last monsoon season in India and droughts in Brazil damaged crops and boosted commodity prices. While we cannot count on these freak events, they offer long-term support to higher food prices and currently are helping the sector greatly.
In forestry, for example, prices of paper have risen sharply and there still is a large supply shortfall. And construction is picking up, even in the United States.
Deere is perfectly positioned to take huge advantage of global growth.
Deere's equipment has a commanding market share in the global agricultural and forestry industries. And the company is already blowing past expectations thanks to global economic pickup in both areas.
Also, Deere's construction equipment sales are already benefiting from the torrid rates of growth in emerging economies and a U.S. recovery that is gaining momentum.
The stock is cheaply priced at about 15 times forward earnings. It recently made a 52-week high and is consolidating these levels. It is ready to start a rapid appreciation, as the correction is running its course and is providing investors an attractive entry opportunity.
Deere closed up 3.65% at $58.74.
Recommendation: Buy Deere & Co. (NYSE: DE) at market (**).
(**) - Special Note of Disclosure: Horacio Marquez holds no interest in Deere & Co.
[Editor's Note: Horacio Marquez knows how to make a market call. It was Marquez who told investors that lithium was going to be big - a year before other "experts" made the same call. Now Marquez has isolated the major profit opportunities being created by the possible broadband breakdown - a situation that the news media is only just now starting to understand. To find out all about those top profit opportunities, check out this new report.]
News & Related Story Links:
Here Are 10 "One-Click" Ways to Earn 10% or Better on Your Money Every Quarter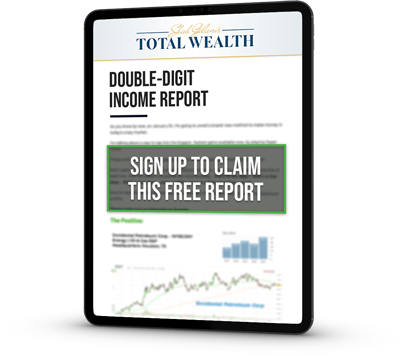 Appreciation is great, but it's possible to get even more out of the shares you own. A lot more: you can easily beat inflation and collect regular income to spare. There are no complicated trades to put on, no high-level options clearances necessary. In fact, you can do this with a couple of mouse clicks – passive income redefined. Click here for the report…