Every once in a while, it pays to go back to school. Even investors who've been around the block a time or two need a refresher in some time-tested lessons.
That especially goes for us editors here at Taipan Publishing Group. We analyze and sift through so much information to get to an investment opportunity that it's hard to let go of that idea when it doesn't pan out. I'm guilty of it myself, and I wrote about one such incident in my last Taipan Daily article, "How to Invest in Alternative Energy During the Gulf Oil Crisis."
That article inspired TD reader Stephen E. to write me a comment.
He reminded me that about four years ago I wrote about Samsö, a tiny island off the coast of Denmark that had become 100% reliant on renewable energy resources for its electrical needs. I also touted the benefits of the PowerShares WilderHill Clean Energy ETF (PBW:NYSE), particularly for the diversification amongst alternative energies it provides.
Here's an excerpt from his comment:
YOU RAVED about investing in the Power Shares Wilderhill ETF because it diversified you between wind, solar, geothermal with others in there too. You told us, Vestas was good, but very selective, where as PBW gave you a more broad based spectrum. I invested in that ETF some time back and got clobbered. It was awful. Skipped the Vestas Wind Systems thing because as you put it, better to be diversified in PBW which had more of a mix of Green Energy things.
There's more, and you can read the full comment online. (You can also read financial analysis from regular TD editors Justice Litle and Adam Lass there. Or sign up to get their investment commentary delivered right to your inbox.)
So I went back through my records... During my stint as editor for Material Profits, I recommended PBW twice - once in April 2006 and again in May 2006. Both times, the ETF hit our stop-loss, and my records show a loss of 21.75% and 17.38% respectively.
It should also be noted that I did recommend Vestas Wind Systems' OTC shares in February 2006, and walked away with a 30.23% gain, but this misses the point...
Lesson #1: Know When to Walk Away
Our emotions get the best of us when we let losing stocks ride. Not only are we financially invested, but our ego and pride can sometimes be poured into an investment. But a losing investment is nothing more, nor nothing less, than a losing investment.
With PBW, I fell in love with the idea of this investment. That clouded my judgment, and when my readers took the first hit, I should've backed off.
But I gave out other excuses for PBW hitting its stop-loss the first time: The rest of the market was contracting a bit, and my idea still had strong support from our bullish stance on crude oil prices. I was emotionally invested in being right.
In the end, I wasn't. And knowing when to walk away would've saved my readers a 17.38% loss.
And what about that idea of diversification? Was that just plain wrong too?
In a word, no.
Lesson #2: Diversification Is King
The "diversification" in PBW is actually very narrow. If you're talking about solely investing in alternative energy, then the ETF does offer pretty good diversification within that specific sector. But in the end, if PBW was all you invested in, than you're not very diversified at all.
We've talked about diversification so often that this idea kind of gets brushed aside. We get caught up in the individual ideas of certain stocks or sectors and miss the big picture.
Even investors who are "diversified" across the stock market aren't as diversified as they need to be in today's financial atmosphere. Stocks are only one portion of what a diversified portfolio looks like.
Take Harry Browne's Permanent Portfolio strategy. He suggested four types of investments, each weighted with 25% of the entire portfolio's value. This was his breakdown:
25% Stocks - would thrive with economic prosperity
25% Long-term bonds - would balance deflation
25% Gold (Bullion) - counters inflation
25% Cash (Treasury Bill Money-Market Fund) - safety
This strategy returned an average of 9.7% a year between 1970 and 2003.
The main reason for diversification is to preserve your wealth. If the stock market is tanking, then gold and cash tend to perform better, and can limit your portfolio's losses. This makes diversification an extremely powerful tool in hard economic times, and even volatile markets.
It helps keep investors balanced.
But while diversification helps limit losses, another lesson can really help grow your wealth.
Lesson #3: Don't Be Scared of Risk
You've heard the phrase, "Nothing risked, nothing gained," right? Well, that's this lesson in a nutshell. Every investment is a risk in some way or another... Even the tried-and-true mattress strategy is at risk to inflation.
But in general, the higher the risk, the higher the potential gain. Let's put this into context, though. This doesn't mean that you go all "wildcatter" on your portfolio and stuff it full of penny stocks in hopes to see a 10-bagger.
It means that you have to take calculated risks in order to increase your chances of growing your wealth faster.
My good friend Todd Schoenberger, who is now the editor of Taipan's Tipping Point Alert, used a "Core and Explore" strategy. Ninety percent of your portfolio was made up of your core investments, while the remaining 10% was reserved for those riskier chances.
There's a place for those "wildcatter" long shots, and knowing how much risk you're willing to take on can leave room for those opportunities, particularly when you adhere to Lessons 1 and 2.
My thanks to TD reader Stephen E. for writing in. Happy investing...
Don't forget to follow us on Facebook and Twitter for the latest in financial market news, investment commentary and exclusive special promotions.
Article brought to you by Taipan Publishing Group. Additional valuable content can be syndicated via our News RSS feed. Republish without charge. Required: Author attribution, links back to original content or www.taipanpublishinggroup.com. Read the original article here.
Other Related Sources:
Here Are 10 "One-Click" Ways to Earn 10% or Better on Your Money Every Quarter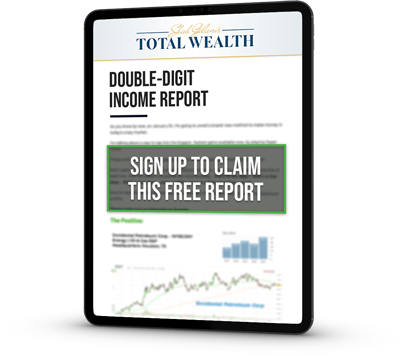 Appreciation is great, but it's possible to get even more out of the shares you own. A lot more: you can easily beat inflation and collect regular income to spare. There are no complicated trades to put on, no high-level options clearances necessary. In fact, you can do this with a couple of mouse clicks – passive income redefined. Click here for the report…