Speed kills. And in the fast food industry, it's imperative.
The speed of service and the ability to quickly adapt menus, packaging and advertising are what makes a market leader. And right now, the speed at which fast food companies make the transition into foreign markets, particularly China, is what matters most of all.
The industry's two biggest players, McDonald's Corp. (NYSE: MCD) and Yum! Brands Inc. (NYSE: YUM) - the parent company of KFC, Pizza Hut, and Taco Bell - know that.
McDonald's saw its second-quarter profit surge 12%, to $1.23 billion, or $1.13 a share, on strong global demand. Same-store sales grew 5.2% in Europe and 4.6% in Asia, the Middle East, and Africa.
China alone accounts for nearly a quarter of McDonald's revenue from the Asia Pacific, Middle East and Africa region, and its share is growing, Tim Fenton, the president of McDonald's Asia Pacific, Middle East and Africa operations told the Wall Street Journal.
"China is our fastest-growing [market] from the income standpoint and from the revenue standpoint," said Fenton. "The informal eating-out industry in China is about $300 billion right now, and it will grow about 10% this year."
Yum's China sales rose 4% in the second quarter, while U.S. sales were flat.
"A key driver of our overall growth continues to be new unit development in China and [the international division]," said Chief Executive Officer David Novak. "We continue to expect to open about 1,400 international units this year and remain the industry's leading international new developer."

McDonald's already has about 1,100 outlets in China and the company expects to boost that number to 2,000 by the end of 2013. The Golden Arches opened just under 150 outlets in the country last year, and expects to open 150 to 175 outlets in China this year.
However, Yum - which opens one new KFC in mainland China almost every day - has more than 3,500 restaurants in 650 Chinese cities. In the second quarter alone, the company opened 59 restaurants in China, bringing the total for this year to 155 outlets.
Yum's goal: To eventually open at least 20,000 fast food outlets in mainland China.
"Yum!'s is an amazing story about how they conquered China so much earlier than their main rivals," RJ Hottovy, an analyst at Morningstar, told The Independent. "Part of the reason is that they built up their supply chain and their distribution system quickly, and that is giving them a real competitive advantage. When you are setting up restaurants in new territories it is often difficult to procure packaging and to develop good relationships with suppliers, but Yum! now has a nice little edge."
Yum opened its first KFC in China in 1987 - three years before McDonald's broke soil on the Mainland.
"At the time that Yum! was accelerating in China, McDonald's was working on a turnaround in the U.S., but since that has been completed, it has turned its attention to international expansion in a big way and is planning to double its presence in China, so the competition for Yum! is going to be increasing," said Hottovy.
Indeed, McDonald's has shown a chameleon-like ability to adapt. The company stumbled in Europe when it first made the trek overseas. It soon found that foreign diners were less accustomed to the U.S.-style, quick-serve drive-through model, so it replaced the restaurant's 1970s nuances with a more congenial atmosphere and focused more on the sit-down dining experience.
The company's signature red and yellow signs and plastic and vinyl interiors were replaced with more art deco scaffolding, leather couches, wood tables, and wall paintings. It also offers Internet access and rental iPods to many of its contemporary European customers.
McDonald's spent more than $800 million remodeling 1,280 restaurants across Europe.
The brand position is different in different parts of the world," Denis Hennequin, who heads McDonald's European operations and spearheaded the re-imaging campaign, told BusinessWeek. "In Europe it's more about the experience."
In the United States, about 70% of sales come from drive-throughs.
McDonald's also has tailored its menu to regional tastes. The restaurant first started serving beer in Germany in the 1980s and then in Canada. Customers can order pasta freshly cooked to order in Rome, porridge in the United Kingdom, and a deep-fried patty of beef ragout in the Netherlands.
In China, the Chicken McNuggets come with the traditional BBQ, Sweet & Sour, and Honey Mustard sauces, but there's also a chili garlic sauce. There is also a seasonal Chinese New Year meal available, which includes a Grilled Chicken Burger and curly fries, as well as a horoscope of the twelve zodiac animals of Chinese astrology and traditional "red" packets, or gift bags, for gift giving.
The Big 'N' Tasty is sold as the 'Big 'N' Beefy' in the Chinese market and is topped with cheese, cucumber and mild-spicy Thousand Island dressing. Pies come in two standard flavours - Pineapple and Taro.
McDonald's also delivers 24 hours to anywhere that is within 3 miles (5 kilometers) of a restaurant. Deliveries are usually carried on electric scooters or bicycles.
Yum also boasts menus specifically tailored to Chinese tastes. KFC's localized menu includes congee or Chinese-style porridge for breakfast; Beijing Chicken Roll (à la Beijing Duck) served with scallion and seafood sauce, and Spicy Diced Chicken resembling a popular Sichuan-style dish.
In his book, "KFC in China: Secret Recipe for Success," Warren Liu, a former vice president of business development and a member of Tricon Greater China Executive Committee, said KFC has an advantage because most Chinese people prefer pork, followed by chicken; whereas beef lags behind. Tricon was the predecessor to KFC China's parent company YUM! Brands.
"KFC's leadership position in the Chinese restaurant industry is KFC's to lose," says Liu.
But don't be too quick to dismiss the Golden Arches.
"McDonald's, with its well-known brand, its advertising and its scale, will be a major player [in China]. But there's room for both," said Hottovy. "This is all about the rise of the middle-income consumer in China that is fuelling the growth, the story that we hear so much about."
It's also about adaptability, says Liu.
"A strategy that works well in a stable and mature market economy would most likely not work well in China, given the diversity of its people, geography, the heritage of a rich and complex culture, and a rapidly and continuously changing business environment since China's economic reforms commenced in 1978," he wrote in his book.
"Only the most perceptive and swiftest-moving companies will rise to the top, and stay on top," said Liu. "The speed with which to come up with the best ideas, to make the optimal decisions, and to execute those decisions once they are made. Over time, speed contributes to the accumulation of a competitive advantage in a fast-paced and rapidly-changing market environment."
Those being left behind: Burger King Holdings Inc. (NYSE: BKC) and Wendy's Arby's Group Inc. (NYSE: WEN).
Burger King - which should be forced to relinquish its self-appointed crown on principle - has more than 1,200 restaurants outside the United States, but just 33 in China. Wendy's has none.
So the choice comes down to McDonald's and Yum. But it's quite literally a matter of taste.
McDonald's continues to hold the edge in U.S. sales. U.S. same-store sales surged 5.2% in second quarter and U.S. revenue rose 2% to $2.08 billion. Operating income climbed 7% to $895.1 million. Total revenue rose 5% to $5.92 billion.
Yum's U.S. same-store sales actually fell 1% in the second quarter, dragged down by KFC's 7% decline. The company's total revenue came in at $2.57 billion.
Money Morning Contributing Editor Horacio Marquez recommended McDonald's in a Feb. 23 "Buy, Sell or Hold" column, saying the company is "the unparalleled leader in the arena of quick service and value dining."
"This very difficult environment is sending a lot of consumers scrambling for cheaper alternatives in dining. That is where McDonald's distinguishes itself," said Marquez. "McDonald's is maintaining operating margins in excess of 25% and a net margin of 18%. This provides the firm a rock-solid cash flow, which, together with a very low level of debt, puts the company in the ideal situation to face these times."
Still, Yum has a much larger foothold in China, where operating profit rose 33% to $139 million. And analysts who are more concerned with the potential growth prospects that the Red Dragon offers find Yum more appealing.
"We like the stock particularly in the second half," David Palmer, UBS AG's (NYSE: UBS) senior restaurant analyst told CNBC. "The key metrics for this company are its same store sales and China, which has become its more profitable division. If they do well, the stock will go higher."
News and Related Story Links:
Here Are 10 "One-Click" Ways to Earn 10% or Better on Your Money Every Quarter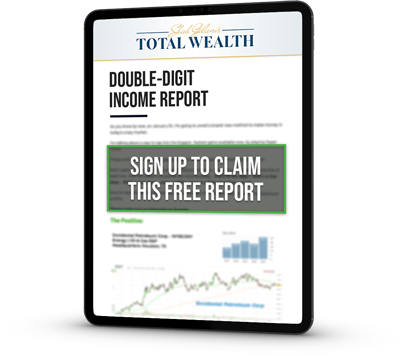 Appreciation is great, but it's possible to get even more out of the shares you own. A lot more: you can easily beat inflation and collect regular income to spare. There are no complicated trades to put on, no high-level options clearances necessary. In fact, you can do this with a couple of mouse clicks – passive income redefined. Click here for the report…