Global mergers and acquisitions (M&A) activity is at its highest level since late 2009, providing a glimmer of hope to investors struggling to decipher stock and bond markets roiled by a weakening U.S. economy.
Global takeovers announced so far this year have totaled $1.29 trillion, up 23% from the same time last year, according to Bloomberg News.
Last week a flurry of bleak economic news headlined by larger than expected unemployment claims spurred a 280-point drop in the Dow Jones Industrial Average.
But, investors took some solace from a flurry of M&A activity and an initial public offering (IPO) from General Motors Co., because acquisitions are seen as a sign companies are confident the economy will grow and business will improve.
Nearly $85 billion of transactions have been announced since last Monday, the highest weekly sum since the week of Dec. 13, 2009.
If the pace of global mergers continues this month, the value of deals in August will reach $285 billion, according to Bloomberg data. The busiest August on record was 2007, at the end of the private-equity boom, when companies racked up $297.4 billion of deals.
"There is no August this August," Bob Profusek, head of M&A at Jones Day, said in a Bloomberg Television interview. The law firm is representing Potash Corp. in rejecting BHP's bid. "There's a lot in the pipeline."
Even though the U.S. stock market suffered through a week of losses, some analysts think things could have been worse if not for the increase in M&A activity.
"Increased M&A activity is giving decent support to equities in a fairly illiquid market," Jeffrey Davis, who oversees $5 billion as chief investment officer at Lee Munder Capital Group in Boston told Bloomberg. "We're looking at growth stocks and technology stocks in particular which have taken a beating over the past weeks, so there may be some attractive valuations there."
Executives Swimming in Cash Go Global
Changes in the global economy also are changing the nature of transactions. Where once the bulk of deals were confined to the United States and Europe, many of the biggest deals have taken place in Asia.
To date, global M&A volume is up by 24% from the 2009 pace, to $1.65 trillion. U.S. deal activity had been weak through most of 2010, rising by only 1%, to $498 billion versus 2009, according to Bloomberg, as U.S. corporations saved their cash and waited for more signs of economic revival.
However, the volume of cross-border deals to date has already surpassed last year's total volume. In late July, Cheung Kong Infrastructure Holdings Ltd., controlled by Hong Kong tycoon Li Ka-shing, paid $9.05 billion for the U.K. electricity unit of Electricite de France SA. And Potash Corp. is reportedly seeking potential alliances with Chinese chemicals companies and sovereign funds to counter BHP's $130-a-share offer.
The weak overall economy actually is aiding deal making by making financing easier to obtain. On Thursday, yields for 10-year Treasury notes dropped below 2.6%, helping push corporate borrowing rates to historic lows. Even companies with weaker credit can attract funding at a level that makes deals attractive.
Although the global economic slump that began in 2007 stunted firms' appetite for takeovers, cutting the annual pace of M&A by 50% in 2009, last week's moves suggest some executives have grown restless waiting for the economy to turn.
One factor may be the cash in their coffers. The 1,000 biggest companies by market value worldwide have amassed about $2.86 trillion in cash and equivalents based on their latest filings, according to data compiled by Bloomberg. That's about 57% above the level at the same time in 2006.
"Cash is not only on the sidelines, but actually it's growing every single day," said Frank Aquila, a partner at Sullivan & Cromwell LLP, told Bloomberg.
Large global companies also are expected to drive deal making because they can make longer-term strategic bets and pay high premiums, in cash, to buy smaller players.
"The macro environment for M&A is extremely good right now," Profusek of Jones Day told The Wall Street Journal. "You've got the whole tectonic plate-shifts with China and India...and the amount of money that exists on balance sheets is astonishing."
Corporate vultures are busy sucking up companies because many are seen as undervalued. When The Blackstone Group LP (NYSE: BX) agreed to buy power generator Dynergy Inc. (NYSE: DYN) for $550 million last week, Dynergy's stock was hovering near its all-time lows.
The rise in deal activity is the clearest sign yet that executives believe the "commodities supercycle," driven by the industrialization of emerging countries, is sustainable.
Raw materials prices have risen 35% since the depths of the financial crisis in early 2009, led by a recovery in crude oil, copper and iron ore, according to data compiled by the Financial Times.
Natural resources companies, including miners, oil and natural gas producers and fertilizer makers, have launched $316 billion in M&A deals so far this year. That's the biggest ever for the first eight months of the year, according to Dealogic, and set to beat the annual record of $384 billion in 2006.
Spate of IPO's Feed Optimism
Another bright spot for investors is a recent surge in the IPO market, highlighted by GM's offering filed last week. Many analysts feel investor response to IPOs reveals current sentiment, which indirectly reflects expectations for both the economy and the markets.
Compared to last year, IPO funding has shot through the roof. The number of IPO registrations in the second quarter of 2010 has surged 303% compared to last year.
A total of 37 companies had their initial public offerings in the second quarter, including Tesla Motors Inc. (Nasdaq: TSLA), which is up 13% from its initial offering price.
"The resurgence of pipeline activity represents optimism about the growth of the economy and the markets." Maria Pinelli, Americas Director, Strategic Growth Markets, Ernst & Young told ETF Trends.
Pinelli also said that in 2009, the majority of IPO activity came from large companies and spinoffs. In contrast, 2010 has shown that investors are again willing to take risks by investing in smaller companies looking to raise less than $100 million.
But while companies are beginning to do more deals, volume is still below the boom years of 2006 and 2007, when $3.51 trillion and $4.02 trillion of deals were announced, according to data compiled by Bloomberg. Those levels may not be reached anytime soon.
Hi-Tech, Commodities to Lead M&A Surge
Most analysts expect technology, energy, healthcare and commodities to lead the M&A surge. These sectors are shielded more from financial downturns, depending less on discretionary consumer income.
Technology and telecommunications companies are among the most cash-rich companies, led by Santa Clara, California-based Intel, Apple Inc. (Nasdaq: AAPL), Oracle Corp. (Nasdaq: ORCL), Cisco Systems Inc. (Nasdaq: CSCO), Microsoft Corp. (Nasdaq: MSFT), and Google Inc. (Nasdaq: GOOG).
In May, for instance, International Business Machines Corp. (NYSE: IBM) CEO Samuel Palmisano said IBM would be a more aggressive buyer, spending $20 billion on deals between 2011 and 2015.
"In five years we will spend more on acquisitions than in the previous 10 years," he said.
Firms that make consumer products people need no matter what will also be popular. That's partly what drove The Rank Group PLC, which makes aluminum foil and other products, to announce Tuesday it was buying Pactiv Corp. (NYSE: PTV), the maker of Hefty trash bags, for $4.6 billion in cash.
Despite the headline-grabbing numbers, the overall mood among dealmakers remains cautious. Slowing economic growth, market volatility, high unemployment and constrained consumer spending is giving executives pause.
"They are turning over every rock" to make sure any potential transaction carries minimal risk, Profusek told The Journal. "That's stretching out the time it usually takes to sign deals, and a greater number of them are getting scuttled as they develop."
But picking and choosing takeover targets can be a tricky game. Most individual investors simply don't have the expertise to make the right bets.
Investors wanting to play along might take a look at Evercore Partners Inc. (NYSE: EVR). The company is an independent investment advisory firm that specializes in mergers, acquisitions and other "corporate transitions." Assets under management are growing - and most of all, M&A activity should pick up seasonally as we head toward the end of the year.
Investors looking to tap into the IPO market also need to tread lightly.
It's important to remember that not all IPOs are successful for the people who invest in them. Globally, only 47% of all IPOs closed the quarter above their initial offering price, and the average return for the quarter was only 2%.
You can partake in the IPO surge without having to pick and choose individual companies by investing in exchange-traded fund (ETF) First Trust IPOX-100 Index Fund (NYSE: FPX). The fund may be better suited for most investors who do not have the time to do due diligence on hundreds of companies.
News & Related Story Links:
Here Are 10 "One-Click" Ways to Earn 10% or Better on Your Money Every Quarter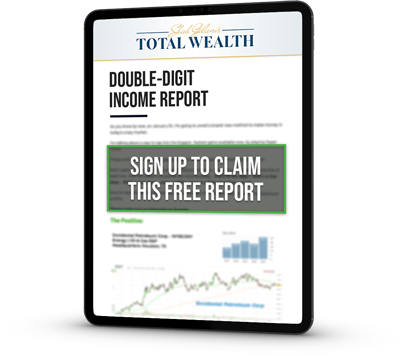 Appreciation is great, but it's possible to get even more out of the shares you own. A lot more: you can easily beat inflation and collect regular income to spare. There are no complicated trades to put on, no high-level options clearances necessary. In fact, you can do this with a couple of mouse clicks – passive income redefined. Click here for the report…