Netflix Inc. (Nasdaq: NFLX) - the web-based DVD rental company - is locked in a row with Comcast Corp. (Nasdaq: CMCSA) that could have significant implications for the management of the Internet as a whole.
At the heart of the conflict is Level 3 Communications Inc. (Nasdaq: LVLT), a little-known network operator that handles Netflix content. Comcast has increased the fees it charges Level 3 to carry streaming Netflix videos over its cable network. That decision goes against conventional principles of so-called "network neutrality," under which network operators exchange traffic for free when similar amounts of information flow in each direction. Such exchanges are known as "peering."
Net neutrality also prohibits network owners like Comcast from discriminating against Internet companies by blocking or slowing access too their content.
Comcast argues that the number of Netflix videos being streamed over the Internet has increased dramatically, and Level 3 should have to pay more for the added traffic.
"What Level 3 wants is to pressure Comcast into accepting more than a twofold increase in the amount of traffic Level 3 delivers onto Comcast's network -- for free," Comcast Senior Vice President Joe Waz said in a blog post. "In other words, Level 3 wants to compete with other CDNs, but pass all the costs of that business onto Comcast and Comcast's customers, instead of Level 3 and its customers."
However, Level 3 sees a conflict of interest on the part of Comcast, which in addition to being a broadband carrier controls vast amounts of video content. Comcast charges its customers as much as $9.99 to rent select movies from its On Demand menu for 24 hours, whereas Netflix said last month that it would charge its customers just $7.99 a month to stream an unlimited number of movies from its online library. Netflix's business model also competes directly with Comcast's cable television offerings.
By demanding a recurring fee to carry Netflix content, Level 3 says Comcast is attempting to disadvantage and extract more money from its competitors.
"Comcast is effectively putting up a toll booth at the borders of its broadband Internet access network, enabling it to unilaterally decide how much to charge for content which competes with its own cable TV and Xfinity delivered content," the company said in a statement. "This action by Comcast threatens the open Internet and is a clear abuse of the dominant control that Comcast exerts in broadband access markets as the nation's largest cable provider."
In addition to being the country's largest cable provider, Comcast is the largest U.S. Internet operator with nearly 17 million customers. That gives it an alarming amount of leverage.
"If Netflix wants to reach Comcast customers, they have to go through Comcast - there's no alternative," Derek Turner, research director at Free Press, a nonprofit media-policy group, told the Philadelphia Inquirer. "We need a cop on the beat to have the ability to intervene in these kinds of disputes on behalf of consumers."
This isn't the first time Comcast has been accused of using unfair business tactics, either.
The Federal Communications Commission (FCC) in 2008 cited Comcast for blocking users from some peer-to-peer applications - often used to distribute files such as television shows and movies - and ordered the company to stop. However, in a striking blow to net neutrality, a federal appeals court in April ruled that the FCC had overstepped its authority.
Still, new net neutrality rules were one of the Obama administration's key campaign pledges and have been a top priority for FCC Chairman Julius Genachowski. Genachowski yesterday (Wednesday) confirmed that the FCC would vote on a net neutrality proposal at its December 21 meeting.
The plan outlined by Genachowski includes five basic points:
Meaningful transparency.
A ban on blocking lawful apps and services.
A ban on unreasonable network management.
An allowance for a certain amount of ISP network management.
And rules governing wireless communications that call for transparency and a basic no-blocking rule.
"Broadband providers have natural business incentives to leverage their position as gatekeepers to the Internet," said Genachowski. "Even after the Commission announced open Internet principles in 2005, we have seen clear deviations from the Internet's openness - instances when broadband providers have prevented consumers from using the applications of their choice without disclosing what they were doing. The proposed open Internet framework is designed to guard against these risks, while recognizing the legitimate needs and interests of broadband providers."
Regardless, Comcast continues to assert that its dispute with Level 3 is less about a free and open Internet than it is about two companies in a small business skirmish.
"Despite Level 3's effort to portray its dispute with Comcast as being about an 'open Internet,' it is nothing but a good old-fashioned commercial peering dispute, the kind that Level 3 has found itself in before," said Comcast's Waz.
Netflix executives have declined to comment but Level 3 sees nothing less than a monopoly attempting to exert undo influence over its competitors.
"I can't guess what their motivation is," John Ryan, Level 3's chief legal officer told the Inquirer. "But the result of their action is that it ends up favoring their own proprietary content and applications and disfavoring competitive content and applications."
News & Related Story Links:
Here Are 10 "One-Click" Ways to Earn 10% or Better on Your Money Every Quarter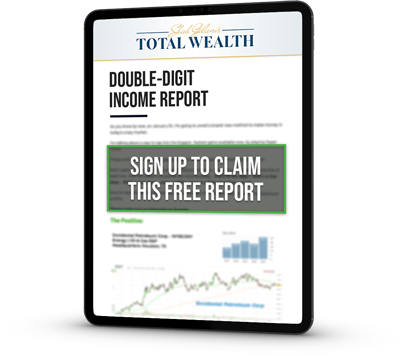 Appreciation is great, but it's possible to get even more out of the shares you own. A lot more: you can easily beat inflation and collect regular income to spare. There are no complicated trades to put on, no high-level options clearances necessary. In fact, you can do this with a couple of mouse clicks – passive income redefined. Click here for the report…