Technology companies, and tech stocks, started a revival in 2010 and are heading toward an even more profitable 2011. That's because a new age of computing - one that prioritizes mobility and efficiency - has dawned in the computing world.
Indeed, we've entered what researching firm International Data Corporation (IDC) calls a "new era" of computer usage.
Roughly half of all regular Internet users in 2011 will use non-PC devices, according to IDC, which says a trend becomes mainstream when it constitutes more than 15% of the market.
Just as the smaller PCs of the 1980s supplanted the lumbering terminals of the 1960s, PCs are being replaced by a variety of hand-held devices - like Apple Inc.'s (Nasdaq: AAPL) iPhone and iPad and Research in Motion Ltd.'s (Nasdaq: RIMM) Blackberry.
"The PC-centric era is over," IDC said in its annual report, released in November.
The firm predicts 330 million smartphones will be sold worldwide next year along with 42 million media tablets.
"These devices will be increasingly embraced as complements if not substitutes for PCs where voice and light data consumption are desired." Raphael Vasquez, an analyst at tech research firm Gartner Inc. (NYSE: IT), said in a statement.
A slow down in global PC shipments is already hitting manufacturers. Gartner cut its 2011 prediction for PC shipments to a 15.9% rise from 2010, down from the 18.1% increase the firm originally expected.
By mid-2012, non-PC devices are expected to out-ship PCs, Gartner says.
The shift means that PC makers will no longer be able to rely on price slashing to move their products. Instead, they will have to follow consumers into the mobile computing market.
For example, Taiwan-based Acer Inc. - the world's No. 2 PC vendor - is doing just that. To shift from the diminishing PC-only market, Acer last month released its own tablet computers. It aims to nab a 15% - 20% share of the global tablet market next year.
"For Acer, we want to become a significant player as soon as possible," Acer Chairman J.T. Wang said at the Reuters China Investment Summit. "Tablet is a huge market and it shows a new path for new growth."
Of course, Acer isn't the only company adapting to this hot new trend - and knowing which companies are leading the transition will be the key to unlocking profitable technology plays in 2011.
New Products Breed New Competitors
The iPad took the tablet computer mainstream in 2010, and it's likely to keep its spot as the best-selling tablet computer in 2011. But that won't stop companies with lower-cost alternatives - including Dell Inc. (Nasdaq: DELL), Hewlett-Packard Co. (NYSE: HPQ) and Samsung Electronics Co. Ltd. - from taking aim at the tablet's market share in 2011.
Overall tablet sales are expected to more than double next year, according to IDC. And shipments could grow an average of 57.4% per year in 2010-2014 as emerging market demand for the technology heats up.
IDC estimates that IT spending in regions like Latin America, Asia, the Middle East and Africa next year will increase by 10.4% to $440 billion - equal to 27% of total global IT spending.
Worldwide IT spending will grow by 5.7% next year to $1.6 trillion, IDC says.
Tablets won't be the only new technology driving growth, either. Smartphones will play their part.
Apple and Google Inc. (Nasdaq: GOOG) have been the most successful in the smartphone market so far. The success of the iPhone has made Apple the smartphone market leader, but phones running Google's Android software snagged 25% of the market in the third quarter.
Still other tech companies are finding a niche for profit, as well.

Research in Motion's less costly BlackBerry Curve 3G 9330 and Nokia Corp.'s (NYSE ADR: NOK) Nuron smartphone have gained popularity among more frugal consumers.
These more affordable midrange smartphone options cost between $100 and $200 and are the fastest-growing smartphone segment, with sales expected to reach $28 billion in 2014 from $7 billion in 2010. They still offer Internet usage, but lack the camera and video capabilities and downloading speed of their pricier competitors.
In addition to smartphone and tablet manufacturers, mobile application developers stand to profit from the surge in mobile computing, as well.
Application downloads are expected to jump by 60% a year through 2014, producing more than $35 billion. Apple's iStore boasts more than 300,000 apps, and phones using Google's Android platform have access to more than 80,000 apps. Experts see those numbers growing to 750,000 for Apple and 550,000 for Google in 2011.
Cloud Computing Takes Over IT
Mobile computing isn't the only trend that's found its stride in the mainstream.
Cloud computing - web-based storage and network service - was one of the hottest tech buzzwords in 2010. Public clouds are becoming "the dominant technology platform for the next 20 years," said Frank Gens, chief analyst for IDC.
Worldwide spending on public IT cloud services will hit $29 billion next year, a 30% jump from 2010. Furthermore, 80% of new software products will be deployed on cloud platforms. This will push cloud computing to a crucial point in 2011, said IDC's Gens, as it becomes the norm for corporations' IT models.
The rapid growth in cloud computing has already triggered a flurry of mergers and acquisitions (M&A) activity in the data storage market. Hewlett-Packard Co. (NYSE: HPQ) bought 3PAR Inc. in September for $2.35 billion, EMC Corp. (NYSE: EMC) bought Isilon Systems Inc. (Nasdaq: ISLN) in November for $2.25 billion, and Dell Inc. (Nasdaq: DELL) bought Compellent Technologies Inc. (NYSE: CML) earlier this month for $960 million.
With so many smaller companies already snatched up, there are only a few options left for consolidation. Remaining contenders for a 2011 buyout are CommVault Systems Inc. (Nasdaq: CVLT) and Teradata Corp. (NYSE: TDC).
Teradata Corp. is setting up for a good run on cloud computing growth. The data storage company just bought software provider Aprimo to expand its offerings in cloud-based analytics. KeyBanc issued a "buy" rating for the stock and said it should post solid earnings into 2012. It could also catch the eye of larger competitors like H-P, Microsoft Corp. (Nasdaq: MSFT) or Oracle Corp. (Nasdaq: ORCL).
Look for industry heavyweight Dell Inc. to stay on the hunt in 2011 to grow its piece of the cloud computing industry. Its need to invest in M&A to survive the industry shift away from PC-dominance could weigh on its earnings next year.
"We believe Dell, in particular, will need to acquire a significant amount of enterprise technology if it is going to successfully transition from a PC-centric company to an enterprise solutions leader," said Goldman Sachs Group Inc. (NYSE: GS) analyst Bill Shope.
"The Next Microsoft"
Competition to win the public-cloud service platform crown will heat up as other contenders vie for the title of "the next Microsoft," as IDC puts it, establishing a market position similar to Microsoft's dominance with its Windows applications.
Top challengers include Salesforce.com Inc. (NYSE: CRM) and Oracle.
Salesforce.com provides cloud-computing applications and is expanding its cloud offerings in an attempt to snag more of the $21 billion-a-year database market.
Salesforce.com will launch Database.com, a database program designed to manage corporate data and round out the company's cloud services offerings. Now it can charge one fee for software costs, Internet hosting and data storage. That's a different approach than the usual process of requiring businesses to buy and install software before the database companies manage the data.
"It's an alternative delivery method," Gartner analyst David Feinberg told Reuters. "They could very well be on to something."
Some analysts predict Oracle will hit back and make a play to buy Salesforce.com next year. Oracle wants Salesforce.com's CRM clients, and Salesforce.com would benefit from Oracle's global client network.
Many analysts are looking for a hot 2011 performance from Oracle and have issued "buy" ratings on the stock with price targets around $34. Oracle is currently trading around $31 and is up 29% so far this year.
Crowded Internet Creates Rise of CDNs
The phenomenal growth in online reliance with mobile and cloud computing is shifting the Internet infrastructure by changing what is needed from a network provider - and giving some much-deserved attention to a little known industry.
Mobile and cloud users will push online activity farther than it was designed to go, streaming videos and downloading files bigger and more frequently than ever before. Networking specialist Cisco Systems Inc. (Nasdaq: CSCO) estimates Internet traffic will quadruple by 2014 and 90% of it will be online video, gaming and mobile services. Netflix Inc. (Nasdaq: NFLX) alone accounts for 20% of all Internet traffic on a given evening, according to network solutions provider Sandvine Corp.
Indeed, content providers will need help from content delivery networks (CDNs).
While mobile devices and cloud computing have already gone mainstream, CDNs are in line to be next year's biggest growth trend. Companies like Netflix and Amazon.com Inc. (Nasdaq: AMZN) will stream an increasing amount of applications over the Internet, requiring more bandwidth and creating a larger market for CDNs.
The big three so far in this industry are Level 3 Communications Inc. (Nasdaq: LVLT), Akamai Technologies Inc. (Nasdaq: AKAM) and Limelight Networks Inc. (Nasdaq: LLNW). They've all positioned themselves to boom next year and companies want to ensure smooth streaming for their customers. All three have partnered with Netflix to stream its content.
IDC expects CDNs increased value in 2011 to bring some M&A activity in the industry, with network operators and IT services companies going after independent CDNs. Companies also are likely to start developing in-house CDNs.
Profiting After the PC
There are a few different approaches investors can take to profit from tech sector growth, including plays in Internet-related exchange-traded funds (ETFs) that will rise as the industry strengthens in 2011.
The First Trust Dow Jones Internet Index Fund (NYSE: FDN) includes a broad range of companies generating revenue from the Internet. Its holdings are concentrated in Google, Amazon.com, and eBay Inc. (Nasdaq: EBAY). It also holds shares in network infrastructure company Juniper Networks Inc. (NYSE: JNPR) Salesforce.com and Netflix. It's up around 32% so far this year.
The Technology Select Sector SPDR ETF (NYSE: XLK) offers a more technical approach by investing in companies focused on hardware, software and networking. Apple makes up 12% of its assets, with other big names including International Business Machines Corp. (NYSE: IBM), Cisco, and Oracle.
Finally there's the PowerShares QQQ Trust ETF (Nasdaq: QQQQ), which mirrors the Nasdaq's performance and is up more than 19% this year. It has almost 20% of its assets in Apple, and also holds Google and Research in Motion stock.
For individual stocks, confident moves and innovative products will lift competitors ahead of rivals.
Investors wanting to go "to the cloud" for profits in 2011will have a lot of options. In addition to Salesforce.com and Oracle, data storage leader EMC Corp. (NYSE: EMC) has been getting a lot of attention.
Goldman's Shope issued a "buy" rating earlier this month for EMC with a price target of $27. Shares have been on a steady upward climb for two years now and are up almost 30% in 2010.
EMC is cheaper than its data storage competitors at around $22 a share. Rival NetApp Inc. (Nasdaq: NTAP) is trading around $53, and the much larger Hewlett-Packard is around $41.
EMC also holds an 80% stake in virtualization specialist VMware Inc. (NYSE: VMW) meaning it'll benefit nicely from growth in its specialty of virtualization. Virtualized operating systems are the building blocks of cloud computing.
While there are many up-and-coming tech leaders on the horizon, those who want to go with a consummate industry professional should turn to Apple.
Experts continue to tout Apple as a portfolio winner. A successful 2010 allowed the company to sink its teeth into the top spots of the smartphone and tablet markets. And now it's working on improving its top sellers to ensure its rivals' models don't get far in their attempt to steal the tech gadget crown.
"Pretty much everything is going right for Apple at this point and the stock actually looks cheap," Jason McPharlin, portfolio manager at Northstar Capital Management, told CNNMoney.
Analysts are expecting a 26% profit increase in Apple's fiscal year 2011. It plans to roll out a Verizon-capable iPhone after the New Year, which could give it back some smartphone ground it lost to Verizon users who went with products running Google's Android operating system.
"Apple is the single most attractive growth stock I know. There's Apple and there's everyone else," said Jon Burnham, manager of the Burnham Fund.
[Editor's Note: If you like the insights that our "Outlook" series provides, but you want to receive this kind of financial-market intelligence throughout the year, you should look at our monthly affiliate newsletter, The Money Map Report.
Each month, the gurus who write for Money Morning get together and identify the very best profit opportunities. And they do that by "following the money" - spotlighting the global moneyflows that point to those new profit opportunities (the best ones available at that particular time).
Sometimes this exercise means "following the money" from one sector to the next. Other times that means moving from one geographic market to another.
To make those moves successfully, investors need a compass or, better yet, a guide. And successful investors will tell you, one of the best guides out there is The Money Map Report.
The Money Map Report employs many of the same experts whose columns you read here each day. The difference is that while Money Morning is news and investment analysis, TheMoney Map Report is dedicated solely to investment analysis.
Our writers use proprietary money-flow indicators to identify and isolate the most timely profit opportunities you'll find anywhere. For more information about The Money Map Report, please click here.]
News and Related Story Links:
Here Are 10 "One-Click" Ways to Earn 10% or Better on Your Money Every Quarter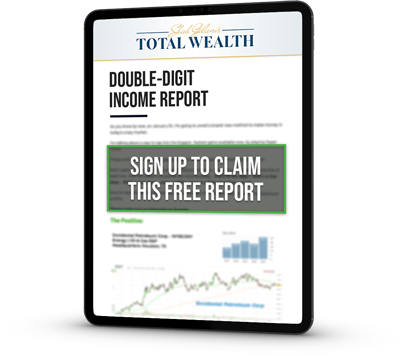 Appreciation is great, but it's possible to get even more out of the shares you own. A lot more: you can easily beat inflation and collect regular income to spare. There are no complicated trades to put on, no high-level options clearances necessary. In fact, you can do this with a couple of mouse clicks – passive income redefined. Click here for the report…