Junk bonds got issued at record rates in 2009 and again in 2010. And that pace has carried over into the New Year.
While the ability to raise money in the less-than-investment- grade bond market indicates that the market is getting back to where it used to be, there are reasons to be worried.
Investors chasing income in the form of high-yield debt - the technical term for junk bonds - are increasingly accepting lower returns and fewer protective covenants, even as they take on increased risk.
Even if you're not a junk-bond investor, it's important to study and understand these recent developments in the high-yield debt market. The reason: They can serve as an early warning signal for trouble to come in the stock and bond markets.
And if you are heavily weighted in junk bonds, now may be a good time to take some profits off the table.
An Insider's View of the Market
In our current low-interest-rate environment - engineered by the U.S. Federal Reserve - netting even a decent return on fixed-income investments has been a challenge.
As a result, investors have increasingly been looking to add yield by buying longer-dated bonds. And when going fishing out on the more-volatile long end of the yield curve didn't bring in enough income, investors swallowed the junk ratings on corporate issues and h ave been grabbing all that they are able.
According to the Fitch Ratings Inc. report, the "U.S. Leveraged Finance Quarterly," the $252.4 billion in high-yield debt issued last year topped 2009's record-setting total of $151.5 billion by a whopping 66%.
There was a strong reason investors were so fixated on high-yield paper: While general U.S. Treasury funds generated an average total return of 6.9% in 2010, and A-rated corporates returned 7.54%, the total return in the junk-bond sector was 15.3%, according to Bank of America Corp. (NYSE: BAC)/Merrill Lynch. And that's after the 57.3% total return that junk bonds enjoyed in 2009 - a scorching performance that no doubt stoked additional investor interest in junk bonds last year.
There's also no question that the reach for yield and the downward trend in junk-bond default rates - from 13.7% in 2009 to 1.3% by the end of 2010 - will continue to spur money inflows to high-yield retail mutual funds and keep institutional demand well ahead of supply.
But here's the key consideration: With yields on new junk issues in the primary market dipping below 6% for higher-rated speculative paper - and with risk premiums hovering near their historic average of 6.03 percentage points over U.S. Treasuries - the junk-bond boom may be coming to an end.
Taking Liberties
This incredibly strong demand has been a boon for issuers. Not only have borrowing costs come down as coupons have been inching lower, but even some of the lowest-grade borrowers are forcing hungry investors to accept "covenant-lite" offerings and "PIK (Payment-in-Kind)-toggle" notes again. (In a PIK-toggle note, the borrower in each interest period has the option to pay the interest due out in actual cash, or to issue additional debt as the "payment-in-kind.")
Bonds are contracts between investors and issuers. They contain covenants that protect lender/investors by mandating that certain corporate financial metrics - such as leverage ratios or debt-to-equity ratios - be maintained.
Investors demand these covenants as a matter of course. It's just prudent investing.
However, when we see the extraordinary levels of demand that we're seeing now, suppliers of high-yielding debt gain the upper hand. And issuers, wherever they can get away with it, roll out covenant-lite agreements that dilute investor protections and favor the borrowers.
With the payment-in-kind option, PIK-toggle notes provide issuers with a financial toggle switch that they can turn on and off at their convenience. Given that the PIK provision allows them to pay some of the interest due with additional debt instead of cash, it must be viewed as one of the more egregious covenant-lite luxuries and liberties that borrowers avail themselves of when investors are lining up to buy their debt.
Another liberty being taken by borrowers in the face of high demand for excess-yield debt is the issuance of junk bonds by private-equity outfits to pay themselves dividends with the proceeds of the bond offerings.
We've seen this happen many times before.
But there's a big difference this time.
Despite rising stock prices, the markets have not been receptive to widespread initial-public-offerings (IPOs). So private-equity shops that were seeking to "cash out" on some of their long-held takeover investments haven't been able to do so by selling newly minted shares. So they are instead taking on debt to pave the way for "backdoor" dividend payments to themselves and their investors.
Just last quarter, HCA (the now-privately held Hospital Corp. of America) sold $1.525 billion of 7.75% high-yielding bonds to partly cover a $2 billion dividend payment to its private equity owners, which include Kohlberg Kravis & Roberts, Bain Capital LLC, Merrill Lynch, and HCA's co-founder, Thomas Frist Jr. Since the $31 billion buyout took place in 2006, HCA investors have been paying themselves with dividends; since its rumored IPO has been recently put off again, that may continue.
The HCA deal is certainly not the only dividend-capitalization offering by a private group or public company. Of $252 billion worth of junk bonds issued last year, $40 billion was floated to finance dividend payouts. Plenty of public companies, as well as private equity shops, have been re-engineering their finances and are banking hordes of cash for acquisitions, dividends, and rainy days. And they're all doing it by issuing junk - plenty of which is covenant-lite.
Already this year, J Crew Group Inc. (NYSE: JCG) floated a covenant-lite offering to back its $2.86 billion buyout by TPG Capital, which added to three other covenant-lite deals by Del Monte Foods Co. (NYSE: DLM), CommScope Inc. (NYSE: CTV), and Axcan Pharma Inc., totaling more than $5 billion so far this year.
Protective Steps
Investors right now need to answer two big questions:
1. Are they just too late to the party to expect double-digit returns?
2. And will the smaller (lower-yielding) coupons being offered at this stage of the game cushion them if volatility increases because interest rates start to surge?
But it's not just high-yield investors that need to be vigilant about all the jangling junk out there.
In fact, all investors should be watching the amount of leverage being added to:
Corporate balance sheets.
The books of investors who - I'm frightened to say - are starting to reach for the CLO (collateralized loan obligations) paper that is increasingly being cobbled together and sold by the big bank underwriters of individual junk offerings.
The global financial system in general - as it remains quite fragile from the last round of being leveraged up.
Things may be okay for a while - perhaps even through the next quarter or two. Long-term debt is currently running at about six times earnings before interest, taxes, depreciation and amortization (EBITDA, a widely used measure of corporate cash flow). At the peak of the last boom in leveraged finance in 2007, it was running at nine times EBITDA.
If rates stay low and additional "junky" covenant-lite high-yield debt is issued - and if stock prices fall - it won't be long before debt-to-earnings and debt-to-equity ratios ratchet back to disturbing levels.
Any meaningful escalation in market interest rates, a precipitous drop in stock prices, or investor resistance to new debt or refinanced issues could be a signal to take profits in some high-yield investments and to buy some protection with "Puts" on the SPDR Barclays Capital High-Yield B Exchange-Traded Fund (NYSE: JNK).
It could also be one additional harbinger of a drop in stock prices if leveraged investors who borrowed to increase the returns they get on junk debt get forced to dump speculative fixed- income positions and the stocks of the companies that issued them. Rest assured we'll be watching for this - and other - such indicators, and will be reporting back to you with our findings, and recommendations.
News and Related Story Links:
Here Are 10 "One-Click" Ways to Earn 10% or Better on Your Money Every Quarter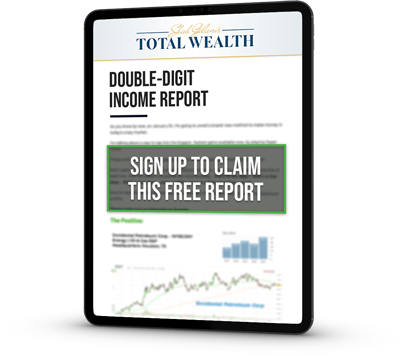 Appreciation is great, but it's possible to get even more out of the shares you own. A lot more: you can easily beat inflation and collect regular income to spare. There are no complicated trades to put on, no high-level options clearances necessary. In fact, you can do this with a couple of mouse clicks – passive income redefined. Click here for the report…
About the Author
Shah Gilani boasts a financial pedigree unlike any other. He ran his first hedge fund in 1982 from his seat on the floor of the Chicago Board of Options Exchange. When options on the Standard & Poor's 100 began trading on March 11, 1983, Shah worked in "the pit" as a market maker.
The work he did laid the foundation for what would later become the VIX - to this day one of the most widely used indicators worldwide. After leaving Chicago to run the futures and options division of the British banking giant Lloyd's TSB, Shah moved up to Roosevelt & Cross Inc., an old-line New York boutique firm. There he originated and ran a packaged fixed-income trading desk, and established that company's "listed" and OTC trading desks.
Shah founded a second hedge fund in 1999, which he ran until 2003.
Shah's vast network of contacts includes the biggest players on Wall Street and in international finance. These contacts give him the real story - when others only get what the investment banks want them to see.
Today, as editor of Hyperdrive Portfolio, Shah presents his legion of subscribers with massive profit opportunities that result from paradigm shifts in the way we work, play, and live.
Shah is a frequent guest on CNBC, Forbes, and MarketWatch, and you can catch him every week on Fox Business's Varney & Co.