When PPL Corp. (NYSE: PPL) agreed to buy British power distributor Central Networks from German owner E.On AG (PINK ADR: EONGY) last week, the $5.6 billion bid by the Allentown, Pa.-based utility highlighted a key advantage that U.S. firms have when it comes to corporate-takeover battles in the international arena: In most countries, the staff and customers of the target company prefer a U.S. suitor to those from most other nations.
How do I know this? Simple ... my mother told me.
One Tough Cookie
My mother - 85 years old and living in Cheltenham, England - is a frail-but-formidable Central Networks customer. The company regularly sends her final demands for payment and threatens to cut her off - not because she forgot to pay, but because of repeated errors by the utility.
These "final notice" warnings are generated because someone read the wrong meter - or because the company sends my mother cutoff demands for someone else's address. (As I'm sure many of you know, thanks to the inefficient computer systems currently employed by so many utility companies, today's retirees - especially those who don't use the Internet - can expect to spend increasing amounts of their time dealing with such wayward missives.)
Mother takes great pride in handling these things. And she does so firmly and efficiently. On one occasion, when local customer service was unsatisfactory, she called E.On's head office in Düsseldorf, Germany, and berated them in her somewhat-rusty German. (French would have been easier for her, but the British utility owned by France's Electricite de France SA, or EDF, unfortunately covers a different part of the United Kingdom.)
Having forged such a wonderful rapport with the Central Networks/E.On customer-service folks in both Britain and in Düsseldorf, Mother has been very unhappy over the last few years as rumors flew that E.On might sell her electricity provider.
One rumored suitor was Russia's Gazprom OAO (PINK ADR: OGZPY), which would have been something of a mixed bag for Mother: Her Russian is somewhat better than her German; but when it comes to customer service, Russian firms are known to be somewhat lacking.
In the week before the takeover was announced, another potential suitor emerged - this one being Cheung Kong Infrastructure Holdings Ltd. (PINK: CKISF). That, too, was a mixed-bag proposition. The odds were probably pretty good that this Hong Kong-based heavyweight would probably actually get the computers to work so that Mother would actually receive the correct utility bill. But if this new owner failed to do so, learning Mandarin was probably beyond her at this stage of her life.
A New Kind of Dealmaking
Twenty years ago, most acquisitions were domestic. And the deals that were international in nature were mostly carried out by U.S. companies that were buying much-smaller, local operations. If you worked for a "local" company, or were its customer, being sold to a U.S. multinational did not make much of a difference to your life.
Since there wasn't a ton of pressure on short-term earnings, the acquiring company would generally leave the newly acquired local operation pretty much intact, although over time you could expect to see incremental efficiency increases.
The British automobile manufacturer Vauxhall Motors kept the same union rules and the same pay scales after being acquired by General Motors Co. (NYSE: GM) in 1925, but over the decades of GM ownership the scale of its operations and Vauxhall's efficiency improved.
That's not true anymore. Today, international acquisitions are far more common, a much higher percentage of large companies are part of global multinationals, and the style and origin of the buyer are crucially important to the workers and customers of the company concerned. To take one favorable example, the workers at the Jaguar Land Rover (JLR) factory in the British Midlands, owned by Ford for 20 years, were apprehensive when it was taken over by India's Tata Motors Ltd. (NYSE ADR: TTM) in 2008.
In spite of those fears, the acquisition has turned out very well for all concerned. After losing money in the downturn, Jaguar Land Rover has become very profitable, and has provided Tata Motors with an entrée into the top end of the global vehicle market.
Costs are not particularly an issue for such expensive cars, while Tata potentially brings the marques a major new market among wealthy Indians. Thus, the British workers' jobs are secure and Jaguar Land Rover buyers find that Tata is highly sensitive to the brands' traditions and has the money to expand the carmaker's operations.
Conversely, acquired companies can find life difficult in the arms of Gazprom or MMC Norilsk Nickel, the two major Russian buyers of overseas assets. For one thing, the ownership is subject to power struggles; it is also likely to run out of money if Russia suffers a liquidity shortage or the management falls out of favor with the government.
Likewise, China-based suitors that are controlled by the government could be problematic as acquirers, as are sovereign wealth funds from unstable countries. Even soccer players must worry - the Libyan Investment Authority controls the Italian club Juventus.
Customers and employees of major companies are all voters in their home jurisdictions, and have ways of having their voices heard. Solid U.S. companies understand the fears that uncertainty can bring, and when they buy your local power or water company or stand to become your new employer have a well-practiced way of reassuring all the "stakeholders" who might be affected by any deal. As a result, U.S. firms have a major advantage as buyers for this reason.
To that end, the Allentown-based PPL seems like it will be the ideal owner of my mother's power company.
PPL will probably manage to get the right bill to the right customer. And if it doesn't, I'm certain the folks in customer service will - over time - absolutely fall in love with Mother's cut-glass English accent.
If there is a downside, I suspect that I'll be the one who feels it most.
You see, if there's a problem with her electric bill, Mother may well phone me here in America and insist that I "drive there" and straighten it out in person. I can already hear her saying: "It's only up the road, dear" - although, in my case, "only up the road" equates to a trip of about 200 miles.
[Editor's Note: Money Morning Contributing Editor Martin Hutchinson raised some eyebrows (but attracted one heck of a lot of readers) with his recent back-on-the-envelope calculation that a "worst-case" Mideast meltdown could leave Americans with $300-a-barrel oil and $9.57-a-gallon gasoline.
Although some folks disagreed with his conclusion, the reality is that Hutchinson's calculations were based on numbers and facts. And his conclusions forced people to think.
That ability to see what others can't is why Hutchinson warned Money Morning readers of the danger of credit-default swaps months before those derivatives blew up, told you to buy gold at $770 an ounce, or accurately predicted precisely where the bear-market bottom in stocks would be. We can document each of these claims.
And that brings us to our main point: Isn't this a guy you want on your side? Don't you want the benefit of his thinking?
If you don't, then read no further. This offer isn't for you.
But if you do, we urge you to check out this report, which talks about his advisory service, The Permanent Wealth Investor. You'll never look at the financial markets in the same way again.]
News and Related Story Links:
Here Are 10 "One-Click" Ways to Earn 10% or Better on Your Money Every Quarter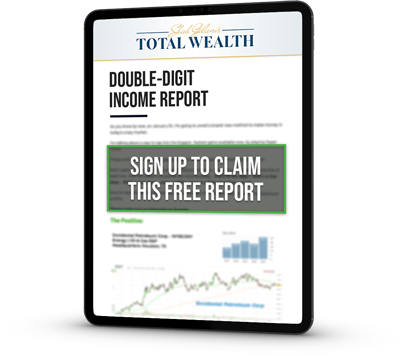 Appreciation is great, but it's possible to get even more out of the shares you own. A lot more: you can easily beat inflation and collect regular income to spare. There are no complicated trades to put on, no high-level options clearances necessary. In fact, you can do this with a couple of mouse clicks – passive income redefined. Click here for the report…