The United States has resolved labor issues with Colombia, paving the way for approval of a stalled free-trade agreement (FTA) and strengthening economic ties between the countries.
The United States and Colombia were expected to announce the agreement this week after months of talks, people familiar with the matter said Tuesday.
Former U.S. President George W. Bush first signed a U.S.-Colombia FTA in November 2006 with then-Colombian President Alvaro Uribe. The legislation stalled in Congress because Democrats refused to ratify the agreement until the Colombian government improved labor standards.
President Obama has pushed for more U.S. free-trade agreement approvals this year to reach his goal of doubling U.S. exports by 2014. The initiative prompted U.S. talks with Colombia to discuss stronger labor rules and better protection for union leaders. Colombia has a lengthy history of violence against labor organizers.
Colombian President Juan Manual Santos said last week he agreed with U.S. requests.
"They have submitted a list of things they would like to see happen in Colombia and when I saw that list, that list is exactly what we want also," Santos told Bloomberg News. "There are no contradictions. We don't want to violate the rights of the workers, we don't want to violate human rights."
After meeting with U.S. trade officials, Colombia has an April 22 deadline to "dramatically expand the scope of existing protections for union leaders" and to provide protection for labor activists and workers "trying to organize or join a union," according to details viewed by The Wall Street Journal.
The Journal also reported that Colombia would be expected to revise its criminal code by June 15, to inflict harsher penalties for those who threaten workers' rights.
U.S. Trade Representative Ron Kirk said Tuesday an approved FTA was likely in the near future.
"We feel like we are pushing on an open door when it comes to Colombia," Kirk said at a hearing of a subcommittee of the House Appropriations Committee.
A U.S.-Colombia trade deal would lock in duty-free privileges for most of Colombia's exports to the United States. Colombia's preferential access to U.S. markets started in the early 1990s under the Andean Trade Preferences Act, but lapsed in February and hurt Colombian exporters like flower growers and textile makers.
A free-trade agreement would immediately eliminate duties on more than 80% of U.S. exports to Colombia, and the remaining duties would phase out over a ten-year period. Colombian import tariffs on U.S. goods range from 7.4% to 14.6%.
The United States and Colombia exchanged about $27.7 billion in traded goods last year, up from $21 billion in 2009.
U.S. exports to Colombia in 2010 totaled around $12 billion, led by fuel oil, plastics, drilling equipment, machinery and agricultural goods like wheat and corn. An agreement with Colombia would boost U.S. exports to the country by $1.1 billion a year, according to the U.S. Commerce Department.
Colombia last year exported about $15.6 billion in goods to the United States. Crude oil accounted for more than half of that total, with other top exports including gold, coal, coffee, cut flowers, clothing, fruit and sugar.
A Colombia FTA will prevent trade rivals in Europe and Asia from edging the United States out of the region.
If Colombia implements trade agreements with other countries before the United States, U.S. imports would face an average tariff of 9% and lose out to foreign goods entering Colombia duty-free.
"It's bullish for Colombia, but for the United States too, as they were in danger of losing out to the European Union, which has a FTA with Colombia," said Money Morning Contributing Editor Martin Hutchinson. "Colombia is close to a FTA with South Korea and will do Japan after that."
U.S. wheat growers issued a statement supporting the deal.
"This is a critical step toward being able to compete on a level playing field in one of the largest wheat markets in South America," said a statement from U.S. Wheat Associates and the National Association of Wheat Growers. "Without this FTA, U.S. wheat farmers face a potential loss of sales currently valued at about $100 million per year."
The deal would also help the strengthen U.S. economic ties with Latin America - a region the United States has long referred to as its "backyard," - at a time when China has been moving in.
"China's all over the place offering infrastructure deals because they want Colombia's oil and minerals," said Hutchinson.
China's trade with Latin American countries has surged over the past few years, weakening the region's economic relationship with the United States. Now some of those nations want to strengthen U.S. ties to reduce their dependence on the world's second-largest economy.
China announced in February it was planning to build a new trade route through Panama, connecting the country's Atlantic and Pacific coasts by rail. The alternative to the Panama Canal would import Chinese goods to Colombia for assembly and distribution to the Latin American region, and send Colombia-sourced raw materials back to China.
"This shows how aggressively China and other U.S. competitors are establishing markets in our backyard," Rep. Kevin Brady, R-TX, a member of the committee overseeing the passage of the FTA, told The Financial Times. "China is taking smart advantage of America's inexcusable delay of nearly five years in approving its free trade agreement with Colombia."
A U.S.-Colombia FTA will likely open the door for approval of other stalled U.S. FTAs with South Korea and Panama, also held over from the Bush administration. Republicans have said they wouldn't pass the South Korea FTA until deals were reached with Colombia and Panama, and all three could be pushed through Congress at once.
The South Korea deal was reworked in December to give more support to U.S. automakers. The Obama administration is pushing for its approval before a European Union-South Korea trade pact takes effect in July. U.S. officials are worried that delaying its approval will give EU businesses an edge.
Panama has already agreed to alter its labor and tax issues and legislation is pending in its parliament.
News and Related Story Links:
Here Are 10 "One-Click" Ways to Earn 10% or Better on Your Money Every Quarter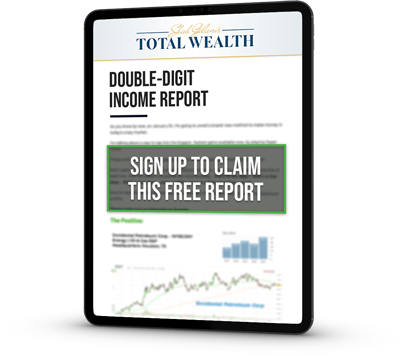 Appreciation is great, but it's possible to get even more out of the shares you own. A lot more: you can easily beat inflation and collect regular income to spare. There are no complicated trades to put on, no high-level options clearances necessary. In fact, you can do this with a couple of mouse clicks – passive income redefined. Click here for the report…