If there's one thing the recent Bank of America Corp. (NYSE: BAC) settlement proposal demonstrates, it's this: Calling the easy treatment that big banks have been enjoying in recent court and regulatory actions "a travesty of justice" is like calling the Grand Canyon a ditch.
In fact, the truth is this: Given the activities U.S. banks have been involved in during the past two decades, and the actions they've taken, we'd be justified in labeling these institutions as "criminal enterprises." The billions of dollars in penalties the banks have had to pay during this stretch are evidence of such activities, but are really only token payments given the magnitude of the damage these enterprises have caused.
And until banks stop acting as criminal enterprises, and outside agencies thoroughly investigate and fully prosecute banks and their executives for criminal activity, we will continue to move towards a government of the banks, by the banks and for the bankers.
The Bank of America Settlement
The Bank of America settlement offers us a real-life illustration of what I'm referring to.
BofA is close to settling with 22 large investors over failed mortgage-backed securities (MBS). But it may only have to pay $8.5 billion to investors who claim that Countrywide Financial Corp. - which BofA acquired in 2008 - lied to them about the value of the mortgage-backed securities they purchased.
If you do the math, the Bank of America settlement would result in payments of less than 5 cents on the dollar. But what's even more grotesque about this proposal is that it would "wall off" the bank from any other suits or losses on the pools in question - even though hundreds of other investors were also harmed by the sunken securities.
We'll soon see if a court approves the settlement. All hell will break lose if that happens.
And it should. But that's just one case.
The big picture is downright ugly.
Beating the Wrap
The clearest manifestation of the financial industry's power is its ability to consistently avoid criminal charges for egregious acts and barter its way out of serious harm by accepting civil charges and paying off its keepers so this sector's players can continue to run free.
The numbers are staggering when you consider:
The hundreds of millions of dollars that banks were fined for their dot-com-bubble "pump-and-dump" scheming back in 2000.
The $550 million that Goldman Sachs Group Inc. (NYSE: GS) paid to settle allegations that it defrauded its own client in a single deal that came to light last year.
The $100 million Citigroup Inc. (NYSE: C) had to pay to settle allegations of misconduct stemming from its sale of auction-rate securities.
And the hundreds of millions in fines JPMorgan Chase & Co. (NYSE: JPM) paid to settle allegations that it defrauded investors in a single collateralized debt obligation (CDO) sale, for bribing public officials in Jefferson County, AL, over a muni-bond scandal, and for bid-rigging to win business in 31 states.
That's a pretty dramatic list. And, yet, I'm not even scratching the surface.
There's not enough space in this story to list all the fines that every major bank in the United States has had to pay to settle "allegations" of wrongdoing.
But rather than subjecting the institutions and their executives to criminal charges and trial for engaging in patently illegal activities, the very system that is supposed to be policing this activity and protecting taxpayers is letting clever lawyers dance over our justice and regulatory systems - with a wink and a nod from their partners at the U.S. Department of Justice (DOJ) and U.S. Securities and Exchange Commission (SEC).
It's all about "deferred prosecution agreements."
Years ago, the Justice Department devised this idea for dealing with juvenile offenders and those involved in minor drug offenses: If the defendants kept their noses clean and adhered to agreements stipulating good behavior for a specified period of time, the prosecution would be deferred.
Of course, it didn't take long for clever lawyers to lean on the DOJ, and eventually the SEC and other judicial and regulatory agencies, to give their clients - big banks - deferred prosecutions.
"The corporate crime defense bar has this down to a science," Russell Mokhiber, editor of the Corporate Crime Reporter, told The New York Times. "I interview them all the time, and they boast about how they've gamed the system."
Deferred-prosecution agreements are secret. The internal investigations are "private" and there's no transparent "discovery" process that can be checked by outsiders or used by other claimants who want to sue these banks and their executives.
Without admitting or denying wrongdoing, it's hard for any other aggrieved parties to use the levied fines as evidence that criminal activity took place, even though it's a given.
How and why the DOJ, federal courts, the SEC, and Congress are protecting these crooked moneymaking machines needs to be addressed openly and honestly.
If it isn't addressed, the situation will only deteriorate from here.
And where we are now isn't pretty.
The Quiet Coup
If you want to get an idea of how financial services, and in particular the banking industry, have hijacked the U.S. economy, just look at how they've grown.
Take a look at "The Quiet Coup," an article by Simon Johnson, a professor at MIT's Sloan School of Management and former chief economist at the International Monetary Fund (IMF), that was published in The Atlantic Monthly.
In that article, Johnson points out that from 1973 to 1985 the financial sector never earned more than 16% of domestic corporate profits. But in the 2000s, that figure rose to 41%.
Compensation in the financial sector during that period surged just as appallingly. That is, from 1948 to 1982, average compensation in the financial sector ranged between 99% and 108% of the average for all domestic private industries. Starting in 1983, however, it began to shoot drastically higher - and reached 181% in 2007.
Bankers enjoy extraordinary rich personal compensation. But more importantly, the money their institutions make is spread across the political spectrum, greasing the wheels that grind out favorable legislation crafted by both Democrats and Republicans.
The Final Word ... Until Next Time
The amount of money that banks have spent on lobbying and campaign contributions, to elevate political hacks to positions of power in Congress (and later to pay off these same hacks by hiring them as private-sector consultants, investment bankers, and board members) would fill volumes, turn stomachs, and prove once and for all that America is run by bankers.
Simon's article clearly defines the ramifications of the banking industry's power - especially when he says that:
"The crash has laid bare many unpleasant truths about the United States. One of the most alarming is that the finance industry has effectively captured our government - a state of affairs that more typically describes emerging markets, and is at the center of many emerging-market crises. If the IMF's staff could speak freely about the U.S., it would tell us what it tells all countries in this situation: recovery will fail unless we break the financial oligarchy that is blocking essential reform. And if we are to prevent a true depression, we're running out of time."
We started by examining the Bank of America settlement, and have concluded with this final word. The message we come away with is clear: If we continue to let banks run amok - and allow them to avoid any consequences - it won't be long before the next financial crisis hits.
And when it does, it will be even bigger than the one that we continue to suffer through.
News and Related Story Links:
[epom]
Here Are 10 "One-Click" Ways to Earn 10% or Better on Your Money Every Quarter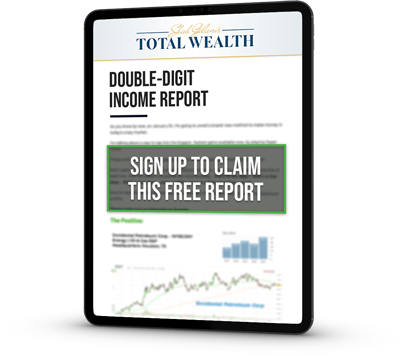 Appreciation is great, but it's possible to get even more out of the shares you own. A lot more: you can easily beat inflation and collect regular income to spare. There are no complicated trades to put on, no high-level options clearances necessary. In fact, you can do this with a couple of mouse clicks – passive income redefined. Click here for the report…
About the Author
Shah Gilani boasts a financial pedigree unlike any other. He ran his first hedge fund in 1982 from his seat on the floor of the Chicago Board of Options Exchange. When options on the Standard & Poor's 100 began trading on March 11, 1983, Shah worked in "the pit" as a market maker.
The work he did laid the foundation for what would later become the VIX - to this day one of the most widely used indicators worldwide. After leaving Chicago to run the futures and options division of the British banking giant Lloyd's TSB, Shah moved up to Roosevelt & Cross Inc., an old-line New York boutique firm. There he originated and ran a packaged fixed-income trading desk, and established that company's "listed" and OTC trading desks.
Shah founded a second hedge fund in 1999, which he ran until 2003.
Shah's vast network of contacts includes the biggest players on Wall Street and in international finance. These contacts give him the real story - when others only get what the investment banks want them to see.
Today, as editor of Hyperdrive Portfolio, Shah presents his legion of subscribers with massive profit opportunities that result from paradigm shifts in the way we work, play, and live.
Shah is a frequent guest on CNBC, Forbes, and MarketWatch, and you can catch him every week on Fox Business's Varney & Co.