As the 2012 London Olympics slowly comes to an end this weekend, the Americans still maintain their lead in medal winnings. As of Friday morning, the United States led with 90 medals comprised of 39 golds, 25 silvers and 26 bronze.
At this year's Olympics, the U.S. swimmers cleaned up with 31 medals while track and field is trying to catch up with its 24 medals. They may still have a chance.
And unless your completely tuned out, you'll know that swimmer Michael Phelps won six medals, leading the overall U.S. medal count.
But this doesn't just mean those Olympians are coming home as decorated, victorious athletes.
It means they're coming home to a pricey tax bill.
Turns out even Olympic achievements can't escape the U.S. Internal Revenue Service.
Olympic Medals Tax: Great Job, Now Pay Up
According to the Americans for Tax Reform (ATR), medals and prize money are both subject to income tax.
For an athlete winning a gold medal, it may be priceless from its sentimental value, but it comes with a monetary value: $675 for a gold, reported ATR; a silver medal has about a $385 worth and a bronze, ever the disappointing prize, comes in lower than $5.
These medals come with a 35% tax payable to the IRS, but that's only the beginning. The real chunk comes from an Olympic athlete's cash bonus. On top of winning a coveted medal, theU.S. Olympic Organizing Committee will pay cash bonuses to the London games medal winners.
That equals about a $25,000 payday for a gold medal, $15,000 for the silver and $10,000 for the bronze.
With the 35% income tax rate, bronze medalists will owe the IRS $3,500; silver medalists will pay $5,250 andthe top finishers will be liable for $8,750.
"It's no different from winning Wheel of Fortune or the lottery," Alex Knight, a tax partner at Atlanta's Habif, Arogeti & Wynne,told Reuters.
With the Olympics in London, The fact that the Games are taking place in the U.K. means that any income earned in London could be taxed by the British government. As is customary with the games,British authoritieshave agreed to waive tax claims on the medal wins.Money a U.S.athlete might earn on the side while across the pond - say, by attending events with a key sponsor - would be taxable by the British, Knight says.
U.S. citizens would get a credit for any British taxes paid against their federal taxes, but with the UK's highest marginal tax rate of 40% exceeding the U.S.'s 35%, top athletes could end up paying higher taxes than usual on those earnings.
And don't forget about all the endorsement money that some of the top athletes will see.
Swimmer Ryan Lochte is poised to call himself a millionaire this year thanks to endorsements from Gatorade, Speedo and AT&T-just to name a few. At 17-years-old, All-Around gymnastics winner Gabby Douglas could see an endorsement payday of $8 million to $12 million in the next four years, reported ESPN.
While these endorsement dollars can help pay the tax bill and provide financial security, not all Olympic athletes are created financially equal. For some, paying such weighty taxes is a financial hardship.
Enter the Olympic Tax Elimination Act
Help could be on the way as the White House on Monday supported legislation to spare athletes from the Olympic Medals tax.
The Olympic Tax Elimination Act has been introduced by Sen. Marco Rubio, R-FL, after reviewing an ATR report that pointed out Olympic athletes could pay up to $9,000 in taxes for each gold medal to the IRS.
Rubio has argued that "athletes representing our nation overseas in the Olympics shouldn't have to worry about an extra tax bill waiting for them back at home."
As a sports-loving commander-in-chief, President Obama supports the bill.
White House spokesman Jay Carney said this week that "if it were to get to [the president's] desk, he would support it."
Carney added, "The president believes that we should support efforts ... to ensure that we're doing everything we can to honor and support our Olympic athletes who have volunteered to represent our nation at the Olympic Games."
And not to be left out in this election year, the likely Republican nominee Mitt Romney also favors not taxing the Olympic athletes.
In the big picture for potential taxable income, the legislation won't affect large sums of money, but for an Olympian, an end to the Olympic medals tax could go a long way.
Related Articles and News:
Here Are 10 "One-Click" Ways to Earn 10% or Better on Your Money Every Quarter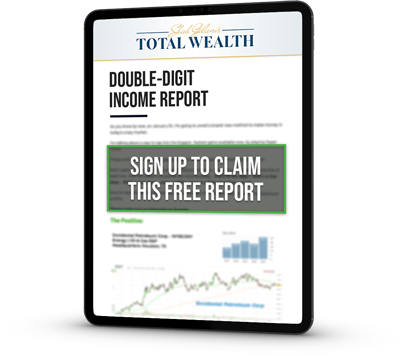 Appreciation is great, but it's possible to get even more out of the shares you own. A lot more: you can easily beat inflation and collect regular income to spare. There are no complicated trades to put on, no high-level options clearances necessary. In fact, you can do this with a couple of mouse clicks – passive income redefined. Click here for the report…