Every time I hear a Wall Street analyst extolling the virtues of stock buybacks I just want to scream.
"Don't fall for the flim-flam," I think to myself, "demand the cash instead!"
That's why my Permanent Wealth Investor service focuses on the kinds of dividends you can actually hold in your hand. For me, cash is king.
Anything else is simply a magician's trick. It's a sleight of hand designed to make you think you're getting something when you really aren't.
Share repurchases or buybacks are the perfect example.
Behind the wondrous façade, stock buybacks are just a means for management to enrich themselves. The truth is buybacks are positively damaging to the interests of ordinary shareholders.
The Ruinous Truth Behind Apple's Stock Buyback
Take Apple Inc. (Nasdaq: AAPL), for instance. It's the stock everybody loves these days.
This $653 billion company recently announced a $10 billion stock buyback over three years, beginning October 1. Naturally, shareholders cheered, believing the buyback would boost the share price.
But consider this: Apple is buying back shares at several times book value, so the buyback will actually dilute Apple's book value per share.
Based on the latest quarter, Apple's tangible book value was $106.3 billion, or $113 per share, while its stock closed today near $697 a share, or 6.2 times book value.
If Apple does a $10 billion buyback, it will reduce its book value by $10 billion to $96.3 billion while it reduces its share count by $10 billion/697 or 14.3 million shares, thus reducing its book value per share by 8.0% to $104.
Yes, its share price may trade at a greater premium to the reduced book value, but the chances are its premium will only increase modestly - in which case the $10 billion share buyback will REDUCE Apple's share price.
What's more, Apple is so generous to its top management and its share price is so high that its $10 billion share buyback will probably not be sufficient to satisfy management's stock options.
That means that at the end of the three years, Apple will have more shares outstanding than it had at the start.
Given that the buyback will almost certainly be carried out in private transactions between Apple and the large investment institutions, the benefit of the buyback to us ordinary shareholders thus escapes me.
Apple has also started paying a cash dividend, which is worth something; in this respect, good for them! But the buyback is a pure waste of shareholder money.
The other problem with the Apple buyback is that, being carried out at a price above $600, it is very expensive. For Apple, this may not matter much; the company's cash pile is so vast that it may be able to continue buybacks even during the next recession.
Then There's the Madness at AIG
A more egregious example comes from the insurance company American International Group (NYSE: AIG), which escaped bankruptcy in 2008 and is now buying back shares aggressively, having just announced a new $5 billion program.
However, it should be noted that AIG also bought back shares aggressively in 2004-2007, at prices that are now equivalent to $1,500 a share. To buy back shares at $1,500 that will soon be worth $35 is a transaction that only the financial services industry could deem attractive!
AIG was not alone in this madness, either.
All the major banks, including JP Morgan Chase (NYSE: JPM) and Citigroup (NYSE: C), spent much of the years 2004-08 buying back shares at high prices -- which they then had to re-issue to the market at a much lower price in 2009.
Today these same banks have already re-embarked on buyback programs without restoring their dividends to pre-2008 levels. That alone should tell you something.
In general, buyback programs are more attractive to management than dividends, because their stock options do not get the benefit of dividends, which lower the stock price by the amount of the dividend when they are paid.
Interestingly, this is not the case with Apple, where employee option holders will be given the benefit of dividends paid by Apple, as if they had owned the shares themselves - thus further diluting the value of nonemployee investors' holdings, of course.
Fortunately, most companies haven't got around to this additional shareholder rip-off yet.
To me the moral is clear. Dividends are paid in cash, to all shareholders, and thus represent a real value return on your investment.
On the other hand, stock buybacks give nothing to the individual shareholder, may reduce his share price if carried out at too high a price, and may endanger his dividend by reducing the company's cash reserves in the next recession.
That's the part Wall Street conveniently decides to leave out.
Related Story Links:
[epom]
Here Are 10 "One-Click" Ways to Earn 10% or Better on Your Money Every Quarter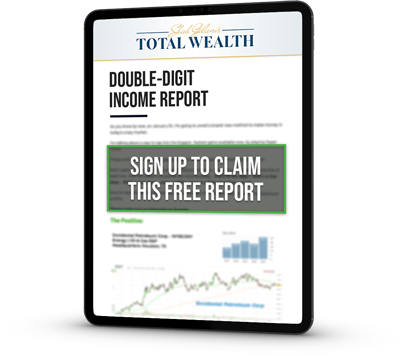 Appreciation is great, but it's possible to get even more out of the shares you own. A lot more: you can easily beat inflation and collect regular income to spare. There are no complicated trades to put on, no high-level options clearances necessary. In fact, you can do this with a couple of mouse clicks – passive income redefined. Click here for the report…