As we come to the end of an election campaign cycle, something else will be ending as well.
Wind subsidies.
A poster child for the ongoing debate over government support for renewable energy, the wind subsidy will expire at the end of 2012. Amidst the fog and din of a political war, Congress is not going to renew it.
The wind subsidy amounts to a tax credit of some $22 per megawatt hour. Critics note that the wholesale price of electricity in many parts of the U.S. costs $44. That means the credit accounts for 50% of the grid cost.
On the solar energy side, the primary federal subsidy provides a tax credit of 30% for the cost of installed equipment. That will drop to 10% at the end of 2016. Already, a separate cash grant for up to 30% for solar energy equipment expired at the end of 2011.
Of course, both approaches have generated a considerable amount of criticism from mainly conservative opponents.
These critics claim that the only reason wind and solar are even in the game is because of these subsidies. Without them, they argue these sources of energy are not cost effective otherwise.
Then, there are others who prioritize environmentally friendly energy sources. But the penchant against government involvement and the assumption that federal subsidies are always an inefficient usage of taxpayer funds are at the core of the argument.
The Hidden Cost of Green Energy Production
On Monday, Pilita Clark wrote an interesting piece in the Financial Times exploring the net effect of renewable subsidies in the U.S. and Europe.
She highlighted a little considered result of wind and solar production: it runs the risk of destroying profit margins for conventional producers.
In fact, according to Clark, "Some utilities risk having as much as half their power generation profits wiped out by 2020 as renewables reshape energy markets say analysts at UBS, which recently downgraded RWE, the German power company, EDF of France, and the Czech Republic's CEZ Group as a result. Other effects are only starting to be understood as the growth of renewable power soars."
The result could be a dramatic decline in electricity costs.
That may seem like a great effect for a house or small business owner wrestling with high energy expenses.
But it is a very different matter for the other side of the equation.
Market prices could actually crash, as Clark notes, "because renewable power generators, which have large subsidies, low operational costs and free fuel, can offer cheaper prices than owners of plants running on conventional fossil fuels.
The crucial element revolves about prices during peak times. These are weekday periods in which demand is highest and where power providers make the bulk of their revenues. Prices and volumes are always elevated during peak times.
Yet the experience in Germany, where a government is moving a portion of the nation's energy infrastructure from reliance on nuclear to wind and solar, is of some concern to conventional generators. Evidence has already surfaced that solar power is diminishing the traditional peak profit opportunity.
Clark observes that wind power has demonstrated an ability in the American market to produce "negative prices," situations in which power ends up begin sold at a loss. This has been the case in Texas, where more wind power has been installed than in any state. A recent study released by the Northbridge Group indicated negative pricing has increased sharply as wind farms spread over the past four years.
Not all observers accept such, and what defines an actual market impact remains contentious.
Nonetheless, subsidies reaching 50% of the wholesale price of electricity does provide an obvious incentive to sell electricity below generation costs.
Why not, if the taxpayer is footing at least some of that bill?
Two matters, however, are becoming clear. The first points out that the consumers are still footing a higher cost from the power because it is being generated via taxpayer subsidies. And on that score, while the tax credit for new equipment is expiring, other subsidies of the electricity generated using existing plants will continue.
Second, the largess from lower prices is not yet being experienced by the end user.
There are only indirect connections to the monthly bill. Even in a place like Germany, where renewables are apparently having a major impact, there are moves to blunt their effectiveness in lowering prices.
As profit margins decline, German power transmission companies have announced an almost 100% increase in fees on renewable-sourced electricity. Now, many observers point out such additions will disappear once the infrastructure is completed. But in the interim, these new duties will hit retail consumers hardest. That is because many businesses have an exemption to protect their international competitiveness.
Ultimately, electricity rates may be coming down because of government subsidies. Just how much of that ends up in the pocket of a normal consumer is unknown.
On the other hand, this may not be an encouraging signal for the retail investor.
As Clark aptly explains, "On the upside, more renewable energy should mean fewer carbon emissions. But if you invested your pension money in what you thought was a solid, safe utility, you may want to reconsider. And lower market prices could discourage new power plant investment."
Seems one hand giveth, and the other hand taketh away.
Related Articles and Links:
[epom]
Here Are 10 "One-Click" Ways to Earn 10% or Better on Your Money Every Quarter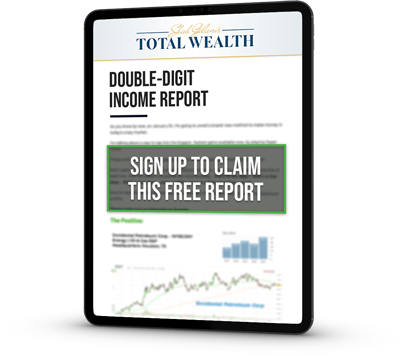 Appreciation is great, but it's possible to get even more out of the shares you own. A lot more: you can easily beat inflation and collect regular income to spare. There are no complicated trades to put on, no high-level options clearances necessary. In fact, you can do this with a couple of mouse clicks – passive income redefined. Click here for the report…
About the Author
Dr. Kent Moors is an internationally recognized expert in oil and natural gas policy, risk assessment, and emerging market economic development. He serves as an advisor to many U.S. governors and foreign governments. Kent details his latest global travels in his free Oil & Energy Investor e-letter. He makes specific investment recommendations in his newsletter, the Energy Advantage. For more active investors, he issues shorter-term trades in his Energy Inner Circle.