In what can only be described as a madcap dash for votes in key battleground states, President Barack Obama and Candidate Mitt Romney worked the crowds late into the night.
As well they should. Almost every Election 2012 poll I've seen has the candidates in a neck-and-neck race headed into today's finish line.
As of press time:
CNN's survey has them in a dead heat at 49% to 49%.
Pew Research shows Candidate Romney behind President Obama by a 50% to 47% margin.
The Politico/George Washington University survey reflects a tie at 48%.
And the latest NBC/Wall Street Journal numbers show President Obama pulling ahead with 48% compared to Candidate Romney at 47%.
On the other hand, Intrade, which is the world's leading predictions market, shows a 67.2% probability that Obama will win. What's interesting about that is that Intrade also shows a 22.5% chance that the winner of the Electoral College will actually lose the popular vote.
Given these mismatches, I can only hope we're not left counting chads or something equally ridiculous tonight when the polls finally close. The markets really wouldn't like that.
As it is, all the major averages are on hold. Not literally mind you, but figuratively. Nearly every trader and institutional manager I know is treading lightly at the moment.
Why?
Because they know that by Wednesday morning half of them will be wrong. That means they'll have to adjust both their outlooks and their portfolios.
In the financial scheme of things, though, the election is a sideshow. The far bigger issue when it comes to your money is the fiscal cliff. And I am not alone in my thinking, either.
A recent CNN poll suggests that 60% of market professionals are far more concerned about what's going to happen when spending cuts and tax increases hit January 1 than they are about who's in the White House.
I don't think they're wrong to be worried, either...
Election 2012 Is Just One Stop on a Troubled Road
No matter who wins, the fiscal cliff is headed our way at breakneck speed. There will be no time for relaxing, no time for back slapping and no time to ease into the White House or even return to it for that matter:
The so-called Bush tax cuts expire December 31st at midnight. That means we revert to higher, Clinton-era taxes barring any fresh policy decisions.
$1.2 trillion in automatic budget cuts go into effect January 1 unless Congress can figure out how to bring that much more money into the nation's piggybank...immediately.
And America crashes into its debt ceiling (again) in early 2013.
The other thing to consider is that there are a whole slew of things which could keep the markets from making a meaningful break in either direction, not the least of which is earnings.
Right now, earnings are decelerating around the world and that means investors would be prudent to continue playing defense. My favorite choices remain large global dividend payers with fortress-like balance sheets and a solid record of rewarding shareholders.
And don't forget about the 11 states voting for governors today. One hundred percent of them have budget problems that will make national news in the months ahead. That speaks to even more bailouts and conceivably some sort of national policy response, depending on how debt markets adjust.
Generally speaking, this is not good for equities and okay for bonds; though to be fair, we're probably a lot closer to a bond market reversal than we are to a further rally.
Meanwhile, the euro is off again as fear renews over a Eurozone breakup on news that Greece is thrashing about like a hooked fish because both its payment and austerity measures are at risk. I've said before that I expect the euro to achieve parity with the dollar before this is over and I see nothing that changes my view at this point.
Then there's China. The 18th National Party Congress gets underway Thursday and the world will bear witness to a once-in-a-decade power transition at a time when the Red Dragon is plagued by economic challenges and corruption on a scale that has boggled even the most jaded of insiders.
Still, the nation is growing and American companies are betting big there. Some, like Yum! Brands (NYSE: YUM), Coca-Cola (NYSE: KO), and McDonalds (NYSE: MCD) are obvious.
But some like MSD and Best Buy (NYSE: BBY) aren't. The former, which you may know better as Merck (NYSE: MRK) in the United States, expects 30% growth in China over the next 12 months alone and triple that in the next five years. That's why the company is hiring reps and building a $1.5 billion research facility in Beijing despite slash-and-burn expense reductions in the United States and Europe.
Despite well-publicized turnaround problems in the United States and a former CEO under investigation for questionable personal conduct, Best Buy has been purchasing profitable Five Star locations in mainland China since 2008, where 1.3 billion potential consumers represent growth, even as the broader nation struggles. Yet, I was just in one of their stores yesterday and I have a hard time imagining they'll succeed here even if they get growth there.
What Election 2012 Means For Your Portfolio
So what will be affected by today's elections?
Given the macro environment at the moment, I think that comes down to where the two men, President Obama and Candidate Romney, are most divided: energy, defense and healthcare.
An Obama win suggests the "greenies" will have a field day with continued emphasis on solar, wind and electric alternatives. Given the administration's widely publicized screw-ups in this area, use caution though and do not confuse subsidies with profit potential. It's still hard to find solid small-cap tech companies in a defensively oriented big cap market. Unless you've got a strong stomach for volatility or an extraordinarily compelling reason for investing under the circumstances, I'd stay away.
A Romney win will likely translate into further opportunities in "big" energy. I hate that term but I use it because everybody gets what it is...the lifeblood of our country. Expect coal, oil, drilling and pipeline companies to jump. Generally speaking, master limited pipeline partnerships or MLPs for short, are my favorites here. They tend to pay solid dividends and can be largely immune to swings in the underlying commodities.
Defense is pretty much a no-brainer. Candidate Romney has made it clear that he favors a strong military and that suggests, by implication, a strong defense industry. This speaks to investments in weapons manufacturers and high-tech companies making weapons systems infrastructure.
On the other hand, President Obama's continued leadership will likely result in stark cuts. I'm not so sure the world's environment will favor that at the moment, but it's worth a cautionary note.
I don't see a big difference one way or the other with regard to healthcare. The insurance companies are likely to make out like bandits in the years ahead, if for no other reason that neither President Obama nor Candidate Romney can change course quickly or effectively from where we are now.
Our healthcare system is a train wreck, and an expensive one at that. Neither candidate has the political willpower to take on serious Medicare/Medicaid reform despite the fact that everybody knows it's the 800-pound gorilla in the room.
In closing, I'll leave you with one final thought.
Wrapped up in the moment, we love to believe in our leaders. Rightly or wrongly, we're wired that way.
The problem is that in our rush to judge the "other side" as part of the political process, we forget that any economic policy, any fiscal response to trouble, any change in taxes ultimately depends on Congress.
Wall Street knows this.
That's why over the past 47 years, according to author Eric Singer who penned The Congressional Effect, the markets have risen less than 1% a year when Congress is actually in session but 16% a year annualized when it's in recess.
Unfortunately, sending all 535 members home for good isn't on the ballot.
Related Articles and News:
[epom]
Here Are 10 "One-Click" Ways to Earn 10% or Better on Your Money Every Quarter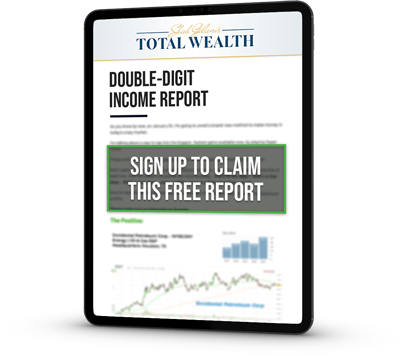 Appreciation is great, but it's possible to get even more out of the shares you own. A lot more: you can easily beat inflation and collect regular income to spare. There are no complicated trades to put on, no high-level options clearances necessary. In fact, you can do this with a couple of mouse clicks – passive income redefined. Click here for the report…
About the Author
Keith is a seasoned market analyst and professional trader with more than 37 years of global experience. He is one of very few experts to correctly see both the dot.bomb crisis and the ongoing financial crisis coming ahead of time - and one of even fewer to help millions of investors around the world successfully navigate them both. Forbes hailed him as a "Market Visionary." He is a regular on FOX Business News and Yahoo! Finance, and his observations have been featured in Bloomberg, The Wall Street Journal, WIRED, and MarketWatch. Keith previously led The Money Map Report, Money Map's flagship newsletter, as Chief Investment Strategist, from 20007 to 2020. Keith holds a BS in management and finance from Skidmore College and an MS in international finance (with a focus on Japanese business science) from Chaminade University. He regularly travels the world in search of investment opportunities others don't yet see or understand.