When it comes to the Federal Reserve, it's not a matter of what you see is what you get. It's more a matter of what you don't see is what you'll end up getting.
Getting, as in up the you-know-what!
I'm talking about getting socialism shoved up our capitalist backsides, for one thing.
It's simple: We are about to go over the so-called fiscal cliff. Why? Because Congress can't figure out how to stop spending money it doesn't have.
Forget the whole revenue side of the equation. It's only part of the mix of fixes, and the only fix that matters ain't fixed.
Stop spending money you don't have and you don't have to tax people more to pay for a bunch of crap they don't need, don't want, and don't even know they're getting.
Oh, that would be because on top of what we are getting there's even more that we're not getting.
Congress' paymasters are getting pork and beans for whatever they want because that's how our Congress gets elected, by greasing the wheels of insiders to get taxpayer money for their private purses, enough to plentifully pay for campaigns.
But that's only the "private" side of spending.
The spending scheme has mushroomed by expanding (and paying sickeningly outrageous wages and benefits) an ever-growing number of government workers.
And by expanding entitlements beyond what we are entitled to. And by expanding welfare and "social programs."
Yes, I am including 99 weeks of unemployment, and accompanying food stamps, and free money for unwed mothers to have more kids so they can collect more free money, and free day care, and all the other free stuff that ain't free if someone (that's you and me) is paying for it.
All that spending creates a class of people, a voting class. And, guess what they vote for?
Duh, that would be more free stuff.
So what's this got to do with the Fed?
I'm glad you asked...
Just Like Magic
Because Congress wants to glad-hand out these freebies, the private ones and the public ones, to get votes and all the personal wealth that comes with their political positions.
And they do not want to take away anything with the other hand (that would be raise taxes to pay for their spending), so they wink at the Federal Reserve, and lo and behold the Fed prints the money to pay for it all.
It's just like magic. No, it is magic.
Congress spends and doesn't have the money to pay up. So it borrows. It borrows from the Fed, people!
If there was no Fed to print money and give it to Congress, the crooks on the Hill wouldn't get away with what they take for granted as their political right, which is to spend money they don't have to pay us to keep them in office.
Yesterday, the Fed stripped off its cloak of invisibility and said they were going to keep easing (how low can rates go?). In fact, they are going to step up their Treasury bond buying spree.
Our government doesn't have any money, but needs billions everyday, so the Fed simply winks at them, they issue debt in the form of bonds, and the Fed buys them all up.
Revenue problem solved!
So under what authority does the Fed operate? How do they have the right to print money and pay for stuff that Congress didn't get permission from the public for (because they didn't come to us and ask if they could raise taxes on us to spend money on what they think is good for themselves)?
Oh, that right was given to them... by Congress.
Back in 1977 Congress gave the Fed a "dual mandate." They said, besides your job to "maintain price stability and preserve the currency as a store of value," we now want you to "promote effectively the goal of maximum employment."
And just like that (it actually started back in 1946, but that's another story for another time) the Fourth Branch of Government was officially sanctified.
Screw the Public, Feed the Banks
The Fed says we're going to keep the printing presses running to fund Congress' schemes (what fiscal cliff?) until unemployment is 6.5%, or inflation is above 2.5%, or until all the banks in America that control us and Congress tell us to stop because they have enough profits to buy more politicians and relax more rules and fund their next gigantic scam.
What the Fed calls more "transparency" in articulating their new monetary policy guidance schemes is nothing more than tearing off one cloak of invisibility only to find another underneath.
Which unemployment measure are they going to look at? How are they going to interpret U6, or how many people are counted or not counted in the ranks of people in the job market? Does the birth/death model need to be looked at, or ignored?
Targeting unemployment is their way of saying there's not going to be enough money for banks to get really fat again if spending is cut back, or if taxes rise, so we're going to do what we do, which is screw the public and feed the banks.
About that inflation in our future, we'll worry about it when we get there. About that preserving the currency thing, we'll worry about it when we get there.
The Fed only cares that its puppet masters (that would be the big banks and maybe all the banks) have enough money to lend (to the government) to collect their interest to enslave the population into paying them back by socializing America to keep them fat.
You see, in capitalism, the banks would be allowed to fail. And fail they would. But in a socialist world, failure is not an option.
Starting to get it?
Related Articles and News:
[epom]
Here Are 10 "One-Click" Ways to Earn 10% or Better on Your Money Every Quarter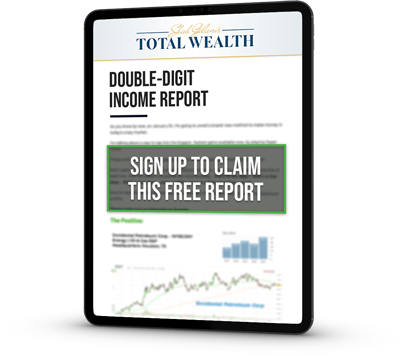 Appreciation is great, but it's possible to get even more out of the shares you own. A lot more: you can easily beat inflation and collect regular income to spare. There are no complicated trades to put on, no high-level options clearances necessary. In fact, you can do this with a couple of mouse clicks – passive income redefined. Click here for the report…
About the Author
Shah Gilani boasts a financial pedigree unlike any other. He ran his first hedge fund in 1982 from his seat on the floor of the Chicago Board of Options Exchange. When options on the Standard & Poor's 100 began trading on March 11, 1983, Shah worked in "the pit" as a market maker.
The work he did laid the foundation for what would later become the VIX - to this day one of the most widely used indicators worldwide. After leaving Chicago to run the futures and options division of the British banking giant Lloyd's TSB, Shah moved up to Roosevelt & Cross Inc., an old-line New York boutique firm. There he originated and ran a packaged fixed-income trading desk, and established that company's "listed" and OTC trading desks.
Shah founded a second hedge fund in 1999, which he ran until 2003.
Shah's vast network of contacts includes the biggest players on Wall Street and in international finance. These contacts give him the real story - when others only get what the investment banks want them to see.
Today, as editor of Hyperdrive Portfolio, Shah presents his legion of subscribers with massive profit opportunities that result from paradigm shifts in the way we work, play, and live.
Shah is a frequent guest on CNBC, Forbes, and MarketWatch, and you can catch him every week on Fox Business's Varney & Co.