If you're like most of the rest of us, you've probably made your fair share of New Year's resolutions by now.
If that's the case, here's one more "resolution" to add: Review my investment plan for 2013 and beyond.
As regular readers of my work know, I have a real love for old investing adages and aphorisms. And there's one that really applies to today's story.
Back during World War II, British Prime Minister Winston Churchill told listeners that "he who fails to plan is planning to fail."
And was he ever right.
So many investors fail precisely because they "wing it" and don't have a plan of any kind.
It's not the plan itself that's really so important; it's the insights that you gain from creating the plan that are the real benefit. You reassess - and remind yourself of - such things as:
Your risk tolerances.
Your current financial situation, as well as where you eventually want to be.
Any ancillary issues (like saving for your son's college education, or making sure you can handle taking care of an elderly parent).
Any problem investments you might be holding, or any "holes" in your allocations that need to be filled.
And the steps you need to be taking to actually meet all of these goals.
We're looking at this today because the start of a new year is, from a psychological standpoint, a really sound time to undertake such an assessment . We're already assessing our personal lives with "resolutions." So why not just add one more exercise - a financial one - and spend a little extra time thinking about it, too?
Here are some tips that will help you map out your financial plan for 2013:
Polish Your Plan: Churchill's observation about the costliness of poor planning holds true in all parts of life. But a lack of planning is especially damaging when it comes to finance and investing. And the start of the New Year is a perfect time to update your investment plan. If you don't have one, start one. This plan should take into account your long-term financial goals, your risk tolerance, your current assets and liabilities, and any special considerations that will affect this plan. Ask yourself: Specifically what is it that I'm trying to achieve in my life? How will my finances help or hinder this? Make sure that your objective(s) are very clearly stated. And don't ignore your dreams. You only live once and folks are often surprised that something they dreamed about can actually be attained with a little forethought and planning. By being honest about all that you hope - and need - to achieve, you're actually a lot more likely to make everything happen. Part of our mission here at Money Morning is to give you the investment ideas - and also the lessons and insights - that will help you to get what you want.
Review Your Holdings: Once you've adjusted your plan (or created a new one), take a look at your investment holdings. Does everything (the stocks, bonds, mutual funds, ETFs, etc.) that you currently hold still fit and contribute to the overall objectives that you created in the "Polish Your Plan" segment? Once you've made that determination, take a look at the individual holdings from a performance/potential standpoint. Is the reason you purchased each security still valid? How is each holding performing? If the stock, bond or ETF you're holding is lagging in performance, or even showing a loss, is there still enough upside potential to warrant keeping that particular security? If a security is showing a big loss, or now lacks the upside promise it once had, don't be afraid to cut it loose.
"Get Real" About Risk: As I've said on a number of occasions, most of the Money Morning and Private Briefing subscribers I've had the pleasure of meeting are some of the smartest folks I've ever dealt with - a fact that makes this job a blast. But a few have written in and conceded that they rode one or more of our recommendations to big - even massive - gains ... only to give those gains back when the market corrected this spring or this fall. Indeed, some even had gains of 50% or more turn into losses (one gentleman sent me a very angry note because he'd ridden one of our recommendations to a gain of more than 100%, ignored our reminder that folks should either use "trailing stops" or our "free trade" strategy, and then watched as his gain almost completely evaporated. I wasn't angered by his note - but I was saddened ). Those anecdotes underscore one key reason that risk-management is a crucial element of any winning investment strategy. A number of other subscribers proudly recounted how they used some of our "Buy" recommendations and our advice to use the "trailing stops" or "free-trade" approach to lock in high-double-digit gains on such stocks as NQ Mobile Inc. (NYSE ADR: NQ). Trailing stops are just one of the risk-management techniques we advocate.
Leave No Stone Unturned: In a market as volatile and uncertain as this one, you need to operate like a top-tier company - maximizing your income and minimizing your costs. Focus on income by making sure to add high-yielding stocks to your holdings, and consider using "covered calls" to maximize that income further.
Don't Run For Cover: A once-widely used investing adage counseled individual investors to "pay yourself first" - meaning they should make sure to put at least a little something away on a regular basis before all the bills were paid and other liabilities were taken care of. There's a solid bit of logic hidden in that bit of homespun advice. I remember one study that showed how individual investors missed the market rebound that started in the fall of 2011 and carried over into 2012 . When the market turned down, institutions used it as a buying opportunity - but fearful retail investors stayed away ... and missed the huge rebound that followed. As Capital Wave Forecast Editor Shah Gilani often demonstrates, you can make money in any kind of market. Indeed, Shah has pulled down some of his biggest trading profits on the short side of the equation.
With a well-defined, nicely muscled strategy like this, you'll start the New Year with a great plan, and will be able to react to any challenges or changes that come your way.
And believe me when I tell you ... if you embrace this strategy, you'll be well ahead of most retail investors - and can even expect to leave Wall Street in the dust.
And wouldn't that be nice ...
One way to get a head start is to join the thousands of investors we've already helped to make big money in the markets.
I'm proud to say that in a little over a year, we've had more than four dozen winners, including four that have doubled and two that ended up as takeover targets.
You can do it for just 26 cents a day.
Related Articles and News:
[epom]
Here Are 10 "One-Click" Ways to Earn 10% or Better on Your Money Every Quarter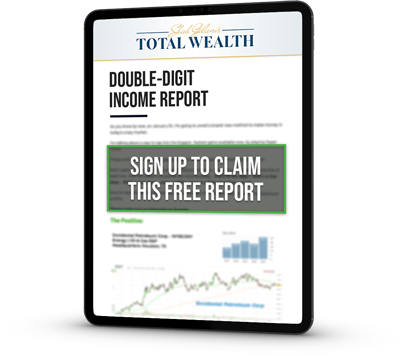 Appreciation is great, but it's possible to get even more out of the shares you own. A lot more: you can easily beat inflation and collect regular income to spare. There are no complicated trades to put on, no high-level options clearances necessary. In fact, you can do this with a couple of mouse clicks – passive income redefined. Click here for the report…
About the Author
Before he moved into the investment-research business in 2005, William (Bill) Patalon III spent 22 years as an award-winning financial reporter, columnist, and editor. Today he is the Executive Editor and Senior Research Analyst for Money Morning at Money Map Press.