After almost 10 years of explosive growth in the U.S. and Canada, the shale oil and gas craze is going global.
Now, make no mistake. A head start in a business this critical is huge. But the rest of the world is catching up - and fast.
For investors, that means there will be some genuine opportunities for North American technical, equipment, and production service companies as this wave continues to wash up in areas all over the world.
The first markets may have been U.S. and Canadian, but the biggest shale oil and gas markets are actually abroad.
They include massive finds in areas you wouldn't ordinarily think of.
They are found in places like China, Mexico and Argentina, where a groundbreaking deal was just inked to develop what's been classified as the world's second-largest shale gas and fourth-largest tight oil deposit.
But to understand just how big this global trend is set to become, you need to see this map.
It's a picture that paints 1,000 words...
The Shale Oil and Gas Roadmap
Initially, interest centered on shale gas with the Energy Information Administration (EIA; a division of the U.S. Department of Energy) providing the first major survey of global resources.
This well-known map has a few interesting wrinkles to it. First, much of the world (shown here in grey) is not even included in the survey. The areas outside the study include Russia and most of the Middle East.
And we already know there are considerable shale formations in each, leading to the conclusion that much of the world's available shale gas is not even in the survey.
Second, preliminary calculations have concluded that the top four reserves of shale gas globally are found in China, the U.S., Argentina, and Mexico.
Subsequent EIA calculations have since provided a better indication of what these basins actually look like, leading to this version below, put together by Reuters.
As you can see, there are significant shale gas resources to be found in numerous places outside North America.
To this has been added accelerating volumes of tight oil (what shale oil really is), which require approaches similar to those used in North America, such as horizontal drilling and fracking.
These basins are actually the reason American domestic production has been increasing and analysts now regard U.S. self -sufficiency (with the aid of imports from Canada) as a definite possibility before too long.
Unconventional oil has also been increasing as a percentage of OPEC overall production for some time. If you include heavy oil, which requires considerable stimulation to lift and then upgrade prior to refining, vast basins in Venezuela and Saudi Arabia are already under development.
Some 15% of all Saudi production by 2020 may actually be unconventional. So some international extraction is already underway.
Yet when the status of projects are periodically reviewed (as I do regularly), the moves abroad seem slow -- especially in those countries where we know there is considerable volume available.
The South American Shale Oil Boom
That brings us right back to China, Mexico and Argentina.
China has declared shale gas development as a top priority and has been identifying the first locations for drilling (with some significant and ongoing help from the Unconventional Gas Technical Engagement Program (UGTEP), a U.S. Department of State program first called the Global Shale Gas Initiative.
For its part, Mexico has started its program with the national company PEMEX, drilling its first wells in the northern part of the country. Expectations here are high for the simple reason that the geology is an extension of the Eagle Ford in South Texas, a basin that has been a mega-producer.
So far, both of these countries have witnessed progress slowed by the lack of infrastructure, long negotiations needed to bring in essential outside expertise, and the jockeying of national oil and gas companies. Following the recent Mexican presidential election, PEMEX has the additional problem of restructuring requirements.
Here, turning a national monopoly into a genuine target for foreign contracts with the prospect of joint venture ownership of holdings is enticing. But the political difficulties of allowing outside companies to control Mexican natural resources are very complex.
This leaves Argentina, where several basin structures have all the earmarks of becoming huge producers. In this case, the government has nationalized the primary designated producer by controlling 51% of the shares in YPF S.A. (American Depository Receipts (ADRs) of which trade on the NYSE as YPF).
That nationalization was more a move to centralize energy policymaking than to impede contracts. But the delays have been noticeable nonetheless.
This Big Find is No "Dead Cow"
But all of that changed in an instant.
In what is already being viewed as the most significant Western Hemisphere shale agreement outside North America, Chevron (NYSE: CVX) announced it has entered into a $1.24 billion project to produce both shale gas and tight oil with YPF.
The target is a basin called Vaca Muerta (literally "Dead Cow) believed to hold as much as 23 billion barrels of oil equivalent.
First stage development of the 50-50 joint venture will involve 100 wells providing 50,000 barrels of oil and 3 million cubic meters (106 million cubic feet) of gas in daily production by 2017. The second stage anticipates 1,500 wells. Overall investment commitments could reach more than $15 billion before 2020.
But before you jump in with both feet, know this: The Chevron-YPF contract is guaranteed to be slapped with a huge lawsuit.
That's because the state nationalization of YPF came at the expense of the company's former owner -- Spanish major Repsol S.A., whose ADRs trade OTC in the states under the symbol REPYY.
And now Repsol is going to sue. Buenos Aires has begun negotiations to pay Repsol for the seizure but the Spanish company has rejected the move, setting the stage for a major legal showdown.
So far, Chevron has indicated they will move forward with the project. For its part, YPF is bringing in some other deep projects to fund development at Vaca Muerta - Dow Chemical (NYSE: DOW) and Bridas. The latter just happens to be a venture of local investors and Chinese CNOOC (NYSE ADR: CEO).
However, investors should be wary of getting on the YPF bandwagon until the Repsol legal action is settled.
So once again, there is a bit of a delay in shale development outside North America. Only this time, it awaits a decision in court.
But it's only a matter of time now. The shale oil craze is going global and it can't be stopped.
Shale is not the only boom in North America. Dr. Moors also believes there are profits to be made in riding the rails for oil.
Here Are 10 "One-Click" Ways to Earn 10% or Better on Your Money Every Quarter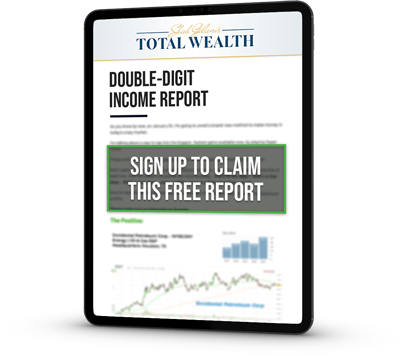 Appreciation is great, but it's possible to get even more out of the shares you own. A lot more: you can easily beat inflation and collect regular income to spare. There are no complicated trades to put on, no high-level options clearances necessary. In fact, you can do this with a couple of mouse clicks – passive income redefined. Click here for the report…
About the Author
Dr. Kent Moors is an internationally recognized expert in oil and natural gas policy, risk assessment, and emerging market economic development. He serves as an advisor to many U.S. governors and foreign governments. Kent details his latest global travels in his free Oil & Energy Investor e-letter. He makes specific investment recommendations in his newsletter, the Energy Advantage. For more active investors, he issues shorter-term trades in his Energy Inner Circle.