We all know that, so long as the Fed keeps the printing presses on, the risk of a worldwide currency crisis gets even higher.
Gold, of course, is the timeless hedge here - for all the reasons you and I know.
But are we truly prepared for a currency crisis?
Much of the gold in the United States is owned by big institutions: the Treasury, the Federal Reserve, and bullion banks. So, if a currency crisis hits, their 8,900-ton hoard won't do us a bit of good.
But there is one country whose "democratic" approach to gold ownership will allow its people to survive a currency crisis, literally, in fine style.
Not only that, but this country's people are giving their government a whopping black eye for its heavy-handed ways in the process.
Here's what's going on there...
India's Reserves Are Misleading
India's official, or government, gold reserve amounts to just 613 tons - merely the world's 11th largest stash.
But that's nowhere near the whole picture.
You see, of the estimated 167,550 tons of gold mined throughout all of history, some 34,170 tons are in India. 
That's 20% of all the gold ever produced, in just one country. 
And at today's prices, it's worth nearly $1.4 trillion. 
Indians' cultural affinity for the yellow metal is world-famous.
Families gift it to the dowries of their marrying daughters. 
Farmers buy every ounce they can with the profits from their annual harvests. 
It's considered an auspicious gift for religious temples and festivals.
Maharashtra businessman Datta Phuge loves gold so much that he had 15 goldsmiths toil 16 hours a day for two weeks to make him a shirt made from it... at a cost of $250,000. His quarter-million-dollar ensemble makes the colorful, raucous costumes of Bollywood films look downright conservative...
At all levels of society and at all times, Indians just can't get enough gold.
So a funny thing happened when India found itself embroiled in a currency crisis... 
What Currency Crisis?
From May 1 to Aug. 20, 2013, the Indian rupee lost a stomach-churning 20%, reaching all-time lows versus the U.S. dollar. 
No one's felt those effects more than Mukesh Ambani, India's richest man. 
He heads the parent company of the world's largest oil refineries, Reliance Industries. He owns perhaps the world's first personal skyscraper and billion-dollar private home, Antilia, in Mumbai.
But, poor Mukesh... 
Thanks to the rupee's summer cliff dive, Ambani lost $5.6 billion in under four months. That's 24% of his former $23 billion fortune.
It's not because he made a bad investment. It's just that the value of his holdings in U.S. dollars was worth that much less.
What's more, foreign institutional investors with funds invested in large Indian public companies are sprinting for the exit and taking their funds out of India, further weighing on the value of those firms and the currency.
It's not pretty. 
But, with so many Indians owning so much gold themselves, most will come through just fine.
In fact, they've seen their holdings increase - astronomically -in value.
Nobel literature Laureate V.S. Naipaul famously referred to his ancestral home, India, as the land of "a million mutinies." It's easy to see why.
And, in just carrying on as normal, the Indian people are actually making their government pay dearly for its own heavy-handedness.
India's "Million Mutineers" Fight Again
Record low rupee exchange rates of May through August 2013 pushed the gold price in India up almost 35% at the same time, to new all-time record highs. 
In fact, Indians are buying so much gold (most of which has to be imported) that it's exacerbating the nation's current-account deficit, running at a record 4.8% for 2012. 
And that's causing major headaches, which has led to desperate knee-jerk reactions.
Short of banning the sale of gold outright, the Indian government has tried nearly everything to slow gold purchases. 
First they imposed import duties on gold, then hiked them three more times - all the way to 10% this year alone. 
But that still wasn't enough to spoil the average Indian's appetite for gold.
Again on Sept. 17, the Indian Ministry of Finance raised gold jewelry import duties from 10% to 15%.  
Now, the Reserve Bank of India wants to convince religious temples to sell some of their gold to banks. 
One temple alone, the Tirumala Venkateswara Temple, has accumulated an estimated hoard of more than 1,100 tons, worth a mind-boggling $480 billion, over the past 2,300 years. Tirumala temple is only one of uncountable thousands.
They would then convert the jewelry into bullion, which could then be sold back into the market, partly relieving gold imports.
Reuters has even reported that the Reserve Bank of India (RBI) was planning to "ask banks to
offer to buy household gold and divert it to precious metal refiners in an effort to reduce India's current account deficit and improve the domestic supply of gold." 
The RBI later said no such proposal was currently being considered, but as it is with all governments, a denial is often a ringing endorsement.
All that mismanagement has made Indians defiant in the face of rampant inflation. Smuggling gold cross-border into India has become a lot more prevalent.
In the first six months this year, Indians were responsible for 28% of worldwide consumer gold sales, up 48% year over year. And they certainly didn't let gold's spring selloff go to waste. In Q2, gold purchases were up 71% year over year. 
For now, higher rupee gold prices and ever-increasing gold taxes may be weighing on demand.  Imports have fallen considerably in the past few months.
Just don't bet on any sustained weakness. Owning gold has provided a strong hedge against a rapidly waning currency for many Indians.
The fall is typically a very robust gold-buying period. The all-important wedding, festival, and harvest seasons are quickly approaching.
Keep in mind, nearly two-thirds of gold in India is held in rural areas, where bank accounts are much less accessible. And with heavy monsoons this year, bumper crops are likely to support strong buying from the country's 200 million farmers.
Perfect Security, on Your Dressing Table
With the collapse of the rupee, it's been both wise and prudent on the part of Indians to own gold. With a central bank hell bent on debasing its fiat currency, like nearly every other central bank today, owning gold has helped Indians hedge rupee losses.
We can't be sure if Mukesh Ambani has any gold shirts hidden away in that skyscraper of his.
But we do know Indians as a whole own lots of gold in the form of jewelry and ingots. At 31,000 tons, my guess is there's more gold in India than anywhere else.
To 1.2 billion people, gold represents savings and security.
I believe at some point in the next few years, gold will eventually re-claim its role as money. 
That will cause major nations to jockey for position in any new world monetary order.
And thanks to their "democratic" gold ownership, odds are good that Indians will play a significant role.
[epom]
Here Are 10 "One-Click" Ways to Earn 10% or Better on Your Money Every Quarter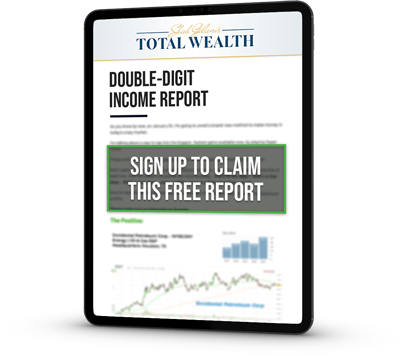 Appreciation is great, but it's possible to get even more out of the shares you own. A lot more: you can easily beat inflation and collect regular income to spare. There are no complicated trades to put on, no high-level options clearances necessary. In fact, you can do this with a couple of mouse clicks – passive income redefined. Click here for the report…