Rising gas prices have put millions of Americans in fear. The revolutionary electronic car company could provide the solution to our woes.
Money Morning economist Garrett Baldwin explained why (Nasdaq:TSLA) Tesla Motors Inc. stock is on fire in our daily stock market outlook.
Shares of
Tesla Motors Inc.
(Nasdaq:
TSLA
) surged as high as $199.30 yesterday, before closing at a new record high of $196.56. The luxury carmaker is on a tear since closing at $120.50 on November 26. The company is rising on the news that it sold nearly 6,900 vehicles in the fourth quarter, 20% more than analysts forecasted.
Tesla (Nasdaq: TSLA) Stock: Moving on Earnings
As of early November 2013, Tesla (Nasdaq: TSLA) stock prices were up 8% ahead of earnings.
If TSLA exceeds its earnings estimates and posts a profit margin of more than 19%, the stock should see a bump in the immediate aftermath.
However, for buy-and-hold investors, TSLA is a risk not worth taking. Trading at an all-time high as recently as September, it's unlikely TSLA will maintain momentum.
The fact that TSLA doesn't offer shareholders a dividend is another strike against the stock.
And if TSLA does not match earnings estimates, the stock could experience a major drop.
The big money seems to be betting on Tesla (Nasdaq: TSLA) run coming to an end…
Related Articles
How Tesla Motors Managed to Beat the "Solyndra Syndrome"
Tesla Motors is the strangest of birds: a government-backed green energy success story. Here's why the stock has doubled in the past month.
Tesla Motors (Nasdaq: TSLA) Stock Up 8% Ahead of Earnings; Here's What to Watch
Tesla Motors Inc. (Nasdaq: TSLA) has seen a meteoric rise of 410% since the start of 2013, and the electric automaker is set to announce its …
Read more stories about Tesla Motors.
Related Chart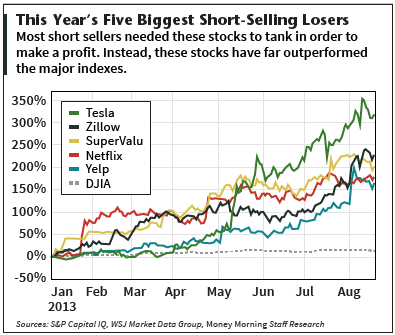 Short Selling in 2013: Why These Billion-Dollar Bets Went Bad – And What's Ahead
If you looked at holdings of hedge fund barons William Ackman and David Einhorn at the start of 2013, it looked like 2013 was a year for short selling.
Read more…