It's not hard to find stocks to buy in wearable technology – one of the hottest trends in tech right now.
But finding stocks to buy that aren't already big, popular names is a bit more challenging.
For example, there's Google Glass from Google Inc. (Nasdaq: GOOG), the FuelBand from Nike Inc. (NYSE: NIKE), the SmartWatch from Sony Corp. (NYSE: SNE), and the Gear line from Samsung (OTC: SSNLF).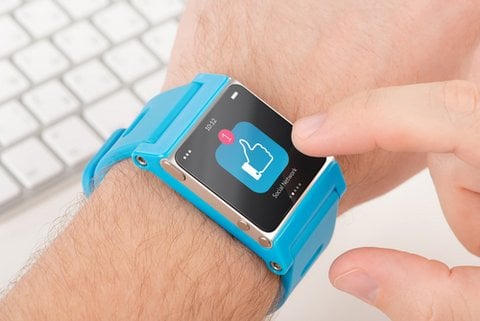 And of course everyone expects Apple Inc. (Nasdaq: AAPL) to come out with an iWatch-type product this year.
But wearable technology products aren't going to have much impact on the stocks of big, diverse companies like these.
And nearly all of the companies that specialize in making wearable technology gear, like Pebble, FitBit, Oculus, and Jawbone are, at least for now, private (Jawbone is said to be preparing for an IPO later this year.)
But this is the best time to be investing in wearable technology – just as the trend is in its early stages of growth.
A Juniper Research study at the end of last year forecast that retail revenue from the wearable technology market will grow from $1.4 billion in 2013 to $19 billion in 2018 – the kind of growth that tends to make stock prices double or triple.
There are stocks to buy that tap into the exploding wearable tech market, but you have to look a little deeper.
Stocks to Buy to Profit from the Wearable Technology Revolution
One of the best ways to invest in wearable technology is to look at the companies supplying the components – screens, microchips, and sensors – to the companies building the products.
Many of these companies also profited from selling those same types of components to the makers of mobile devices like smartphones and tablets.
And the suppliers don't care a whit whether the big winner in wearable technology is Apple or Google or Sony or Samsung or a young startup – they will sell to any and all of them.
The growth of wearable technology (not to mention the Internet of Things) will give such suppliers new sources of growth that should drive their stock prices higher.
Here are five stocks to buy that will benefit from the growth of the wearable technology market: