One of the best stocks to buy now comes from Canada's tech industry - and this week it gave us a preview of its potential.
Shares of the penny stock Smart Technologies Inc. (Nasdaq: SMT) have jumped more than 30% since last Friday to around $5.00 per share. This one-week run included an 18% increase yesterday (Thursday).
Money Morning's Defense & Tech Specialist Michael Robinson just told readers on March 13 that SMT is among the best stocks to buy now in Canada's burgeoning tech scene. Headquartered in Calgary, Alberta, Smart Technologies supplies its customers with interactive education tools. Currently, its products are used by more than 40 million students in 175 countries.
SMT saw the majority of its weekly gains following a bullish report released Tuesday from Zacks Equity Research. Zacks said SMT is likely to beat earnings estimates in its next quarterly report, scheduled for May 15, 2014.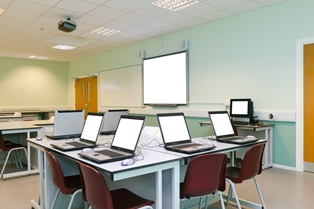 "This company has seen a nice streak of beating earnings estimates, especially when looking at the previous two reports," the company wrote. "In fact, in these reports, SMT has beaten estimates by at least 25.0% in both cases, suggesting it has a nice short-term history of crushing expectations."
But, as Robinson wrote, there's more than a good earnings report that makes SMT a good stock to buy now...
What's Behind Smart Technologies' (Nasdaq: SMT) Big Gain
Canada is mostly known for its mining and resource stocks. That's why the tech industry's profit opportunities get overshadowed by commodities-related companies.
But Canada is home to tens of thousands of tech companies, with a combined total of $155 billion in annual sales.
Smart Technologies is one of the sector's most promising investments.
"In 1991, the company developed the first interactive whiteboard, called the SMART Board. Since then, the tech firm has made over two million of them," Robinson said last week when he recommended SMT stock to Money Morning readers. "Smart Technology also has expanded its product line to include audio enhancement and student response systems, among other interactive offerings."
Note: The Fed's 2014 taper means volatility ahead. So we've outlined how to find profits in a volatile market - like triple-digit gains in just days - if you start with this strategy...
Robinson said he sees huge potential for the company as it continues to expand...
"To further fatten its revenue stream, Smart Technologies is moving more deeply into the corporate e-learning market," Robinson said. "It's still a relatively new field, but market forecaster IBISWorld already estimates the global size at around $26 billion."
"Smart Technologies needs to grab only a small portion of this market for it to have a dramatic impact on sales," he added. "Just capturing 5% of the overall market could add $1.3 billion over the next several years."
Money Morning readers who bought in after Robinson's initial recommendation could have banked gains as high as 45%.
Even if investors have missed this week's ride, the future for SMT stock remains bright.
"Smart Technologies has plenty of room to run," Robinson said last week. "With a market cap of $450 million, the stock has a forward PE of 23, a roughly 20% premium to small caps as a group."
Go here to find out Robinson's other two Canadian tech stocks to buy now.
Do you invest in tech stocks? Is SMT a stock you would consider adding to your portfolio? Let us know on Twitter @moneymorning using #TechInvesting
Related Articles: