After months of speculation, we're one step closer to the Box IPO, as the company filed with the U.S. Securities and Exchange Commission Monday.
Box Inc. announced that it plans to raise up to $250 million in an initial public offering that could take place as soon as April.
Box caters mostly to businesses and provides clients with file sharing and cloud content management services. Secure file sharing, project collaboration tools, and encryption methods are among the company's other services.
The company's business model is to provide customers with up to 50 gigabytes of free storage and then charge monthly fees of $5, $15, and $35 for premium services and additional storage.
The company has more than 25 million registered users and works with more than 34,000 companies. Some of Box's biggest customers are Procter & Gamble Co. (NYSE: PG), Pandora Media Inc. (NYSE: P), and the San Francisco Giants of Major League Baseball.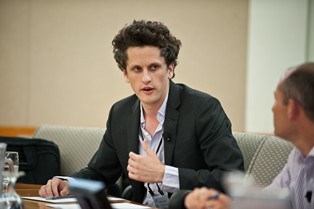 Box Inc. CEO and Founder Aaron Levie
"We are moving toward an information economy, where every worker will be an information worker, and every business, regardless of industry, will be in the information business," Box Chief Executive Officer and Founder Aaron Levie said. "Our role at Box is to help enable this transition for every organization in the world."
Before deciding to buy into Box Inc., there are some important financial figures for investors to analyze…
Profitability an Issue Ahead of Box IPO
When Box made its IPO announcement, company officials admitted that the tech startup currently isn't profitable – and probably won't be profitable for some time.
"We do not expect to be profitable for the foreseeable future," the company's prospectus said.
In the filing, Box noted that losses had actually widened in the last year from $112.6 million to $168.8 million. The company attributed the widening loss margin to expanded marketing and sales budgets. Those budgets increased by 73% in the last year.
While those increased budgets affected Box's bottom line, they did boost revenue figures.
In the year ending Jan. 31, 2013, the company reported revenue of $124.2 million, which was an increase of 111% from the previous year.
According to a Wall Street Journal report, almost 75% of the companies that have gone public in the United States in 2014 were unprofitable at the time of their IPO. So it's common for companies with profit losses to file for IPOs.
However, achieving a profitable bottom line won't be the only challenge facing Box ahead of its IPO…