With the number of companies that have hit the IPO market in the last year, many are wondering if the market has become oversaturated. 
According to the IPO investment firm Renaissance Capital, 222 companies went public in 2013, raising a combined $54.9 billion. That made 2013 the biggest year for IPOs since the "dot-com" bubble of the early 2000s.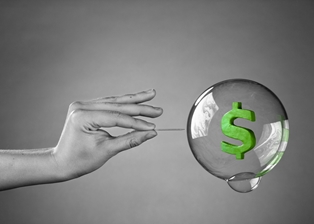 And 2014 is off to an even busier start. Through the last week of March, 64 IPOs have been priced, raising an estimated $10.6 billion. That's more than double the number of companies that went public by this time last year.
It doesn't look to be slowing down either, as 42 IPOs were filed in March 2014. That's more than any month in the past 10 years.
And it's not just the number of companies going public that has stoked the IPO bubble chatter; it's the financial figures behind these companies.
According to the Wall Street Journal, nearly 75% of the companies that have gone public in the United States this year were unprofitable at the time of their initial public offering.
That has skeptics pointing to the multitude of tech startup IPOs that contributed to the dot-com crash. The Pets.com IPO in 2000 raised $82 million, but the stock crashed from $14 to $0.22 in just nine months, forcing the company to shutter its operations. Shares of eToys.com soared to $76 from $20 on its opening day in 1999. That company filed for bankruptcy less than two years after its IPO.   
But before labeling the 2014 IPO market as a repeat of the dot-com era bubble, check out these statistics...
The 2014 IPO Market Is Not the 2000 IPO Market
One indicator that separates 2014 from the dot-com bubble is the average age of companies going public.
While 2014's average age of 13 is the lowest since 2008, companies going public this year are still three times older than they were in 2000. Research from University of Florida Finance Professor Jay Ritter concludes that companies were just four years old, on average, when they went public in 2000.
Another important number to look at is the average return of IPOs. Through March, companies going public this year have averaged a first-day return of 21.1%. In 2013, the average first-day return was almost 41%.
That's nowhere near the first-day average gains companies saw in 2000, which were more than 50% according to Dealogic.
In 1999, an incredible 457 companies went public, and 117 of them doubled in the first day. An average first-day gain of 21.1% in 2014 suggests investors are buying at a much more cautious and modest rate.
While many of the numbers suggest we're far from reaching a dot-com era IPO market, one of the best indicators is the type of companies going public.