Chalk one up for the good guys.
The IEX exchange, a new stock platform that launched Oct. 25 of last year, was designed to negate the advantage that Wall Street's high-frequency traders have over everyone else.
High-frequency trading (HFT) involves the use of very fast computers with very fast connections to sniff out what other traders are doing and buy or sell shares accordingly – all in milliseconds.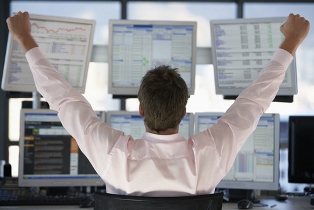 The IEX exchange defeats the advantage the HFT have by artificially introducing delays in the execution of trades.
And while volume at IEX is tiny – just 18 million shares out of nearly 7 billion traded daily – it has doubled since January.
"IEX is a great idea," said Money Morning Capital Wave Strategist Shah Gilani, editor of the Wall Street Insights & Indictments newsletter. "It's already having an impact. Eighteen million shares isn't even a blip on anybody's radar but watch it now. I'm willing to bet volume will double every quarter from now on. That's not an arithmetic gain – that's a geometric advance."
But what's so bad about high-frequency trading?
Those high-speed trades – which make up about half of all stock trades each day – get "in front" of other trades and change the price ever so slightly to their advantage. Although each HFT transaction nets only pennies, or a fraction of a penny, the computers conduct millions each day.
That adds up to billions in the pockets of the high-frequency traders – money extracted from the pockets of all other market participants, including retail investors.
What's more, because high-frequency trading is controlled by computer algorithms, a glitch can cause a market disaster, such as the "flash crash" of 2010, when the Dow Jones Industrial Average fell 1,000 points in a matter of minutes.
IEX Exchange CEO: "It's a Hole in the Bottom of a Bucket"
Brad Katsuyama, the chief executive officer of the IEX Group, discovered how high-frequency trading was harming other traders while running the Royal Bank of Canada's stock desk in New York. So he did something about it.
"We found a problem. It's affecting millions and millions of people," Katsuyama said in an interview on the CBS News program "60 Minutes." "People are blindly losing money they didn't even know they're entitled to. It's a hole in the bottom of the bucket."
Curiously, however, several Big Banks – such as Goldman Sachs Group Inc. (NYSE: GS) and JPMorgan Chase & Co. (NYSE: JPM) – known to engage in HFT have actually endorsed the IEX exchange. Gilani has an idea why…