The old Wall Street saw to "sell in May and go away" may sound like good advice, as the May through October period has the reputation as being the worst six-month stretch for equities.
Since the illustrious Dow Jones Industrial Average was created in 1896, the market has returned a modest 2% on average in the summer compared to a 5.4% annualized return during the winter, according to the Hulbert Digest.
Yet, the timeworn theory – also known as the "Halloween Indicator" – has its wrinkles…
Why "Sell in May and Go Away"?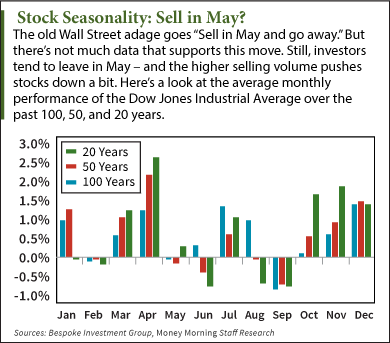 Sometimes the market's performance in May has more to do with investors leaving because they think markets will fall, instead of share prices slipping for an economic reason…
"The 'sell in May and go away' concept is a great example of a self-fulfilling prophecy," Steven Pressman, Professor of Economics and Finance at Monmouth University in West Long Branch, N.J., told Money Morning.
Professor Pressman explained it's kind of like when your mother exasperatedly asks if everyone jumped off a bridge, would you follow…?
"It's something that happens because people believe it will happen – like students who think they are going to flunk their final exam, don't study for it as a result of this belief, and then flunk the exam because they don't study for it. In this case, people who sell in May as a result of this belief are causing the market to go down, thereby reinforcing their belief that you should sell stocks in May and go away," said Pressman.
When we look at the numbers in closer detail, staying in the markets from May to November doesn't always mean little to no returns…
What Happens to the Markets After May
Last year, the Dow climbed about 4% during the typically lackluster period. The broad-based Standard & Poor's 500 Index rallied 10%.
In fact, from 1979 to 2013, the S&P 500 Index rose 57% of the time from May through August after starting the year with a gain (as is the case this year), according to James Hosker, a director in equity strategies at Societe Generale.
The S&P benchmark has climbed 7.6% on average over the summer when it started a year on a positive note, while slipping 4% when it began a year down. To Hosker, that's an optimistic sign and reason to hang around rather than running for the hills.
Solid year-to-date earnings, and a broad-based market that is modestly higher (up 1.6%) amid two months of climbing a wall of worry, also makes a case for stronger stock-market performance than usual this summer.
Citigroup U.S. chief equity strategist Tobias Levkovich said earnings are only likely to get better this year. Through Tuesday, some 245 S&P 500 companies have reported earnings. Of those, 161 have beaten earnings, 60 have missed, and 24 have met expectations, according to S&P Capital IQ.
So, what's the best move for investors now that May is here?