The gold price rose over the key $1,300 level Friday as tensions in Ukraine once again neared a boiling point.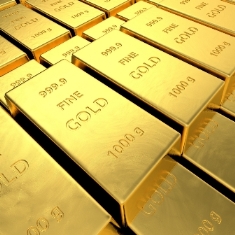 At Friday's close on the Comex, gold for June delivery settled at $1,302.90, up $19.50 for the day, its best close in a month. Spot gold, which traded as high as $1,306 in Friday's session, was last up by $16.70, or 1.3%, to $1,302.60, putting the yellow metal on pace for its biggest gain since April 4.
Coveted as an insurance against geopolitical risks and devalued currencies because it tends to hold its value as other assets decline, the gold price rose after violence escalated Friday in eastern Ukraine.
Defying President Vladimir Putin's demand to pull back troops, Ukraine sent armored vehicles and artillery to take back the key city of Slovyansk from pro-Russian forces. Two Ukrainian soldiers were killed and seven wounded in Friday's clashes.
Amid the melee, U.S. President Barack Obama said the United States and Germany are preparing to impose further sanctions on Russia's seriously struggling economic sectors. President Obama said he hopes not to have to use such sanctions, but is prepared to if Russia's disruptions mount and interfere with Ukraine's May 25 elections.
Russia's economy has sorely suffered since the Ukraine crisis ignited in late February. The country is feeling fiscal pains – even though the United States and Europe haven't yet imposed the sweeping sanctions Russia could face should it continue to challenge the pro-Western government in Kiev.
Buoyed by the mushrooming crisis between Russia and Ukraine, gold prices have risen 6.7% year to date. Another catalyst for the precious metal this year has been a spate of anemic economic data. But, the simmering geopolitical tensions, which have stoked a flight to safety, have been the key facilitator for the gold price over the last several weeks.
Even Friday's much better than expected April jobs report didn't dent today's gold rally.