The U.S. Labor Department jobs numbers for April came out today, and as usual they aren't as good as the government wants us to believe…
The report showed that U.S. employers added 288,000 jobs last month. The unemployment rate fell to 6.3% from 6.7%, marking the lowest level since September 2008. That was better than consensus estimates for job creation of 215,000, with an unemployment rate of 6.6%.
At first glance, headline numbers from the all-important April jobs report looked impressive. After some digging, however, it's apparent the real story is different.
"The headlines reported make it appear that the labor market is starting to turn around," Steven Pressman, Professor of Economics and Finance at Monmouth University in West Long Branch, NJ, told Money Morning. "But, if you look just a bit below the numbers, there is a great deal to worry about."
Ugly Details of the Labor Department Jobs Numbers
"My first area of concern is that the 0.4% decline in unemployment rate is due to a 0.4% decline in the labor force participation rate," said Pressman.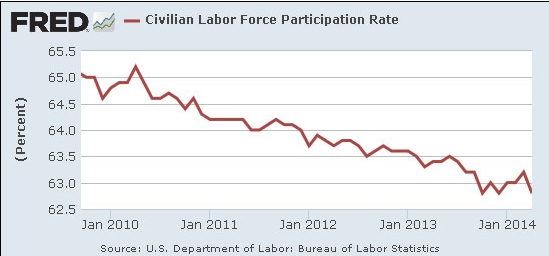 Following an increase of 503,000 in March, some 806,000 people left the work force in April. That took the labor force participation rate down to 62.8% from 63.2%, its lowest level since 1978.
"The plunge in the participation rate dashes hopes that an early year surge represented the state of a sustained cyclical turn," Morgan Stanley wrote in a note to clients.
Even these misleading jobs report numbers from the Labor Department aren't that great. While the 6.3% unemployment rate is down sharply from the peak of 10% hit in October 2009 (in the wake of the Great Recession), it's still above the historical average for this stage of an economic recovery.
"Overall, I see an economy that remains stuck in the mud and that's not growing fast enough to create needed jobs for Americans," Pressman added. "Certainly the GDP data released on Wednesday, showing no economic growth at the beginning of this year, supports this view."
Overall, U.S. economic data still paints a gloomy picture of the present job landscape… As Professor Pressman noted, they don't call economics the "dismal science" for no reason…
Just take a look at these key takeaways from this month's Labor Department jobs report numbers.