Three stock market crash indicators are suggesting that the current bull market may be running out of steam and is susceptible to a significant correction.
Two of the stock market crash indicators are weakness in key sectors, and the other is a technical development on the Standard & Poor's 500 index chart.
Let's start with the chart.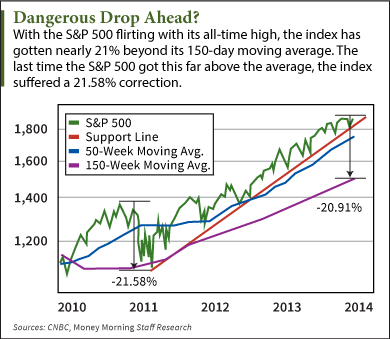 The S&P 500 is bobbing in the 1,880, range which is not far below the all-time high of 1,890.9 reached on April 2.
Its steady climb over the past couple of years has put the index more than 20% above its 150-day moving average.
The last time the S&P 500 got that far above the 150-day moving average was in 2011, when it got slammed with a 21.58% correction.
Richard Ross, global technical strategist at Auerbach Grayson, told CNBC that investors should take the parallel seriously.
"I think that we're in exactly the same scenario," he said, noting that a similar decline now would shave about 20% off the S&P 500, taking it down to the 1,500 level. "I think that's what we're staring at right here."
Ross also pointed out that the S&P 500 has sputtered for most of 2014.
"We've stalled out at the high end of the trading range. It's really been a holding pattern for the last two months," Ross said. "Now look, when a market stalls and moves sideways, that's not necessarily a bad thing. But when that occurs at the tail end of a five-year bull run, with the market up almost 300% over that time… that's a problem."
Meanwhile, Gina Sanchez, founder of Chantico Global, said she sees weakness in the housing sector as a stock market crash indicator.
Pending home sales are down 7.4% on the year, and the National Association of Realtors is projecting sales of existing homes to fall nearly 4%. And new home sales for March plunged 13.4% from the same period a year ago and 14.5% from the previous month.
"If you look at the pillars of the economy that should be holding us up, one of the biggest that's been doing poorly is housing," Sanchez told CNBC. "If we see further falls in housing – that could be very negative. So, I do think that there is some reason for caution right now."
Finally, Gina Martin Adams, Senior Equity Strategist for Wells Fargo Securities, sees a stock market crash indicator in a faltering sector that until recently was one of the main engines pushing stocks higher.