Rejection has hit Pfizer Inc. (NYSE: PFE) stock again...
British pharmaceutical company AstraZeneca Plc (NYSE ADR: AZN) once again rebuffed a takeover bid from rival Pfizer today (Tuesday) when the company announced its forward strategy and revenue projections.
AstraZeneca officials projected annual revenue to increase by 84% by 2023. The company expects sales to reach $84 billion per year by that time, which is up from $25.71 billion in 2013.
PFE stock has slipped today, down about 2% to $29.37.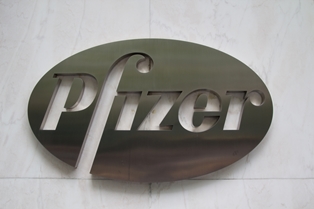 Pfizer upped its previous offer to $106 billion last week, but AstraZeneca officials rejected the offer, saying that it "substantially" undervalued the company.
AstraZeneca's Chief Executive Pascal Soriot told The Wall Street Journal last week that the company's drug pipeline was underappreciated. According to Soriot, the company has 11 drugs that are in the final stages of clinical testing, and its portfolio of cancer drugs is a major strength.
AstraZeneca estimates that annual sales from its upcoming drugs could be between $23 billion and $63 billion, depending on which receive approval. However, it's nearly impossible to predict which drugs will actually receive regulatory approval.
While AZN shareholders were likely pleased by the company's outlook, analysts at the brokerage firm Jefferies wrote a note to clients saying that AZN's projections are "overly optimistic." Additionally, AstraZeneca does expect revenue to remain flat through 2017, as the company's patents on Nexium ($4 billion in 2012) and Crestor ($6.2 billion in 2012) expire in 2014 and 2016, respectively.
Losing those patents will hurt, but the company has projected that by 2023 its blood-thinning drug Brilinta should bring in $3.5 billion annually. AZN also has high hopes for its various diabetes and respiratory drugs. Both divisions are expected to bring in $8 billion annually by 2023.
While AstraZeneca's price projections may be considered high by some analysts, a strong pipeline is a major reason why Pfizer wants AstraZeneca. But it isn't the only reason...