Whole Foods Market Inc. (Nasdaq: WFM) stock has slipped about 20% today (Wednesday) after the company disappointed with soft Q2 earnings and lackluster full-year guidance.
Shares of the nation's largest natural foods grocer slumped in morning trading to $37.31, a 52-week low. The stock clawed back some in the afternoon session, but shares remained down a sharp 19% just after noon.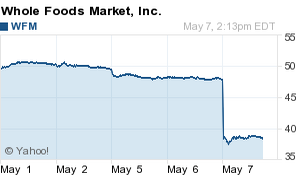 After the close Tuesday, Whole Foods reported a per-share profit of $0.38 on revenue growth of 9.7% to $3.32 billion. That was shy of the forecast of $0.41 on revenue of $3.34 billion. Comparable same-store sales rose a slight 4.5%, marking the specialty supermarket's slowest growth rate in four years.
Even more uninspiring was the company's forward guidance.
The Austin, Texas-headquartered company reduced its per-share FY2014 profit to $1.52 to $1.56, down from earlier predictions of $1.58 to $1.65.
Additionally, Whole Foods now expects sales growth of 10.5% to 11% for the fiscal year ending in September. That's down from the previous forecast of 11% to 12%.
The company also lowered projections for same-store sales growth to 5% to 5.5%, down from prior estimates of 5.5% to 6.2%. That's notably lower than Whole Food's historic growth rate of 7% to 8%. Even more dispiriting, the company's current weaker outlook followed similar downward predictions made in February and November.
While other companies blamed a harsh winter for weak earnings performance, Whole Foods didn't – and couldn't – use that as its excuse. What's to blame is by no means seasonal. It's more serious and troubling…
Why Whole Foods (WFM) Stock Is Sinking
Whole Foods used to own the healthy food niche, but that's no longer the case.
"Competition is more intense right now than we've possibly ever experienced before," John Mackey, founder and Co-CEO of Whole Foods, said on a conference call with investors.
Key competitors such as privately held Trader Joe's, The Fresh Market Inc. (Nasdaq: TFM), and Sprouts Farmers Market Inc. (Nasdaq: SFM) have been stealing customers from Whole Foods. And traditional supermarket chains and superstores such as Kroger Co. (NYSE: KR) and Wal-Mart Stores Inc. (NYSE: WMT) have expanded offerings to offer a vast selection of specialty foods.
"For a long time Whole Foods had the field to ourselves," Mackey said. "That was nice, but we don't anymore."
When the original Whole Foods opened in Austin, Texas, in 1980, there were fewer than half a dozen natural foods supermarkets in the United States.