Global central banks and geopolitical concerns guided gold prices this week – mostly lower. Yellow metal prices bucked the trend Friday and were modestly higher in morning trading.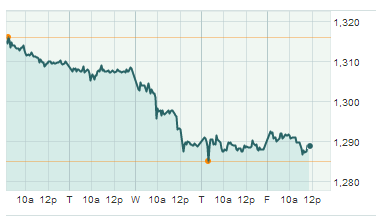 As has been the case over the last several weeks, precious metal traders took long positions ahead of what could be a volatile weekend in Ukraine. At last check, June gold was quoted higher by $5.50 at $1,293.30 an ounce. Spot gold was up $1.80 to $1,292.60.
Should gold prices finish higher today (Friday), it would be the first positive session for the yellow metal in the last four trading days.
The week didn't start out too punishing for gold, with prices slipping just $0.70 to $1,308.30 on Tuesday. But, selling gained momentum Wednesday, thanks to U.S. Federal Reserve Chair Janet Yellen.
Gold Prices React to Fed – Again
The mid-week slide came as Yellen presented an overall optimistic assessment of the U.S. economy in her testimony to Congress. The Fed Chief also reaffirmed the central bank's commitment to continue winding down quantitative easing (QE) measures, which have been a catalyst for gold prices since 2008.
"As long as we continue to see improvement in the labor market and we believe the outlook is for continued progress, and as long as we continue to believe and see evidence that inflation will move back up over time to our 2% longer-run objective, we anticipate continuing to reduce the pace of our asset purchases in measured steps," Yellen said.
Following Yellen's comments that economic data suggests a rebound in consumer spending and business production, "putting the overall economy on track for solid growth in the current quarter," the gold price fell below the key $1,300 level and stocks (risk-on trades) ticked higher.
June gold, the most active yellow metal contract, dropped $19.70, or 1.5%, to $1,288.90 an ounce Wednesday.
Gold prices have been pressured over the last several weeks amid the ongoing taper, which sets the stage for an eventual interest rate increase sometime next year.