One strategy experts use when looking for the best biopharma stocks to buy is finding companies with promising drug candidates that are close to receiving regulatory approval. When these drugs hit the market, they can bring in billions in revenue.
When companies have multiple promising drugs in their product pipeline, they become even more attractive because they have more than one shot at finding a revenue blockbuster.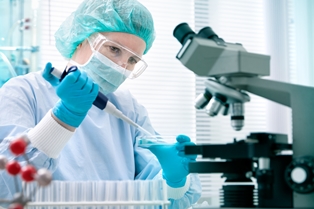 That's exactly why Money Morning's Defense and Tech Specialist Michael Robinson recently said Cara Therapeutics Inc. (Nasdaq: CARA) is one of his favorite "long-term profit machines" to buy now.
Cara Therapeutics is a clinical-stage company that develops drugs for pain management and focuses on making treatments that do not cause the same side effects that are typical among pain medications.
CARA is a newly public company, having just hit the market on Jan. 31. Since its IPO, CARA stock is up 24% from its offer price. The company initially offered its shares for $11 and the stock now trades just below $14.
According to Robinson, that 24% increase may just be the beginning for this hot biopharmaceutical stock...
Put Cara Therapeutics (Nasdaq: CARA) On Your "Stocks to Buy" List
The first reason Robinson is recommending CARA stock right now is because its products target the post-operative market.
"This is a potentially huge market," Robinson said. "Some 46 million inpatient and 53 million outpatient surgeries are performed in the United States each year that require a pain relief drug. Cara officials say research reveals that more than half of those patients complain of inadequate relief."
Ahead of its IPO, CARA reported that its most promising drug CR845 had completed three phase II trials and is scheduled to register for phase III trials in the second half of 2014.
"Cara's most promising therapeutic is CR845, a compound developed to specifically treat acute pain with anti-inflammatory properties," Robinson said. "Cara is working on two forms of CR845, injectable and pill versions."
Receiving Food and Drug Administration approval and reaching commercial success is a tough process, but worth the wait - drugs that do so typically are huge money makers for the companies that develop them. For instance, Pharmacyclics Inc. (Nasdaq: PCYC) stock has climbed more than 280% since its treatment for mantle cell lymphoma was approved in 2012.
And stocks typically see a boost when they announce that a promising drug has received approval. Especially if it can treat millions of patients.
But that's not the only reason Robinson is recommending CARA stock. There's another factor that separates CARA from its competitors...
This profitable advantage is the company's product pipeline. Companies with deep product pipelines have a better chance of securing product patents and won't get derailed if one drug doesn't receive approval.
"The company is also working on a compound that treats pain and swelling based on a form of cannabis (marijuana)," Robinson said. "Known as CR701, the drug has shown promise when used in rodents, but has not yet entered human trials."
As CR845 and its other drugs progress through clinical trials, CARA stock should continue gaining momentum if the news remains positive.
The fact that CARA stock is up 27% from its offer price during a rough stretch for the biotech sector is encouraging. Its strong pipeline and clinical successes thus far also add to the stock's resume. At an affordable $14 per share, CARA is a biopharma stock to buy now.
Which biotech stocks are on your "Stocks to Buy" list? Join the conversation on Twitter @moneymorning using #Stocks.
It's time to look at the BRICS, and the global economic balance, with a totally new set of glasses. Because an emerging market game changer is here...