If you own gold, or are thinking of buying some, here's something you need to consider...
It's not all the same.
Some, like fake gold-painted lead ingots, have no value whatsoever.
Some gold said to be in storage or in the ground may not even be there at all.
There are a number of aspects of gold's quality, whether it's real or even exists, that every investor needs to know...
The Best Gold to Buy
When investors evaluate gold mining companies, for example, there are a lot of factors to consider, like politics, infrastructure, deposit size and location, etc.
But one crucial element is the quality of the ore. The more highly concentrated the gold is per ton of rock, the less it will typically cost to produce each ounce.
When looking to buy gold coins, it's usually the gold content that differentiates various types.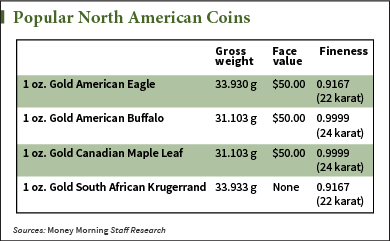 For North Americans, the four coins at left are among the most popular. Although they all contain 1 full troy ounce of gold, some also contain other metals, like copper, which makes the coin harder and therefore less subject to wear and tear.
Both of the American coins typically command somewhat higher premiums than either their Canadian or South African brethren, thanks to their level of recognition in North America.
Nonetheless, the Maple Leaf and Krugerrand are both among the most popular coins worldwide.
Although these coins are produced by their respective national mints, only the Krugerrand does not carry a face value. Of course, those that do are clearly worth much more than the stated $50, but this does make them legal tender in their issuing countries. The two American and one Canadian coin I've described are guaranteed by their respective governments for both content and purity.
Another popular gold investment option is gold bars.
One very significant characteristic here is to consider whether the bars are "good delivery" or not. Essentially, good delivery bars are sourced from a reputable refiner who is on the "good delivery" list of the industry standard London Bullion Market Association (LBMA) and the New York Mercantile Exchange (NYMEX).
Bars bearing the stamp and fineness of these refiners are typically readily accepted by gold dealers, allowing the seller an easier transaction and higher value.
Of course there's always a risk, however slight, that a gold coin or bar may be counterfeit. But there are a number of ways for you to assess whether or not your gold is real. Back in early 2013, I wrote an article titled Seven Ways to Tell if Your Gold Is Counterfeit to address this very topic.
Does America Really Have Its Gold?
Government Steps In...
President Roosevelt signed Executive Order 6102 on April 5, 1933, 'forbidding the hoarding of gold coin, gold bullion, and gold certificates within the continental United States.' In effect, the order meant the possession of monetary gold was made criminal. The rationale for confiscation was that citizens were "hoarding" gold, which was impeding growth in the economy, thereby exacerbating the depression. In effect, since U.S. dollars were exchangeable for gold at a fixed price ($20.67), Treasury was restricted in its money printing by the amount of gold it held. A large infusion through confiscation dramatically increased the government's gold holdings, whose value was further increased when Treasury raised the gold price to $35 per ounce. The rest is history. "
There's also the issue of where individual nations' gold is stored, and whether it's even there at all.
Former Congressman Ron Paul has long questioned whether Fort Knox indeed holds the 5,000 tons of gold we're told it does.
Paul has pressed for an independent audit and even introduced legislation calling for one back in 2011. But this was never passed.
Here Are 10 "One-Click" Ways to Earn 10% or Better on Your Money Every Quarter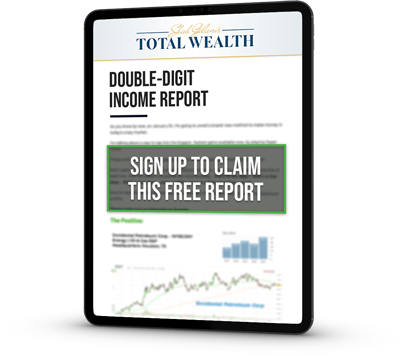 Appreciation is great, but it's possible to get even more out of the shares you own. A lot more: you can easily beat inflation and collect regular income to spare. There are no complicated trades to put on, no high-level options clearances necessary. In fact, you can do this with a couple of mouse clicks – passive income redefined. Click here for the report…