An S&P 500 record high was hit today (Tuesday) as the broad-based benchmark touched 1,900 for the first time ever.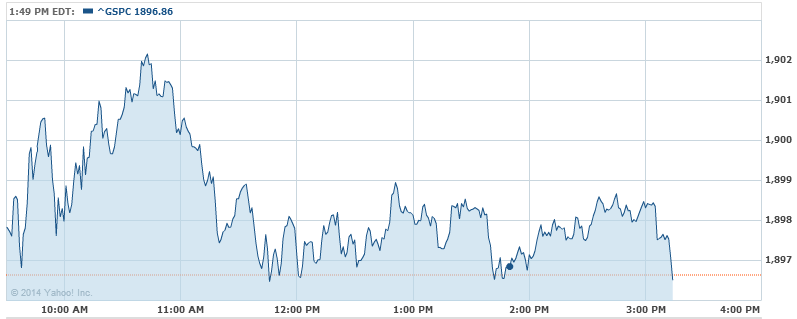 The index gave back some gains after hitting the milestone just before noon. But it was still up 0.04% at 1,897.40 with less than an hour left in today's trading session.
The record high followed the S&P's ninth record close of 2014 notched Monday. The S&P 500 has been on a tear lately. It's been hitting recent records much more frequently than before.
It took the closely tracked index just 171 days to trek from 1,800 to 1,900. In comparison, after the S&P 500 leapfrogged the 1,500 mark in March 2000, it took the index 13 years of ups and downs before it surpassed the 1,600 line. After hitting that level just over one year ago, it has climbed nearly 19%.
Tuesday's record was a surprise in light of lackluster retail sales data posted today. The Commerce Department reported that retail sales eked up an uninspiring 0.1% in April. That was well short of forecasts for a 0.4% rise. Still, economists remain optimistic that Q2 2014 will show strong growth in the U.S. economy.
Several industry experts share that confidence.
"We've had a stealth rally in the market to this record," Eric Marshall, a portfolio manager at Hodges Funds in Dallas, with some $2 billion under management, told Bloomberg. "The fact that we've moved up and hit new highs, in spite of some lingering negative sentiment, is a very healthy and positive thing for the market."
Rob Stein, chief executive officer of Chicago-based Astor Investment Management, says the stock market is slowly returning to normal, logging solid gains and displaying a pickup in momentum after an unrelenting period of uncertainty in the wake of the 2008 financial meltdown and subsequent Great Recession.
"It would not be surprising for volatility to pick up," Stein, a former U.S. Federal Reserve analyst, told the Associated Press "But that doesn't take away from the fact that the economic fundamentals are supportive of equity prices."
Driving the benchmark higher recently is a flurry of M&A activity and a healthy IPO calendar. Also fueling gains are signs of a steady economic recovery and tame (government-reported) inflation.
So, what's next?