Today (Monday), consumer security company Lifelock Inc. (NYSE: LOCK) earned "stock market crasher" status when it dropped 17.57% to $10.70 per share by close.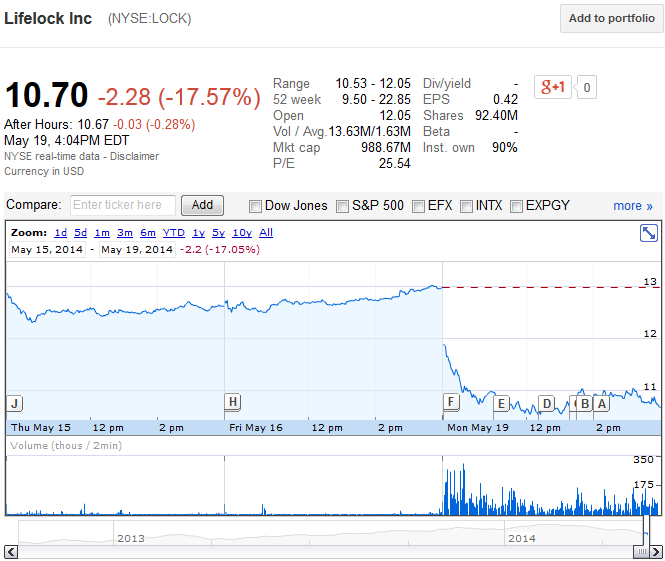 Lifelock, heavily advertised on "The Rush Limbaugh Show," provides identity theft protection services for consumers and identity risk assessment and fraud protection services for businesses.
The company went public on Oct. 12, 2012, and investors had locked in gains of more than 200% through the beginning of February. Shares are still 46.17% above the initial offering price, but LOCK stock is down 34.08% year to date and 51.3% since mid-February.
Here's what's behind LOCK's stock market crash today...
Stock Market Crasher: LOCK's Lost Wallet
In December 2013, Lifelock acquired Lemon Inc. for $42.6 million. The Lemon Wallet, which was renamed the Lifelock Wallet post-acquisition, is an app that allows consumers to easily replicate and store a complete digital copy of their personal wallet contents in a single location on their smart device. It serves as a record backup and additionally allows the on-the-go use of identification, credit cards, ATM, insurance, and loyalty cards.
On Friday, LOCK Chairman and Chief Executive Officer Todd Davis posted that his company was temporarily withdrawing the mobile app due to - embarrassingly - security issues.
"We have determined that certain aspects of the Lemon Wallet (now called the LifeLock Wallet mobile application), which we acquired as part of our acquisition of Lemon, Inc., are not fully compliant with applicable payment card industry (PCI) security standards. As a result, we have temporarily suspended the Wallet mobile application, and are deleting the data (encrypted or otherwise) from our servers, until we can operate the Wallet mobile application in accordance with those standards," Davis wrote.
Note: Western civilization could easily come to an abrupt halt from a terrorist cyberattack. Scary, yes. But it also means that the companies who can repulse those attacks are in for enormous paydays...
Davis said the company notified the Federal Trade Commission about the problem, and the company expects to receive further requests from the Commission for information.
He also noted that there is no indication that any consumer data had been compromised, but refreshingly stated "we believe this is the right thing to do." The company is developing a new version of Wallet that will meet "highest level of PCI compliance." It's intended to launch as soon as possible.
LOCK stock closed at $12.98 on Friday for a 3.02% daily gain, but saw the effect of the announcement today in the form of a double-digit stock market crash. Today's drop followed a tough quarter for the company, which suffered from losses through March and April alongside several other momentum Internet stocks.
NEXT: If enough Main Street investors learn to spot and use these three rules, Wall Street will find itself at our mercy. And what a day that will be. Let's examine each of the three, starting with the basic building block: jobs...