Google Inc. (Nasdaq: GOOG, GOOGL) already owns YouTube, which dominates online video. So why is Google buying Twitch, a website that mostly just live streams people playing video games?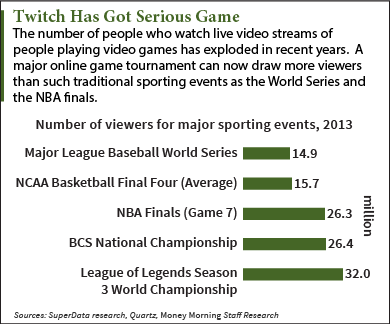 Just to be clear, the deal isn't official yet. But Variety reported over the weekend that Google had agreed to pay $1 billion for Twitch, and other sources have since confirmed that only a few details remain to be worked out.
For those familiar with the world of gaming, Google's interest in buying Twitch may seem odd. The website consists of live video streams of thousands of gamers playing popular titles like World of Warcraft, League of Legends, and Dota 2.
But the audience for Twitch is much, much larger than any outsider would imagine.
Get this: Last fall, 32 million people watched the League of Legends Season 3 World Championship – more than twice the number of people who watched the World Series between the Boston Red Sox and the St. Louis Cardinals.
Watching other people play video games on Twitch is almost unbelievably popular. The site says it gets 45 million unique visitors every month, 1 million of whom are creating the video streams.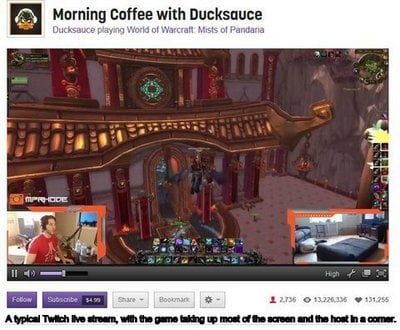 The average Twitch visitor watches an average of 106 minutes of gameplay a day. As a group, Twitch fans watch 13 billion minutes a month.
According to video and networking firm Qwilt, Twitch accounted for 43.6% of all U.S. live streaming traffic for the week of April 7.
Those are impressive numbers for a service that only launched in June 2011. Since then Twitch has raised just $35 million from investors, which means a $1 billion price tag would be a huge payoff.
No doubt Twitch's rapid growth caught GOOG's attention.
While YouTube has its own live streaming service, YouTube Live, it has not kept up with Twitch. As a cash-flush tech titan, Google probably decided that it's easier to buy Twitch and its rapidly growing audience than to compete with it.
But it's not the millions of eyeballs alone that make Twitch an appealing acquisition for Google.