Amid a robust rally for U.S. equities, and a slightly hawkish tone in the minutes from the U.S. Federal Reserve's latest meeting, the gold price today (Wednesday) ended with modest losses.
June gold gave back $4.70 to $1,290 an ounce today. The spot gold price slipped $4.00 to $1,290.75 an ounce.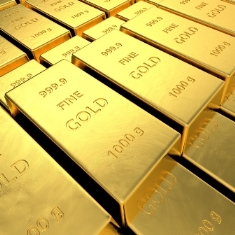 As has been the case all week, gold prices remained in a tight trading range Wednesday. The yellow metal showed little reaction to April's Federal Open Market Committee (FOMC) minutes. Released Wednesday afternoon, the minutes revealed the U.S. central bank did discuss a "rate hike process" in April. Yet, it still sees no inflation risk.
Both revelations are bearish for gold. But, yellow metal managed to shrug off the news.
Little movement in gold prices are expected for the rest of the week, according to David Govett, manager of precious metals brokerage Marex Spectron.
"We remain range-bound and the markets show no real signs of wanting to change that…with a U.S. and U.K. bank holiday approaching on Monday, there is no real reason for excitement," Govett told MarketWatch. "Unless we get any news from Ukraine or South Africa, expect things to continue in the same vein for the time being."
Even an uninspiring report on Q1 2014 gold demand didn't rattle the yellow metal…
Gold Price Up Despite WGC Report
Gold prices rose a modest $0.80 to $1,294 an ounce Tuesday, maintaining its tight trading range, after the World Gold Council's said Q1 2014 demand remained largely the same from a year ago.
WGC data showed gold demand stood at 1,074.5 tons in the first quarter, unchanged year over year (YOY).
Gold demand for jewelry, however, posted a moderate increase. Buoyed by robust gold jewelry making demand in China, demand in this segment grew 10% to 570.7 tons in Q1. That was the largest Q1 volume since 2005.
A gain in jewelry making gold demand is attributed to lower gold prices at the start of this year, compared to prices in Q1 of 2013. Gold started 2014 at $1,225 an ounce and ended Q1 at $1,291 an ounce. In contrast, gold prices averaged $1,670.95 an ounce in January 2103 and ended Q1 2013 at $1598.25.
Still, lower gold prices in this year's first quarter failed to goose demand for bars and coins, which fell 39% YOY. A large part of that decline can be traced to one big factor: