Just as we're about to celebrate what I consider the seventh anniversary of the smartphone –Apple Inc. (Nasdaq: AAPL) launched the iPhone on June 29, 2007 – there's no shortage of "experts" who will tell you the category is already dead.
Ever since Samsung and Apple began warning of a slowdown in smartphone growth about a year ago, the gloom-and-doomers have been writing eulogies for the seemingly ubiquitous product.
For instance, Investor's Business Daily recently said the market is "maturing" – concluding that formerly special devices like the iPhone and the Samsung Galaxy have reached "commodity" status.
Just a few months ago, TheStreet.com said the market is "rapidly losing its growth" and predicted an even more drastic slowdown to come because of the sputtering Western European economy.
And earlier this year, market research firm IDC predicted a slowdown in worldwide smartphone shipments.
These predictions are way off target.
And I can prove it.
The experts study the smartphone-wielding crowds in cafés, airport terminals, sporting events, hotel lobbies, and even supermarkets here in the United States and conclude the market has reached the saturation point.
That's not actually the case.
Besides, there are huge swaths of the world where most folks have yet to even hold a smartphone, let alone own one.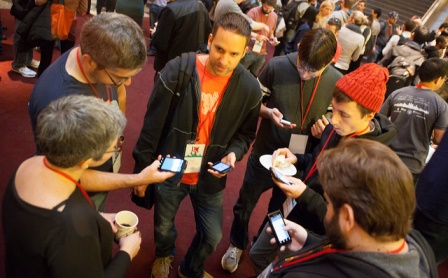 And this means there's still a huge opportunity for global sales.
The IDC report I just mentioned actually shows this. The market-researcher estimates that smartphones sales hit roughly 1 billion units for the first time last year. And by 2018, it is projecting that worldwide sales will zoom to 1.7 billion devices.
We're talking about a market that's going to zoom 70% in just five years.
And we've just identified the biggest beneficiary.
It's a tech leader – a company that has a stranglehold lead on a smartphone component that will make this growth possible. And it just keeps adding to its product offerings and bolstering its technology to maintain its lead and keep its challengers in the rear-view mirror.
Best of all: It's a stock we believe will double in price over the next few years.
It's one of the best investments in tech – and it's one you want to grab now, before Wall Street gets wise.
Join the conversation. Click here to jump to comments…
About the Author
Michael A. Robinson is one of the top financial analysts working today. His book "Overdrawn: The Bailout of American Savings" was a prescient look at the anatomy of the nation's S&L crisis, long before the word "bailout" became part of our daily lexicon. He's a Pulitzer Prize-nominated writer and reporter, lauded by the Columbia Journalism Review for his aggressive style. His 30-year track record as a leading tech analyst has garnered him rave reviews, too. Today he is the editor of the monthly tech investing newsletter Nova-X Report as well as Radical Technology Profits, where he covers truly radical technologies – ones that have the power to sweep across the globe and change the very fabric of our lives – and profit opportunities they give rise to. He also explores "what's next" in the tech investing world at Strategic Tech Investor.