Barclays Plc (NYSE ADR: BCS) was fined $43.8 million today (Friday) by a U.K. regulatory agency as part of a gold price fix episode back in 2012 – a rare moment of public exposure for the bigger issue of gold price manipulation.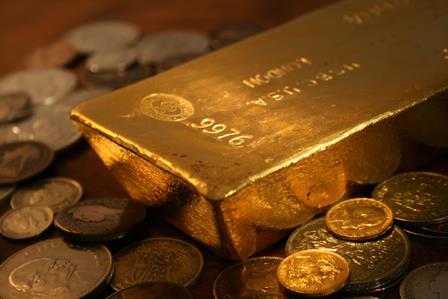 In the Barclays incident, trader Daniel Plunkett was able to evade weak internal controls to fix the price of gold in order to avoid a big payout. If gold closed above $1,558.96 that day, Barclay's would have owed $3.9 million to one savvy customer who had bet gold prices would rise.
Plunkett was able to do this because Barclays is one of the world's banks involved in the twice-daily gold price fix exercise. Not all investors might be aware that the benchmark price for gold is determined not by market trading but by just four banks – HSBC Holdings Plc (NYSE ADR: HSBC), Societe Generale SA (OTCMKTS ADR: SCGLY), Bank of Nova Scotia (NYSE: BNS), and Barclays – in two conference calls at 10:30 a.m. and 3 p.m. London time. (Deutsche Bank AG (NYSE: DB) was also a member but resigned its seat in April and stopped participating as of May 14.)
The "gold price fix" practice started in 1919 and serves the purpose of allowing gold to be bought and sold by miners, jewelers, and central and commercial banks at a single price.
It also let Plunkett manipulate the price just below the level where he'd take the big hit.
"A firm's lack of controls and a trader's disregard for a customer's interests have allowed the financial services industry's reputation to be sullied again," said Tracey McDermott, director of enforcement and financial crime for the Britain's Financial Conduct Authority (FCA), which imposed the fine.
Here's how he almost got away with it…
How a Desperate Trader Exploited the Gold Price Fix Process
Plunkett knew he was in trouble on June 27, the expiration day of his customer's bet. Gold prices closed at $1,573.50 that day, $14.54 above where the customer would get his big payoff, and Plunkett's trading book would get dinged by $1.75 million.