Today's gold price was modestly lower Wednesday after Tuesday's rout left the yellow metal at its lowest level in 15 weeks.
In morning trading, the most active contract, August Comex gold, slipped $8.40, or 0.67%, at $1,257.10. Spot gold was lower by $6.90, or 0.55%, at $1,256.40.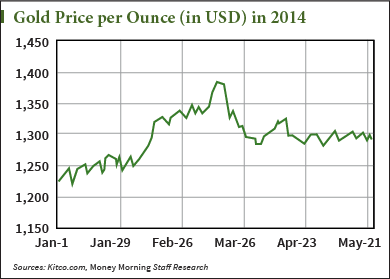 Traders are treading cautiously after gold futures for June ended Tuesday's session at its lowest level since Feb. 7, down 2%, or $26.20, to settle at $1,265.50. Spot gold also slipped 2%, to end yesterday's session at $1,265.76 an ounce, its lowest level since Feb.10.
Gold prices have been stuck in a tight trading range for weeks, struggling to consistently trade above the key $1,300 an ounce level.
Signs of economic improvement in the United States and hopes of a more politically stable Ukraine have both taken some of the shine off safe-haven asset gold. Indeed, the Standard & Poor's 500 Index logged its second straight record Tuesday. The index added 11.38, or 0.6%, to 1911.91. Year to date, the broad-based benchmark has enjoyed 12 record-high closes.
But there are multiple forces at play weighing down today's gold price, according to Money Morning Resource Specialist Peter Krauth.
Here's what's behind the yellow metal's recent struggles…
The Three Forces Driving Today's Gold Price Down
First, the U.S. Dollar Index (USDX) is strengthening.
"Keep in mind that the Index is made up of 57% euro. Right now, the euro is weakening because it's widely expected the European Central Bank will soon take measures to weaken its currency," Krauth said. "That will, in turn, strengthen the U.S. dollar, which we are now seeing priced in."
A stronger dollar weighs on gold, because it is priced in dollars.
Krauth attributed the second reason driving today's gold price down to technical trading and sentiment.
"The $1,280 support level was breached to the downside, which encourages traders to short the metal, while fostering negative sentiment," Krauth explained. "The next support level appears to be $1,240, and then around the $1,200 level."
The third major reason why gold is down today: