In my last column, I explained why, when you're considering investment ideas, you should always keep the bond market in mind. That's because stocks and bonds are inextricably interconnected.
They're inextricably interconnected because interest rates matter.
When expected relationships between stocks and bonds (interest rates) diverge, therefore, it's important to take notice, try to understand what is happening, and consider what the divergences could portend for both stocks and bonds.
Markets are experiencing a divergence now, and a lot of analysts are getting worried.
Stocks have been moving higher as the yield on the 10-year U.S. Treasury note has been falling ("bills" have a maturity of one year or less, "notes" go up to 10 years, and "bonds" have maturities of more than 10 years).
The 10-year Treasury note is now the "benchmark" interest rate that's widely watched and viewed as a proxy for the general direction of interest rates. It's currently yielding 2.53%. That means you give the Treasury your cash, and it gives you a note that pays you 2.53% annually for 10 years, and then you get your principal back.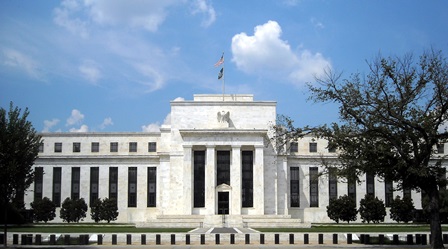 When the U.S. Federal Reserve, which has been manipulating interest rates down to historic lows, said it was going to begin "tapering" its massive purchases of Treasury bills, notes and bonds, and mortgage-backed securities, the bond market got nervous. The Fed had managed rates down by exercising its quantitative easing (QE) program and announced it was paring back QE purchases because it saw the economy picking up.
(In its QE program, the Fed buys bonds from banks to flood those banks with cash in the hope that all that cash would trickle down into the economy.)
The yield on the 10-year note moved from about 2.25% to 3% in short order.
The thinking goes that if the economy is picking up it doesn't need the Federal Reserve to keep a lid on rates. That's because accelerating growth will increase demand for money and loans, which puts upward pressure on interest rates.
And letting the economy stand on its own two feet and letting interest rates rise modestly wouldn't be bad for the economy, right?
Furthermore, if interest rates rise gently, investors and businesses will take that as a sign that the economy is indeed picking up, and that will be reflected in the demand for loans and money, which ultimately shows up in rising interest rates. So, if rates are rising, things are getting better.
However, things don't look like they're working out that way. And now I'm going to tell you what actually happened and what this means for your portfolio.
Join the conversation. Click here to jump to comments…
About the Author
Shah Gilani is the Event Trading Specialist for Money Map Press. In Zenith Trading Circle Shah reveals the worst companies in the markets - right from his coveted Bankruptcy Almanac - and how readers can trade them over and over again for huge gains.Shah is also the proud founding editor of The Money Zone, where after eight years of development and 11 years of backtesting he has found the edge over stocks, giving his members the opportunity to rake in potential double, triple, or even quadruple-digit profits weekly with just a few quick steps. He also writes our most talked-about publication, Wall Street Insights & Indictments, where he reveals how Wall Street's high-stakes game is really played.