Update on tech stocks to buy: Just the other day, I was pondering the decline in PC sales – down 4.4% in the first quarter, compared to last year, according to market researcher IDC. And I assumed, without doing any research, this meant software was also down.
And I wasn't alone.
With the long-term decline in PC sales, dating back to at least 2012, many investors and the big-money guys on Wall Street are writing off software, too. On the surface, the logic makes sense: If people are buying fewer computers, they'll need fewer accounting, sales management, and word-processing packages.
But that's a superficial analysis. Turns out that increased sales of commercial software more than makes up for the decline in PC-related software.
This is why I always do in-depth research before sharing anything with you. Our seemingly impeccable logic can often lead us in wrong directions.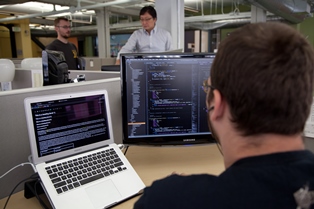 And the right direction is to stay focused on sectors that consistently generate profits and positive cash flow.
Like software.
Today, I'm going to talk to you about one of the single best software investments you can make. With it, you'll start benefiting from the profits of the entire software industry, from the big dogs to the young and growing.
Here's how you get there…
Stocks to Buy: Here's How to Profit from the Software Industry
A recent report by Gartner says the software industry hit $407.3 billion in sales last year. Thus, at a time when many on Wall Street were gloomy about software, sales actually grew nearly 5%. And that more than made up for the roughly 10% decline in PC sales that IDC says the industry suffered in 2013.
The sector's staying power is one of the reasons I've always paid so much attention to the software industry. These firms don't have to invest billions in plant and equipment the way hardware companies do. Plus, the software industry runs on a licensing model, meaning that software firms often "rent" their products rather than selling them outright.
That's a business strategy that traditionally generates a bigger profit.
The challenge, of course, is identifying the best stocks to buy to profit from this sector transformation.
Fortunately, there's another way that I want to share with you now.
Join the conversation. Click here to jump to comments…
About the Author
Michael A. Robinson is a 35-year Silicon Valley veteran and one of the top technology financial analysts working today. He regularly delivers winning trade recommendations to the Members of his monthly tech investing newsletter, Nova-X Report, and small-cap tech service, Radical Technology Profits. In the past two years alone, his subscribers have seen over 100 double- and triple-digit gains from his recommendations.
As a consultant, senior adviser, and board member for Silicon Valley venture capital firms, Michael enjoys privileged access to pioneering CEOs and high-profile industry insiders. In fact, he was one of five people involved in early meetings for the $160 billion "cloud" computing phenomenon. And he was there as Lee Iacocca and Roger Smith, the CEOs of Chrysler and GM, led the robotics revolution that saved the U.S. automotive industry.
In addition to being a regular guest and panelist on CNBC and Fox Business Network, Michael is also a Pulitzer Prize-nominated writer and reporter. His first book, "Overdrawn: The Bailout of American Savings" warned people about the coming financial collapse - years before "bailout" became a household word.
You can follow Michael's tech insight and product updates for free with his Strategic Tech Investor newsletter.