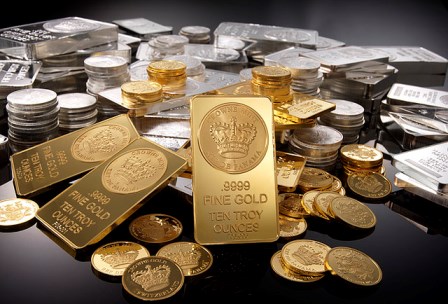 Gold, silver, and the FOMC meeting today: Precious metal prices were fairly steady Wednesday morning awaiting the typically market-moving statement from the Federal Open Market Committee (FOMC) meeting today. The spot gold price was last trading down $0.90 at $1,271.50. July silver prices were last quoted up $0.003 at $19.735 an ounce.

Over the last several years, investors have shown a keen interest in shiny assets as the U.S. Federal Reserve liberally printed money and distrust in dollars grew. But that interest has waned as the Fed slows its bond buying.
Now an FOMC meeting can be a strong headwind for gold and silver.
Following the Fed's March meeting, silver tumbled 2.3% to $20.355. Gold slipped some 10% to $1,294.75 over the next few trading sessions. The rout came after Fed Chief Janet Yellen said the central bank's stimulus program could end this fall, and benchmark interest rates could rise about six months later.
Both precious metals also dipped in the days following the Fed's April 29-30 meeting, in which the Fed reiterated its stance.
The precious metals could come under pressure Wednesday, but it's not Fed action, or lack thereof, that could weigh on gold and silver. There's little doubt about the Fed continuing its reduction in bond purchases. The central bank is widely expected to trim its bond buying to $35 billion a month from $45 billion.
Instead, what matters is the Fed's tone.
As has been the case of FOMC meetings, precious metal reactions could be sharp and swift depending on whether a hawkish or dovish sentiment prevails with central bank members.
"Obviously, any hints toward interest rates rising sooner than the market previously thought could throw a monkey wrench into the gold rally," Dave Meger, director of metals trading with Vision Financial Markets, told Kitco.
"Really, we are concerned about what the Fed is going to say," Meger added. "Are we still in a situation where we're concerned about growth and this warrants keeping interest rates low for an extremely extended period of time? Or will we see some comments from the Fed in regard to slight inflationary pressures... and will this prompt them to make some statement about this...?"
While the central bank is also expected to lower its full-year 2014 economic growth forecast, falling unemployment and rising inflation could prompt policymakers to hint at a slightly more rapid rise in interest rates. The mere suggestion could send gold and silver slipping as rising interest rates make it more expensive to hold alternative assets like precious metals.
Here's what our trading expert Shah Gilani said ahead of the FOMC meeting conclusion: