Spot gold in afternoon trading tore through the $1,300 an ounce level to $1,313.40, gaining $34.90, or 2.73%. The gold price was solidly higher Thursday, buoyed by the U.S. Federal Reserve's dovish sentiment, a weaker dollar, and safe-haven demand.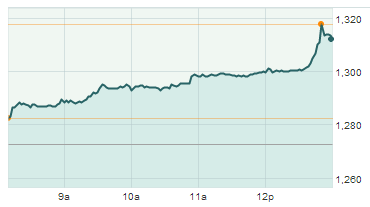 Commodity market analyst Jim Wyckoff told Kitco, "In gold, we're seeing technical buying... we're also seeing some safe-haven demand from geopolitical tensions, mainly Iraq. Right now, the gold market is embarking upon a price uptrend and the bulls do have momentum on their side."
Silver prices are also up 9% from last week's lows.
Gold ended Wednesday's session nearly flat at $1,272.40 as June's FOMC meeting held few surprises. As market participants digested the Fed's statement overnight, however, and weighed its impact on precious metals, gold prices caught a bid.
The Fed changed its interest rate outlook slightly. While the central bank suggested a more aggressive pace of interest rate increases starting next year, it lowered projections for the long-run target interest rate.
In short, interest rates are not going to rise anytime soon. And even when they do, they will still sit at low levels.
That sent the dollar slipping to its lowest level in nearly four weeks, which helped send gold up today.
The Fed also confirmed at the end of its meeting on Wednesday that it will ease monetary conditions by buying $35 billion a month through the end of July, when the FOMC meets again. For the first time, the amount the Fed is committed to purchasing is lower than when it first implemented its third round of quantitative easing, or QE3.
But, between the Fed and the Bank of Japan, officials are still buying $100 billion of assets a month. Furthermore, there is a good chance the European Central Bank (ECB) could engage in a major asset-buying plan. It's the only real option left after cutting interest rates to record lows earlier this month, with the rate of overnight deposits below zero.