For the government corruption files… Do you remember the not-so-big-deal legislation known as the 2012 STOCK Act?
That's STOCK as in Stop Trading on Congressional Knowledge.
Members of the House and Senate passed this act – which in this case should be short for acting like whores – quietly because it pointed to Congress as a bed of lascivious insiders who trade for personal gain through the backroom market-moving horse trading that they massage into laws in D.C.
Of course, our Congress of paid pimps and panderers intended the STOCK Act to show everyone that they were willing to make a law to make sure they wouldn't do what they said they weren't doing.
Well, it looks like they may be doing it anyway.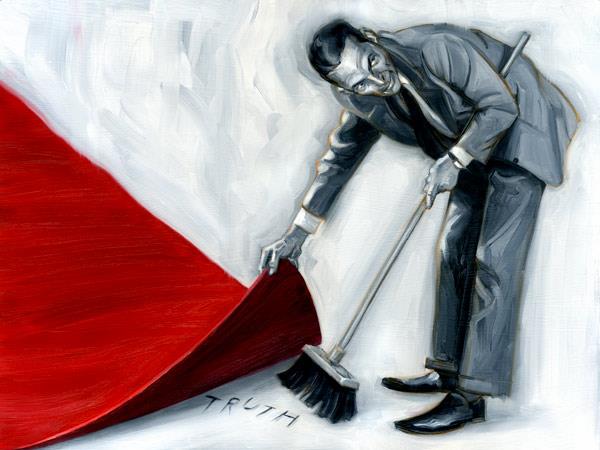 Last year, under the cover of darkness, a Senate investigation looked into whether Mark Hayes, a top Senate aide on healthcare matters, broke any protocols (aka laws) when he apparently "predicted" in an e-mail to Height Securities (a "policy research firm"… wink, wink) that there was about to be some Medicare-related stuff coming down the pike that would move some insurance stocks.
Hayes is now a lobbyist – of course.
This kerfuffle happened in the Senate and was investigated within the Senate by Senate investigators. Can you guess what happened?
Well, I'm about to tell you …
Inaction Figures
Nothing happened. Senate investigators don't carry guns – they carry brooms. That's why there are lovely rugs scattered all over the Senate – perfect for sweeping things under.
Fast forward to today.
The Justice Department, the U.S. Securities and Exchange Commission, and a grand jury under the auspices of the U.S. District Court for the Southern District of New York – that's Wall Street's home court – want to talk to members of the House Committee on Ways and Means and Brian Sutter, staff director of the committee's healthcare subpanel.
And you'll never guess about what.
Join the conversation. Click here to jump to comments…
About the Author
Shah Gilani is the Event Trading Specialist for Money Map Press. In Zenith Trading Circle Shah reveals the worst companies in the markets - right from his coveted Bankruptcy Almanac - and how readers can trade them over and over again for huge gains.Shah is also the proud founding editor of The Money Zone, where after eight years of development and 11 years of backtesting he has found the edge over stocks, giving his members the opportunity to rake in potential double, triple, or even quadruple-digit profits weekly with just a few quick steps. He also writes our most talked-about publication, Wall Street Insights & Indictments, where he reveals how Wall Street's high-stakes game is really played.